From board papers to ballet shoes and everything in between - Southbank Centre archive collections are the raw material of our history.
Collections
Begun in the 1980s as a labour of love by a member of our staff, Southbank Centre's archive has grown to occupy more than 1.4km of shelving. With documents, oral histories, programmes, photographs, posters, artworks and objects dating back to the 1951 Festival of Britain, the archive is now recognised as a locally, nationally and internationally significant resource for the history of architecture, geography, politics and society as well as visual and performing arts.
Our archive collections relate to the Festival of Britain and South Bank festival site, Royal Festival Hall, Queen Elizabeth Hall, Purcell Room and Hayward Gallery. Along with the core administrative archives, we hold particularly strong collections of photographs, event programmes and posters. Together these artifacts and collections form Southbank Centre's memory of all the performances, exhibitions and other events that have happened across our site over the decades.
Visiting the archive
Southbank Centre Archive Studio allows everyone to witness the process of exploring, arranging and cataloguing our collections. Visitors can find out what we're working on, browse key reference sources and enjoy some of our archive materials.
Digital archive access (coming soon)
Since October 2015, volunteers have been helping to organise, document and digitise our collections. This new digital archive resource, including a summary catalogue, digitised collection highlights, will be launching soon. Once live, we will continue to expand and enrich this resource, and offer opportunities to be involved remotely.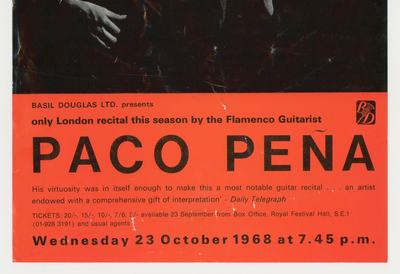 Paco Pena programme
A programme for the celebrated flamenco guitarist Paco Pena and his 'only London Recital this season' which took place at Queen Elizabeth Hall on 23 October 1968.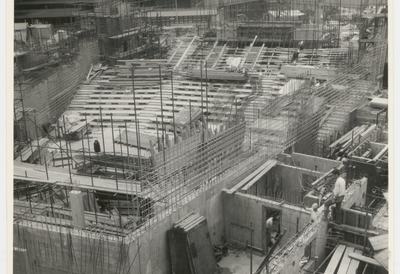 QEH construction
Queen Elizabeth Hall under construction in July 1964. Board marked concrete was cast from rip-sawn Baltic pine, with 180 carpenters working onsite (Photo: Higgs and Hill).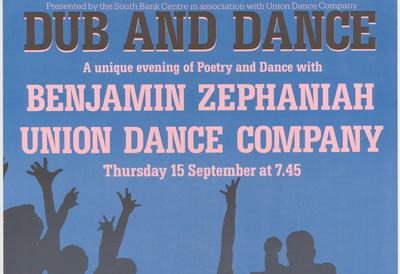 Dub and Dance
A poster for Dub and Dance, 'a unique evening of poetry and dance with Benjamin Zephaniah and Union Dance Company' at Queen Elizabeth Hall, 15 September 1988.