From board papers to ballet shoes and everything in between – Southbank Centre archive collections are the raw material of our history.
Collections
Begun in the 1980s as a labour of love by a member of our staff, Southbank Centre's archive has grown to occupy more than 1.4km of shelving. With documents, oral histories, programmes, photographs, posters, artworks and objects dating back to the 1951 Festival of Britain, the archive is now recognised as a locally, nationally and internationally significant resource for the history of architecture, geography, politics and society as well as visual and performing arts.
Our archive collections relate to the Festival of Britain and South Bank festival site, Royal Festival Hall, Queen Elizabeth Hall, Purcell Room and Hayward Gallery. Along with the core administrative archives, we hold particularly strong collections of photographs, event programmes and posters. Together these artifacts and collections form Southbank Centre's memory of all the performances, exhibitions and other events that have happened across our site over the decades.
Visiting the archive
Southbank Centre Archive Studio allows everyone to witness the process of exploring, arranging and cataloguing our collections. Visitors can find out what we're working on, browse key reference sources and research stored archive material by appointment.
Digital archive access
Since October 2015, volunteers have been helping to organise, document and digitise our collections. Thousands of new descriptive records and digital images have been created so far and these are being added to a new online system, to create a fully searchable resource, launching in spring 2019. Work to expand and enrich the archive is ongoing, and we welcome volunteers to assist our work, including some opportunities to work remotely.
Oral history
To help build a picture of our history we've recorded conversations with staff and artists who, over the years, have played a key part in the venue's rich heritage, for this collection of oral histories
Donate your memories to the archive
We're inviting everyone to submit their memories or photos of the site to be taken into our digital community archive. We'll take care of these records for the future, allowing others to benefit from your contribution in the years ahead.
Every 27 September
There is nothing particularly out of the ordinary about 27 September, but look through our 67 years of archives for this one date and you can get an amazing insight into the rich history of our venues.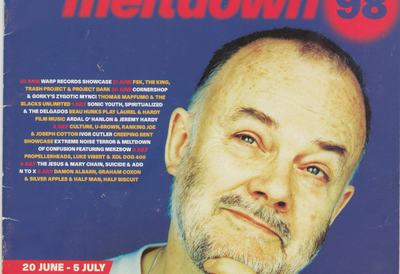 Meltdown: the first 25 years
Since 1993 Meltdown has been led by an incredible array of names from David Bowie to Yoko Ono, John Peel to M.I.A. Check out this collection of images and artefacts from the festival's first quarter century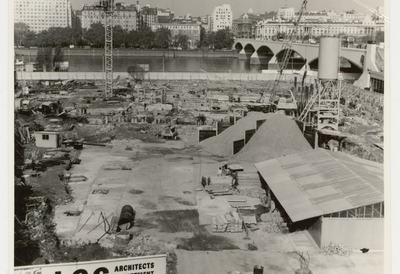 Queen Elizabeth Hall construction
This collection of images from our archive shows the construction of our iconic brutalist Queen Elizabeth Hall, which took place between 1963 and 1967.