Meltdown 2023: Beyond the music
Wed Jun 7, 2023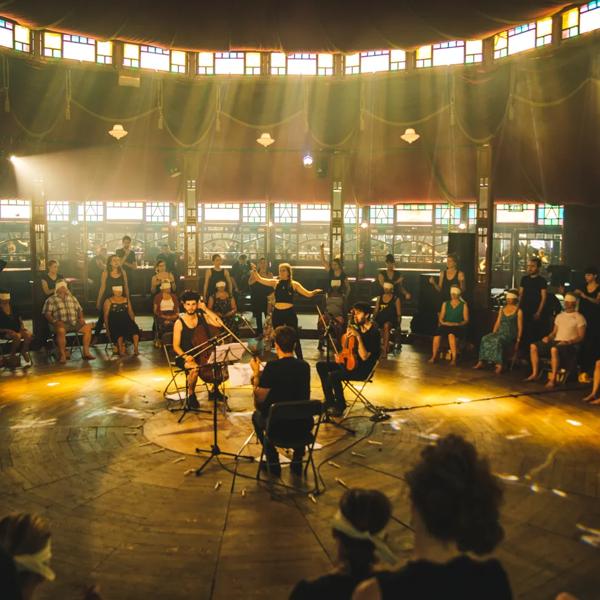 Though every year of Meltdown offers up world class gigs at the Southbank Centre there's more to the festival than just the music.
Exemplifying this within Christine and the Queens festival were two brand new dance pieces which took their inspiration from the 2023 Meltdown festival curator. In our Purcell Room we hosted the world premiere of brutal syntax, from the celebrated dancer and choreographer Taos Bertrand, and in The Clore Ballroom, collective BitterSuite presented a novel immersive work with Christine and the Queens' music at its very heart.
As the festival drew closer we caught up with the protagonists of these particular pieces to get an insight on what we can expect.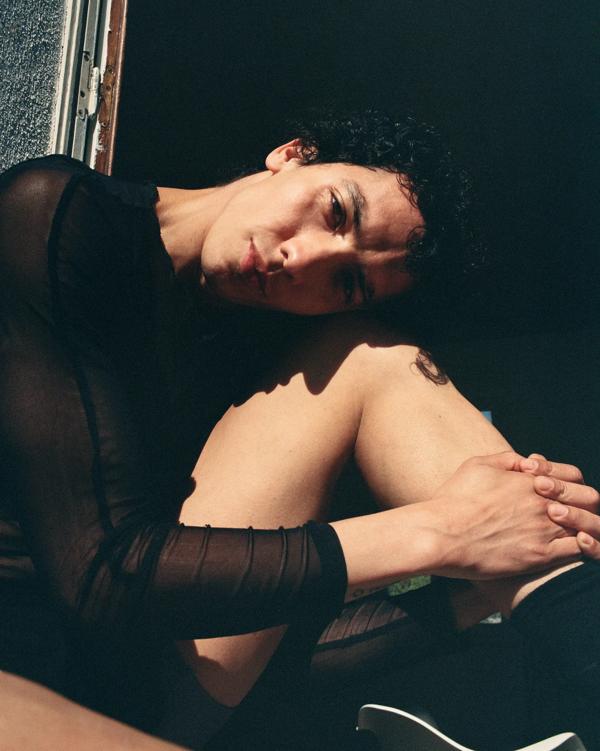 Taos Bertrand: brutal syntax
Taos Bertrand is a dancer and choreographer who has previously worked with Christine and the Queens and collaborators including choreographers Olivier Dubois and Adam Linder, Erwan Ha Kyoon Larcher, Valentin Noujaïm, Jean-Luc Verna, the collective (LA) HORDE and pianist Koki Nakano. For Meltdown Bertrand presents a celebratory club culture-inspired dance work, commissioned especially for the festival, and we caught up with her to find out a little bit more about it.
What does being asked to be part of Christine and the Queens Meltdown festival mean to you?
I'm very glad to make a work commissioned by Meltdown and I was super glad when Chris invited me.
What has inspired the work you're presenting at Meltdown?
For Meltdown, I'm interested in the phenomenon of grace, in relation to the machinic excess of the beats. I wanted to choreograph a meeting between gymnastic ribbon, R&B video clips, antique figures, theoretical texts on transness, raving, psychic trouble, improvisational dance practices, and the chimeric approach of costumes. I'm questioning this idea that entertainment and art are firmly separated. Tie and untie a knot. That's what I would like to compose. In a 25 minute piece.
How did you bring this together into the final work, brutal syntax?
For brutal syntax, I worked with an archive of cultural materials with a horizontal perspective. In the process I brought together Henrich von Kleist and his essay 'On the Marionette Theatre', Ciara, Henry Purcell, Julius Eastman, the trans writer McKenzie Wark, Cardi B, Final Fantasy themes, and Marlon Riggs and his movie Tongues Untied which is a masterpiece on gay and trans blackness in the 1990s. 
From this multiplicity I asked the LA producer Kelman Duran to work on the soundtrack of the piece. I'm interested in choreographing with cultural materials as reminiscences of an adolescent age in the 2000s, and I take all those materials as potentialities for imagination, mutation, projection, joy, impossibility. I aim to produce a syntax of motion for trouble, lust, rebirth, and the notion of hunger for materiality from Judith Butler's Bodies That Matter.
Can you tell us a little bit about the look of brutal syntax?
The costumes, and my collaboration with the stylist Fionna Imnes, have a lot to do with the joyful and uncomfortable impossibility of a specific situate of where we are in time, and try to project a kind of joyful baroque future. I love this.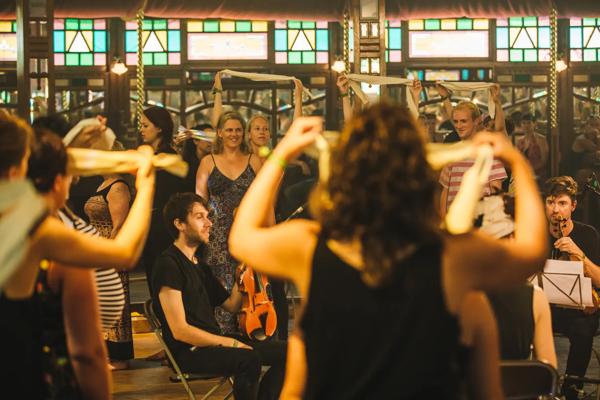 BitterSuite Presents Bodies Tilted
Throughout Meltdown the creative team of BitterSuite will be taking up residence in The Clore Ballroom as they invite you into an immersive multi-sensory experience, set to a live score inspired by the music of our festival curator. To get a sense of how this came together, we caught up with the composer of the score for Bodies Tilted, Stephanie Singer.
What does being asked to be part of Christine and the Queens Meltdown festival mean to you?
It is an absolute honour and a joy to be asked. And we've channelled this feeling every day whilst creating Bodies Tilted. We adore Christine and the Queens. Whether it's the 808 basslines, his heartbreakingly intimate voice and lyrics, or the exquisite celebration of the beautiful strangeness of each and every one of us – there is an never-ceasing uplifting nature to Christine and the Queens and we've had the chance to immerse ourselves in that for the last three months. 
I composed the score with particular reference to tracks 'Tilted', '5 Dollars', 'To Be Honest' and 'People, I've been sad'. And whilst sitting within Chris' world I have been struck by this extraordinarily intimate journey that we as an audience have witnessed him go on. We have watched this gorgeous artist continually emerge, reinvent, play and stay true to the version of themselves at every turn. 
It connects with me because as I draw huge comfort from the truth that our bodies and minds are always changing, from our cells to our psychologies we are never the same. I find it incredibly freeing to embrace this fluid and chaotic truth. It means that change is not only possible but always happening. To me, it is a relief to live with this in mind and I suggest everyone does it.
Tell us a little bit more about what you're bringing to Meltdown
Bodies Tilted celebrates the beautiful strangeness of our bodies – dancers and audience alike. My music takes inspiration from Chris' iconic sound. It's quite the brief to make music inspired by such a powerhouse artist, but working alongside music producer Julian Wharton we've shaped something that honours the melodies, rhythms, progression, and hopefully most importantly feel, of the Christine and the Queens catalogue. 
Our sensory choreography is led by our core creative team Eileih Muir, Ashraf Ejjbair and Anna Pearce. Together we've drawn inspiration from Marion Motin's past choreography work for Christine and the Queens, as well as Chris' natural movement, to inspire the movement of our team through the space. And right at the root of our creative creative decisions is the sensation of tilting. Not quite falling over, definitely not standing up straight, but the state right in between that. We tilt our heads when we are curious. We lean over cliffs to see over the edge. We can lean into the edges of ourselves. In tilting we feel anticipation, surprise, surreality and a whole host of other beautiful strange feelings. This is at the core of our creative choices. 
What are you most looking forward to about your appearance at Meltdown festival?
The audiences. We can't wait to immerse you in the sensory universe of Christine and the Queens. We've tried our best to capture the essence of the discography, bottle it and give it to you in a sweet 20 minute sensory explosion. It also thrills me to imagine two of my favourite musicians and collaborators playing to the Clore ballroom space - Tanya Auclair and Danny Pagarani. 
What does it mean to you to be appearing at the Southbank Centre?
We've always wanted to do something with the Southbank Centre. It's such a brilliant and unique public cultural institution that delivers rich and accessible programming, entertainment and experiences for the general public. We love it here. Back when we began  we took full advantage of the free public space at the Southbank Centre and used it time and time again for makeshift rehearsal space – as so many young artists do. Ten years on we're thrilled to deliver an experience we're so proud of with them.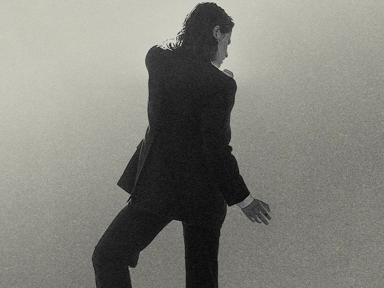 Christine and the Queens' Meltdown
Both Taos Bertrand's brutal syntax, and BitterSuite's Bodies Tilted appeared at the Southbank Centre in June 2023 as part of Christine and the Queens' Meltdown.