The Return of the National Poetry Library
Tue May 18, 2021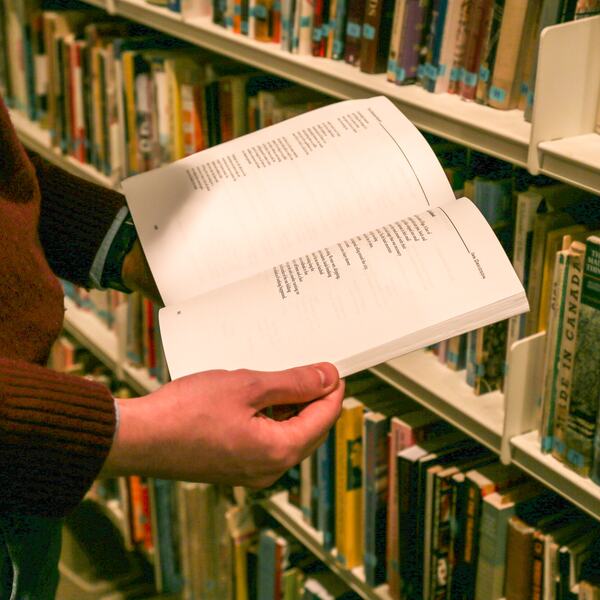 It wasn't just our auditoria that fell silent when the first Covid-19 lockdown began in March 2020; as our buildings shut, so too did the doors to the National Poetry Library.
Situated in the Royal Festival Hall for more than three decades, the National Poetry Library houses a growing collection of more than 200,000 works. All of which remained on shelves or display for 14 months. Until now. 
On 28 May, alongside the rest of our buildings, the National Poetry Library will open its doors once again. And so Librarian Chris McCabe talks us through how the library responded to the pandemic, what's been happening behind those closed doors, and what you can expect to find in the library as it reopens.
How has poetry as an artform responded to the pandemic?
In the weeks following the first lockdown we teamed-up with artist and publisher Jason Dodge to publish 'In the beginnings of Covid-19' on our website, a brand new series of poems in response to new life under coronavirus, written by some of America's most exciting contemporary poets, including CAConrad and Eileen Myles. 
Read the poems of 'In the beginnings of Covid-19'
Over the past year we have seen poets and publishers respond with invention and imagination, from Jacqueline Saphra's 100 Lockdown Sonnets, to the Lockdown Lawyers anthology, a poetic response to the crisis with over 50 contributions from barristers, solicitors, advisers to family members affected by Covid. Children have come to the fore as poets too with Dear Key Workers, a collaborative YouTube poetry film written by Laura Mucha and featuring 80 children from around the world.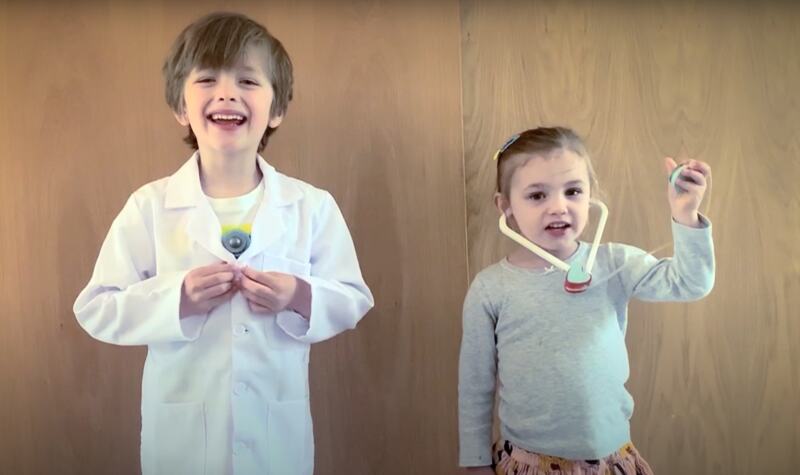 What can visitors expect to find on the shelves of the library after a year spent closed?
During the latest lockdowns we have been busy collecting as widely as possible, and have catalogued over 550 new items which will be available for visitors to the library. You can delve into whole print runs from publishers such as Bloodaxe, Carcanet and Nine Arches, as well as dynamic indie presses such as Broken Sleep, Culture Matters and Burning Eye Books. 
Our online catalogue is easy to use and allows for searches across genres and themes, but for those who have been missing the serendipitous joy of browsing library shelves, the usual open access to books and audio will be available. We have also taken the opportunity to make some improvements in the library, where visitors will notice a lighter and brighter space.
Is it just books of poetry in the library?
The National Poetry Library's collections don't just include printed material. You can make yourself comfortable and listen to one of the many poetry vinyl LPs we have, and enjoy both the musical quality of the spoken word, as well as a huge range of great cover art. New acquisitions include Cerys Matthews' We Come From the Sun, which thoughtfully composes music to accompany poems written and read by some of the finest poets working in the UK today, including Raymond Antrobus, Imtiaz Dharker and Liz Berry. 
For those wishing to head for the frontiers of experimentation, we've just acquired Zwischen by Jan Jelinek, which is sound poetry at its most inventive, consisting of samples of 'silences, pauses for breath and hesitations', including interviews with public figures ranging from John Cage to Slavoj Zizek to Lady Gaga. The samples are manipulated by a synthesizer to accentuate the musicality of the unintentional sounds we make when we communicate.
Do I have to be a Member to visit the library?
Not at all, the library is open to everyone with a curiosity for poetry, simply come to the library within our opening hours to explore the collections at your leisure. For those wishing to borrow books and audio from our extensive loan collections, you can join for free by bringing two forms of identification to the library, one photographic, and one detailing your current address, dated from within the past three months.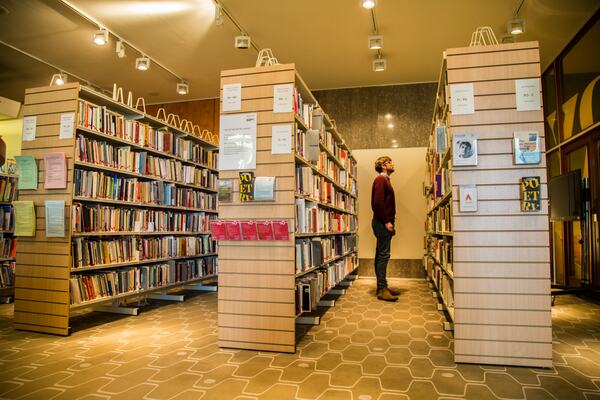 What are the acquisitions that NPL staff are most excited about?
I am really excited about the new anthology Women in Concrete Poetry: 1959-1979 (Primary Information), which provides a groundbreaking reassessment of the concrete poetry movement, foregrounding the often overlooked contribution from female poets and artists.
Our Assistant Librarians have been gushing about a wide range of new acquisitions. Will Rene recommends I'm Working Here: Collected Poems by Anna Mendelssohn (edited by Sara Crangle, Shearsman, 2020), which is the first replete collection of the radically experimental work of Anna Mendelssohn, who also published work under the name Grace Lake. Will has also been impressed by Second Memory (Guillemot Press) the new collaboration between Alycia Pirmohamed and Pratyusha, which sees both poets weaving between genres in poetic fragments that explore their ancestral histories.
Lorraine Mariner recommends Romalyn Ante's Antiemetic for Homesickness (Chatto & Windus), a powerful and vibrant collection revealing the country, family and mixed emotions that a migrant worker carries beneath her uniform. Lorraine has also been drawn to short form publications, such as the beautifully designed mini-pamphlet Tonipoem (Bad Betty) by Victoria Adukwei Bulley, 'a concentrated hit of the author's voice', providing a kind of poetic espresso.
If I can't get to the library physically how can I get involved?
Our eloans service has been hugely popular during lockdown, and is easy to join to access a wide range of ebooks that can be downloaded to your device of choice.
National Poetry Library eloans
We also feature a Poem of the Day on the home page of our nationalpoetrylibrary.org.uk and you can join our ongoing conversations about poetry on our social media channels. We have also partnered on two new publications over the past year, Instagram Poetry for Every day (Laurence King) is a great introduction to this explosive new form of poetry and No, Love is Not Dead (Chambers) provides a huge geographical sweep of love poems from around the world, many of which were first discovered on the shelves of the National Poetry Library.
How should I prepare for my visit on or after 28 May?
We have been busy ensuring that the library is as safe as possible for your visit and you can start to prepare for your visit by reading about the measures we've taken.
Visiting the National Poetry Library
You can also take advantage of our Click and Collected service by checking our catalogue for the books you would like, and sending your reservations to [email protected] We will then do our best to have your books pre-packed and ready for you when you visit.