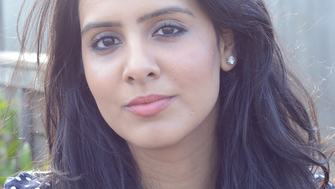 Shruti Chauhan, performance poet

Currently writing her debut solo show, Leicester poet Shruti Chauhan has won slams in Chicago and Mumbai. As part of East Midlands Mela she performs poetry accompanied by the Indian flute.

'Leicester's Narborough Road is officially the most diverse street in England, home to some 22 nationalities; this sums up what is so exciting about the city. There is a real sense of community and a nurturing of new voices.

'My cultural heritage, life experiences and day-to-day observations all inform my work. These encompass themes of altruism, love, betrayal, self-deprecation, skin-bleaching and epidemics, amongst other things. I am particularly interested in the sky, as explored in my solo show, The Sky Diaries (Curve Theatre) and in language and translation, drawing on my mother tongue, Gujarati, along with Hindi and Sanskrit in my work.

'Leicester is a convergence of voices, cultures and histories. I am inspired by the stories I see and hear around me, and am moved to contribute my own words and stories to such a rich and varied dialogue.'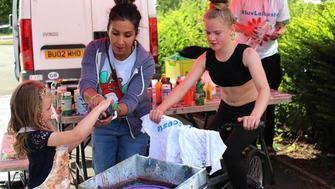 Khush Kali, artist

Fine artist Khush Kali creates art inspired by the urban environment, exhibiting in the UK, USA and India. As part of East Midlands Mela she leads an arts and crafts workshop inspired by Leicester's Golden Mile.

'It's always been about the city. Polish hip-hop blasting from a car driving past a Turkish restaurant next to a wall covered in posters for a Bhangra night; a Hare Krishna temple that used to be a bank; a trendy pub whose cellar was once the town prison.

'When I was commissioned to work on an exhibition to mark the 40th anniversary of the arrival of Ugandan Asians in Leicester, it got me thinking about the nature of different histories and cultures mixing and overlapping, and the visual and social traces of this. This remains the biggest influence on my practice.

'Since then I've focused on what it means to be second-generation, being born in Leicester but having an Indian and Ugandan Asian heritage. The process of re-discovering a culture, re-claiming that imagery; how authentic is it for me to re-claim anything?'
Image credit: © Abby Smith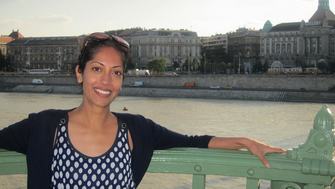 Dimple Patel, radio producer

BBC Radio Producer Dimple Patel is currently helping to build an audio archive of stories from 100 people who have left their home country and settled in Leicester. Her Stories of Migration can be heard throughout Alchemy, from 19 to 29 May.

'Leicester feels very cosmopolitan, and as a person who likes to travel and explore other cultures it's great to have so many different people adding something to my home city, whether it's music, food, faith, or arts.

'When interviewing people for the 100 Stories of Migration, it surprised me just how many people I spoke to described Leicester with the passion and excitement that I might describe other places in the world! Looking at Leicester through the lens of people who have come here and made it their home has given me a new appreciation of the city.
'I'm drawn to culture, heritage and giving a voice to marginalised communities. I was inspired by Migration Museum's 100 Images of Migration to tell the stories of local migrants.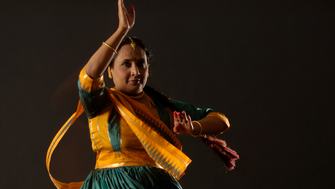 Nilima Devi, kathak artist

The Artistic Director of Leicester's Centre for Indian Classical Dance, Nilima Devi works to develop South Asian dance throughout Leicestershire, and performs new work every year. As part of East Midlands Mela she leads a kathak dance workshop.

'Kathak basically means 'to tell a story' and one can show or express any story through dance if one knows the dance language and technique. This can be an ancient story, or modern dance work. Playing with rhythms is great fun and much of the story-telling is improvisation.

'Leicester is a vibrant multicultural city with a large concentration of various types of Asian population and [people from] many other parts of the world. The variety of dance training in Leicester is truly diverse, [including] traditional classical dance training, folk and community dance sessions, and a lot of Bollywood, too. Dance activities are very popular (and healthy!)

'Dance is also a part of life [at] various cultural festivals such as Diwali, Navratri, Durgapuja, Baisakhi and so on.'
Image credit: © Hollis
Leicester is a convergence of voices, cultures and histories.
Shruti Chauhan, performance poet
"