Fifty years of great art writing from Hayward Gallery
Thursday, May 10, 2018 - 13:12
In July this year our iconic Hayward Gallery celebrates its 50th anniversary. In recognition of this milestone, and its own longstanding commitment to independent art publishing, Hayward Gallery Publishing have released a very special new anthology.
Fifty Years of Great Art Writing is a collection of the most remarkable essays about modern and contemporary art as commissioned across half a century by London's Hayward Gallery from some of the world's leading writers, artists and thinkers.  
Encompassing a large range of topics, perspectives and styles of writing, from the intimate and evocative voices of novelists and artists, to groundbreaking insights from eminent scholars, critics and curators of contemporary and modern art, Fifty Years of Great Art Writing's contributors include influential figures who have helped shape, and advance, our understanding of visual art.
Rather than produce a book commemorating the Hayward itself, we chose to make these valuable writings – most long out-of-print – available again for today's readers
Ralph Rugoff, Director of Hayward Gallery
"
Within the publication's 550 pages you'll find Leon Kossoff on Frank Auerbach; Lucy Lippard on Gender and Contemporary Art; Bridget Riley on Paul Klee; Adrian Forty on Le Corbusier, and Ali Smith on Tracey Emin. There's also David Sylvester on Francis Bacon; Stuart Hall on Jeremy Deller; Will Self on George Condo; Geoff Dyer on Dayanita Singh; and Grayson Perry on Britain's Forgotten Post-war Art.
Each of the texts originally appeared in exhibition catalogues and were commissioned to provide interpretation and context for shows organised by Hayward Gallery. Many of the essays remain as timely and relevant as the day they were written; others offer fascinating takes on the critical temper and issues of particular moments from the past. Collectively they encapsulate the diverse range of art that has delighted, inspired and stimulated audiences throughout Hayward Gallery's history.
I'm delighted with the final selection, which encompasses many of the iconic moments from the Hayward Gallery's history and captures the essence of its forward-looking approach to visual art
Rebecca Fortey, Art Publisher, Hayward Gallery Publishing
"
Fifty Years of Great Art Writing is the result of a collaboration between the Hayward curatorial and publishing teams, in consultation with a number of artists, writers and curators who at one time or another played a role in Hayward Gallery exhibitions.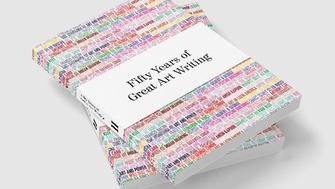 Fifty Years of Great Art Writing was launched at a special event at Hayward Gallery on 10 May and is now available from our Hayward Gallery shop.