Tove Jansson in Moominland
Friday, December 23, 2016 - 10:13
By Lucy Peters
Forests and tents, islands and seas, friendly creatures and extraordinary adventures. 
This month, enter Royal Festival Hall to leave London behind and travel to the enchanted world of the Moomins. 
Bringing together archive materials and immersive storytelling, Adventures in Moominland introduces artist and writer Tove Jansson and the magical characters she created.
Moominland is inhabited by mysterious Hattifatteners and dogmatic Hemulens, playful Snorks and fussy Fillyjonks. But at the centre of the books is the Moomin family, whose communal, creative household welcomes plenty of visitors, copes with all sorts of unexpected happenings and ventures out on enterprising journeys.
The Moomins' busy, tolerant way of life was inspired by the bohemian environment in which Tove grew up, while their escapades in the forest and on the waves are drawn from the summers Tove had spent in the idyllic island community of Pellinki as a child. 
The dangers that threaten the Moomins, from a great flood to a terrible comet, were a response to frightening events on the world stage; the first books were written in the wake of World War II.
Tove's romantic life also enlivened the Moomin stories. Homosexuality was illegal in Finland until 1971, but same-sex relationships could be represented in the world of the Moomins, where gender and species are occasionally somewhat vague.
Trained as an artist, Tove Jansson created characters whose personalities can be instantly discerned in their appearance despite the fact that many of them look like nothing on earth.
She drew her first Moomin as graffiti after a youthful argument with her brother, aiming to depict the ugliest thing she could imagine. He popped up again as her signature in the political cartoons she drew for an anti-fascist magazine, before appearing in the middle of a wood, frightened and holding his mother's hand, at the start of a children's book she dubbed a 'fairytale'.
Tove's first story about the Moomins appeared to little fanfare. However, the unusual, plain-speaking creatures and their narratives, alternately hair-raising and comforting, attracted an army of fans and eventually won her international fame. 
Throughout Tove's life, the Moomins were immortalised all over the world in television adaptations featuring puppets and Japanese anime, plays, theme parks, endless merchandise, a musical, a ballet and an opera.
Inside Moominvalley, however, the Moomins get on with the business of living life, often advising each other on how to face everyday challenges, whether these include a broken hammock or a lost handbag, an interminable winter or a house that's been accidentally transformed into a jungle. 
Both children and adults can be inspired by the family's wise life philosophy, which suggests hibernation in the winter, parties in the summer and a place for everyone in the Moominhouse.
Adventures in Moominland takes place from Friday 16 December until Sunday 23 April in Royal Festival Hall.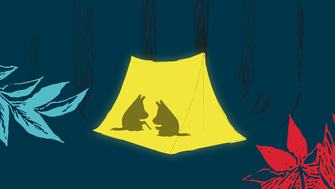 Adventures in Moominland
Climb into and get lost inside the eccentric world of Moominland