What's on during summer half-term at Southbank Centre
Wednesday, May 16, 2018 - 12:02
With the late May bank holiday and half-term break looming large, we're using this blog post to draw your attention to some of our brilliant events aimed at young audiences, at families, and at everyone looking for some free fun things to do – including the reopening of our famous, ever popular fountain on the terrace, more of which later.
Book at ticket for one of our shows, join an interactive workshop or just turn up and enjoy the sights and sounds (and maybe a bite at one of our new summer pop-up venues). Here's a few highlights.
The Hunting of the Snark
Aimed at audiences aged 4+, this show brings Alice in Wonderland creator Lewis Carroll's much loved (and frankly, quite bonkers) poem to life as a musical adventure. It features energetic turns by five West End performers and is a brilliant introduction to the magic of theatre. Do expect puppets, daft songs and belly laughs. Don't expect sensibleness – you won't find it!
Watch this trailer to see what a treat you're in for. The Hunting of the Snark runs from Saturday 26 – Monday 28 May.
A Little Princess
This musical version of Frances Hodgson Burnett's charming children's novel follows the story of Sara Crewe, a young girl who is sent from her home in Africa to a boarding school in London and separated from her father. It stars Sherlock's Amanda Abbington, Strictly Come Dancing finalist Danny Mac, and stalwarts of the West End stage. Don't miss this one-off performance, directed by Olivier Award-winning choreographer Arlene Phillips, it's going to be a magical, unforgettable evening. Takes place Monday 28 May and is suitable for ages 5+.
ABBA: Super Troupers
Does your family love the kitsch of Eurovision and some A-grade pop tunes? Don't miss our fantastic, immersive exhibition, tracking ABBA from their triumphant 'Waterloo' moment in 1974 to their decision to disband after a decade dominating album charts all over the world.
A tour guide shows you the way, there's plenty of music and fun, and Jarvis Cocker narrates. The exhibition runs until Sunday 29 July and is recommended for ages 7+.
Family gamelan taster sessions
Give the budding musicians in your family an experience they'll be talking about for weeks. The gamelan is an intriguing orchestra made up of various gongs, drums and metallophones. Played together, it creates sonorous, beautiful music. These sessions are aimed at children aged 6+ and their families.
It doesn't matter if you've never played an instrument before – just put on your nice socks (you take your shoes off and sit on the floor to play gamelan) and come along with open ears. During half term there are sessions on Wednesday 30 May and Friday 1 & Saturday 2 June.
Jeppe Hein's Appearing Rooms fountain & Southbank Centre Beach
Would it even be the school holidays if you didn't spend a sunny afternoon watching your young charges trying (and gleefully failing) to second guess the random patterns of our famous terrace fountain, Appearing Rooms? The great news is that it's back again for 2018, along with our urban beach along the riverside. Both are free to enjoy and suitable for all ages. You might want to bring swimming costumes and towels though!
Our beach is open from Friday 25 May and Appearing Rooms returns on Saturday 26 May.
Southbank Centre Food Market and pop-ups
Our site is full of eating and drinking options to suit children without making parents feel like they're missing out on something delicious. There are dozens of street food stalls to choose from at Southbank Centre Food Market, which runs from Friday 25 – Monday 28 May and Friday 1 – Sunday 3 June. For something different, there are also our pop-up venues, including Snog's famous shocking pink bus, where you can enjoy frozen yoghurt; and hotdog specialists Oh My Dog!. Plus real ale-loving grown-ups can enjoy top notch beers at The Hop Locker's Bar Under the Bridge.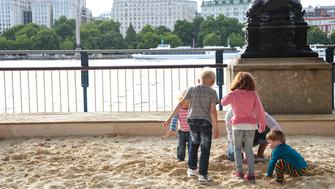 that's not all
Can't make it down to join us in half-term? There's plenty more family fun to be had at Southbank Centre throughout the year.