But what did ticket holders make of the high-stakes acrobatics, thumping live music and conveniently situated bar? We caught up with them outside the tent to hear what they thought of the show, and were blown away by their enthusiasm (luckily we weren't on a tightrope at the time).   
An out-and-out, oohs-and-aahs circus show that pushes all the right spectacular buttons, with no cheesy themes or narrative needed
It isn't just audiences who are raving. Critics have given BIANCO an un-Scroogelike chorus of approval, remarking on the talented performers, festive experience and surreally spectacular circus-scape. 
On press night, The Evening Standard gave the show four stars, describing it as 'a rough and ready promenade performance of thrills, spills and steamy eroticism', and mooted that it 'generates enough heat to melt any blizzard'. Time Out concurred with the rating, calling BIANCO 'an out-and-out, oohs-and-aahs circus show that pushes all the right spectacular buttons, with no cheesy themes or narrative needed.' They also praised the 'excellent' live band. 
Read the full Evening Standard review
The Big Issue agreed that the music was stand-out, saying that it called to mind 'everyone from Nick Cave to Jeff Buckley'. But, they said, BIANCO wasn't only a feast for the ears; 'everything is a treat to look at'. Psychologies dubbed the experience 'breathtaking'; 'The show captures the excitement of being transported to a traditional travelling circus.' 
For the reviewer at Gay Times, we're practically a Christmas tradition. 'Southbank Centre's Winter Festival has become as prominent a fixture on the festive calendar as head-splitting mulled wine hangovers,' said Oliver Fenwick, in what we're taking as a compliment. He described BIANCO as 'a disorientating and magical piece of promenade theatre, featuring everything you'd expect from an old-fashioned circus' and concluded that it 'manages to intrigue and entertain right to the very end.' Four stars from Oliver, who's buying the next round.
Read the review on Gay Times website
In another four-star review, London Theatre 1 were taken with the show's promenade format. 'Going to Bianco is like being at a party where all you have to do is stand around having fun with a drink, watching the beautiful and brave doing risky stunts you don't have to.' The reviewer from Exeunt Magazine couldn't have stayed sitting down anyway: 'if we had seats, we would be on the edges of them.'
Read London Theatre 1's review
Read the Exeunt Magazine review
'Acrobatics that thrill and delight from beginning to end' enthused Love London, Love Culture, while The Panoptic's critic definitely felt the magic, awarding BIANCO five out of five: '[it] repeatedly takes your breath away.' To Do List added the show to its list of the very best things to do in London in December, while The Play's the Thing called it a 'must-see'. 'Trust me', agreed Carn's Theatre Passion (who gave BIANCO five stars), 'you need to see this one.' 
Read the Love London, Love Culture review
Read The Play's the Thing's review
Read the Carn's Theatre Passion review
See the To Do List's December picks
'You'll have the evening of a lifetime,' Theatre Bubble promised. 'I was unprepared for how extraordinarily raw, fresh and passionate a circus performance could be.' Go on, said There Ought To Be Clowns; 'book now and you too could be dreaming of a BIANCO Christmas.' 
Read the review on There Ought To Be Clowns website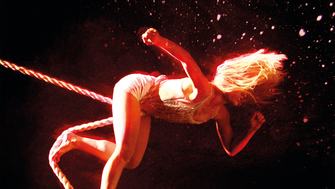 NoFit State Circus: BIANCO
Witness this dramatic live contemporary circus performance, set to a pounding soundtrack performed by a live band.