Imagine a Story: A Writing Project for Schools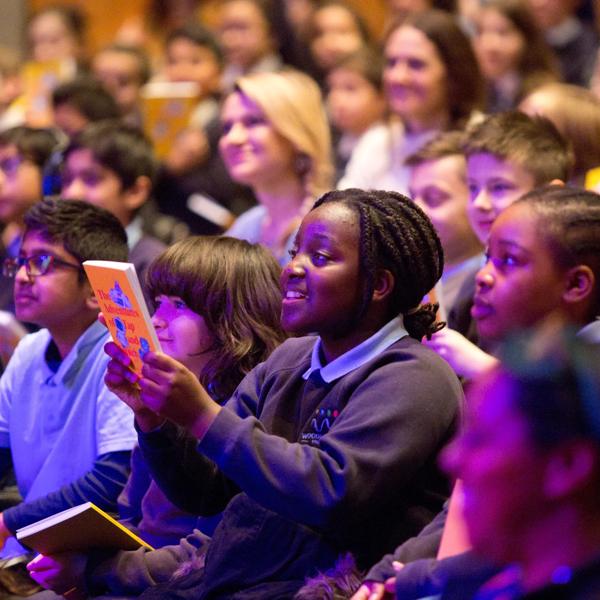 Key Stage 2 pupils become published authors in our collaborative writing project
Primary school pupils collaborate with author Alexandra Sheppard and illustrator Allen Fatimaharan in this year's Imagine a Story creative writing project.
For our project based on the game of consequences, author Alexandra Sheppard (Oh My Gods) has set a framework for an adventurous multi-part story that she needs your help to write! 
Children are inspired by characters brought to life on paper by illustrator Allen Fatimaharan (My Hair; Rapping Princess). 
Teachers are supported by a Continuing Professional Development (CPD) session and a robust teachers' pack created in consultation with the Centre for Literacy in Primary Education (CLPE).
Each participating school writes one part of a story in response to a brief set by the author – without knowing what comes before or after their section! Together, the chapters create a completely unique story. 
The completed story, collated from all participating schools, is then professionally published, making all the children involved published authors. Every child receives a copy of the published book.
The contributing classes of authors also attend a live interactive reading at the Southbank Centre to hear their story brought to life by author Alexandra Sheppard and illustrator Allen Fatimaharan.
This project is designed to inspire and support children's creativity and creative writing skills, help them to see themselves in the books they read and write, motivate them to continue to develop their writing and reading back in school, and help them to see themselves as real-life authors. 
Open to classes in Key Stage 2 (years 3 – 6). Schools are encouraged to invite multiple classes to collaborate together in this group writing project.
Take part
Applications are now closed for 2021/22. If your school would like to take part in the project next year, please email [email protected] to register your interest.