Imagine a Story: A Writing Project for Schools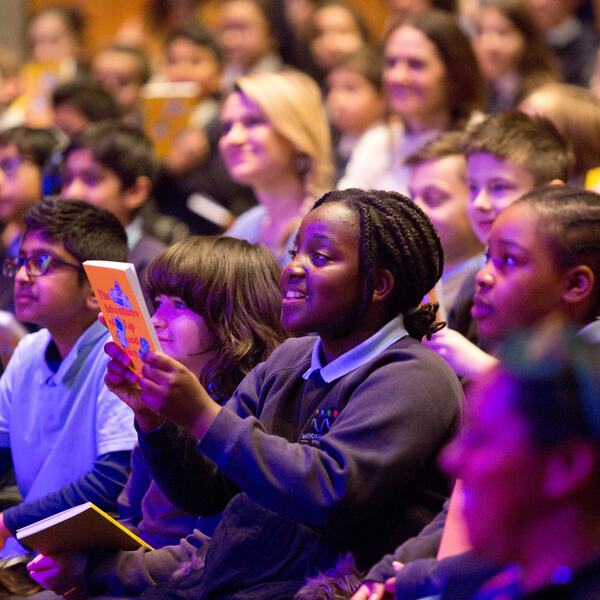 Key Stage 2 pupils become published authors in our collaborative writing project
Primary school pupils collaborate with author Zanib Mian and illustrator Selom Sunu in this year's Imagine a Story creative writing project.
For our project based on the game of consequences, author Zanib Mian (Planet Omar series) has set a framework for an exciting and adventurous multi-part story that she needs your help to write! 
Children are inspired by characters brought to life on paper by illustrator Selom Sunu (Jason Reynolds' Track series). 
Teachers are supported by a Continuing Professional Development (CPD) session and a robust teachers' pack created in consultation with the Centre for Literacy in Primary Education (CLPE).
Each participating school writes one part of a story in response to a brief set by the author – without knowing what comes before or after their section! 
Together, the chapters create a completely unique story. 
The completed story, collated from all participating schools, is then professionally published, making all the children involved published authors. Every child receives a copy of the published book, which is posted out to their school.
The contributing classes of authors are also invited to a live-streamed interactive reading of their story by author Zanib Mian with illustrator Selom Sunu.
This project is designed to inspire and support children's creativity and creative writing skills, help them to see themselves in the books they read and write, motivate them to continue to develop their writing and reading back in school, and help them to see themselves as real-life authors. 
This year's story also aims to support children's wellbeing through creative writing.
Open to classes in Key Stage 2 (years 3 – 6).
A note on story content
Every year we work closely with an author and illustrator to create a fictional world that engages and inspires children, and enables them to become published authors. This year we have chosen to frame this resource and project around a story that can be engaged with on two distinct levels. On a surface level, children can enjoy and create a rip-roaring adventure steered by two relatable, smart and fun young leads. On a deeper level, the narrative allows for a creative forum to help children process some of the thoughts and feelings they will have experienced as a consequence of the pandemic. Neither the story or resources explicitly reference or prompt children to discuss or engage with the pandemic. However, the themes of the story may lead to reflections on the subject. 
The activities have been designed to be open-ended enough to allow children to engage in the way that is most comfortable for them. It will be important to draw on your knowledge of your pupils' experiences over the past year to anticipate how best to facilitate possible conversations relating to the pandemic. We have listed a number of agencies who may be of assistance in providing further support in this resource pack.
Please take the time to read through this entire resource pack. If you feel that members of your class might find aspects of the story too triggering, we will work with you to select a section of the story that would be most appropriate for your class to work on.
Once you've submitted your application, get in touch with us. 
Applications are now closed
If you have submitted an application for the Imagine a Story project for 2021, the schools team will be in touch with you to confirm project details.