Members and their guests enjoy exclusive access to the Members Area on the top floor of Royal Festival Hall with stunning views across the River Thames.
Take in the skyline
From our unique location at the summit of the Grade I listed Royal Festival Hall, Members enjoy breathtaking views of London and the Thames.
Opening hours
We're open 10am – 11pm every day except Christmas Day.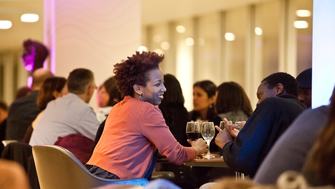 Happy hour
Take advantage of a range of 2for1 offers on beers and wine every day between 5pm - 7 pm and from 9pm to close.
Your special summer offer
You can bring up to four guests to the Members Area, from now until 31 August.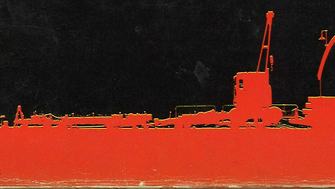 New exhibition in the Members Area
Until Sunday 24 September, delve into an exhibition about visual artist, writer and founder of the poetry-and-rock group Liverpool Scene in 1968, Adrian Henri. It's curated by Paris-based art historian Catherine Marcangeli to mark the 50th anniversary of The Mersey Sound, the anthology published by Liverpool poets.
The exhibition continues into the National Poetry Library at Royal Festival Hall.
The Mersey Sound at 50
Exclusive access & culinary treats
The Members Area is an exclusive space for you (and your guests!) to enjoy, while you're here you can indulge in our fine selections of wines, beers and spirits, as well as coffee and bar snacks. From midday a selection of sandwiches, soups and salads are served, as well a flatbread pizza.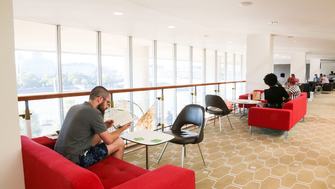 Daytime
Come early and meet up with friends and enjoy a snack before you begin your evening of cultural delights.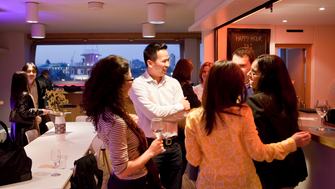 Evenings
Shake off your day at work and soak up the atmosphere before a performance or gently sip the evening away.
Membership hosts
Our dedicated hosts are available to answer your questions, book you on to a Members' event or to start or renew your membership. Visit the Membership desk located in the Members Area or contact us.
Tel: 020 7921 0916
Email us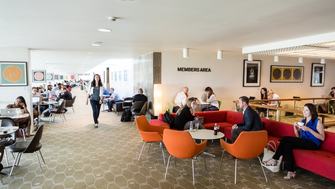 Book a table
Secure your table at our buzzing space before, during or after an event. Simply contact us at least two days before the date you want to reserve a table.
Tel: 020 7921 0916
Email: [email protected]
Or speak to a host in the Members Area