For over 50 years, our buildings have hosted sensational performances by the best artists in the world. But the most important moments don't always happen on stage.
Whether you want to remember your first concert together or countless special evenings, you can capture the hours you've shared by naming a seat in Royal Festival Hall, Purcell Room or Queen Elizabeth Hall.
Say 'thank you', 'I love you', or 'here's looking at you, kid'. Say 'I remember you' or 'let's do it again'.
Everything changes but some things stay the same. Keep hold of the memories that matter by naming a seat here for the decade to come.
When I lost my partner of 54 years I could think of no better way of commemorating our many visits to Queen Elizabeth Hall than to name two seats in our two favourite rows. It is a great consolation to me that I, and others, will sit in seats dedicated to him, in memory of wonderful performances we both enjoyed.
Nicholas, Southbank Centre supporter
"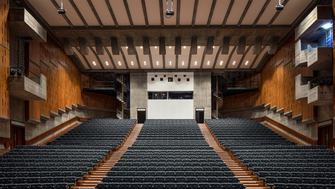 Queen Elizabeth Hall
from £150
Opened in 1967, Queen Elizabeth Hall has hosted artists including Benjamin Britten, Margaret Atwood, J K Rowling and Grandmaster Flash. Over five decades, it's seen the best of classical and contemporary music, dance and performance, comedy, literature and spoken word.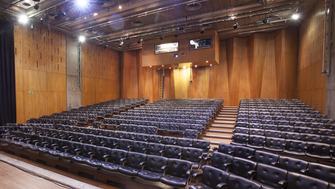 Purcell Room
from £150
Situated within Queen Elizabeth Hall, Purcell Room plays host to talks, debates, and intimate musical performances. Over the years, it has seen premieres of works by composers including Luciano Berio and Mark-Anthony Turnage and readings by authors and poets ranging from Ian McEwan to Carol Ann Duffy.
Royal Festival Hall
from £100
Daniel Barenboim, Jimi Hendrix, Martha Argerich, Frank Sinatra, Joni Mitchell, Jacqueline Du Pré, Patti Smith, Brian Wilson… Since 1951, Royal Festival Hall has witnessed performances by the greatest names in music, and a host of other world-class artists.

Please note:
If naming a seat in Royal Festival Hall, you can have one name of up to 30 characters on your plaque
 
If naming a seat in Queen Elizabeth Hall or Purcell Room,  you can have one name of up to 25 characters on your plaque and you can add an additional message of up to 90 characters
 
Plaques are in place for ten years, after which we will get in touch with you to ask whether you wish to renew your message
 
Please note that due to the extended stage in Purcell Room, the front three rows will be in place 25% of the time
 
Seats are subject to availability and allocated on a first-come, first-served basis
 
Southbank Centre reserves the right to approve and adjust the final message on your plaque
 
Naming a seat is not eligible for Gift Aid
I thought naming a seat for my mum and dad was a great gift for dad's 80th birthday, and also a nice way to say thank you to Southbank Centre. Dad has enjoyed watching many artists perform here over the years, and talks about it all the time with such fondness. I thought it was a great way to help keep Southbank Centre around for years to come, and I know that my Dad feels the same.
Charlotte, Southbank Centre supporter
"