Adapt to Survive: Notes from the Future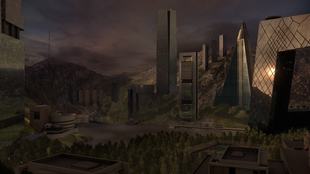 Date override
18 Apr 2018 – 11 Jun 2018
Hero title gray box disabled
Cornelia Parker: the art of printing with light and glass
Acclaimed british sculptor and installation artist Cornelia Parker has long been fascinated with the physical properties of objects and materials. This can be seen in her recent series of works in which the artist transforms the three dimensional into the two dimensional by placing ordinary objects directly onto photographic plates and exposing them to ultraviolet light.
In this interview for Hayward Gallery Touring the artist discusses how this approach was initially inspired by the work of the pioneering Victorian photographer Henry Fox Talbot, and explains the process that lies behind these fascinating photogravures.
These latest experiments in photography and printmaking from Cornelia Parker are presented in a current Hayward Gallery Touring exhibition of twenty large-scale photogravures from three series: Thirty Pieces of Silver (Exposed) (2015), One Day This Glass Will Break (2015) and Fox Talbot's Articles of Glass (2017).
I'm not trying to depict something, or represent something, I want it just to be itself
The exhibition Cornelia Parker: One Day This Glass Will Break will be on display at galleries around the UK during 2018 and 2019, and beyond.

Royal West of England Academy, Bristol
16 December – 28 January 2018

Brentwood Road Gallery, Romford
3 February – 11 March 2018

mac, Birmingham
7 July – 2 September 2018

East Gallery, Norwich
10 September – 13 October 2018

Gerald Moore Gallery, Eltham
12 January – 17 February 2019

Oriel Wrecsam, Wrexham
29 June – 4 August 2019

find out more about the exhibition
David Batchelor on art and the urban environment
David Batchelor is an artist, sculptor and writer who has achieved global recognition for his installations crafted from found objects which are given new life as brightly coloured light boxes or unlit composites.
Batchelor's works have illuminated galleries and public spaces from São Paulo's Galeria Leme to St Pancras International. His latest commission, Sixty Minute Spectrum (2017), will light up the recently refurbished iconic rooflights of the Hayward Gallery as we countdown to our reopening in January 2018.
But why has the use of colour become so integral to Batchelor's work? And what is it about the urban landscape that continues to inspire him? We caught up with the artist ahead of the launch of Sixty Minute Spectrum to find out more.
You're an artist who has become synonymous with brightly coloured, illuminated installations, yet much of your earlier work centred on monochromes. How did that transition take place? Or is it wrong to view it as a transition?
The earliest works I made after I left college were black paintings, and then I made some mostly white constructions. I hadn't thought about colour for a good many years until one day in the studio, in one of those slightly desperate moments, I painted the front of a small sculpture bright pink. From that point, which was over 25 years ago, I began to think about colour, to work with it in the studio and to read and write about it. Colour is such a complex subject – technically, neurologically, culturally, linguistically, politically – that I have never tired of it.
You have spoken before, in conversation with the philosopher Jonathan Rée, about how you feel that 'abstract art is the art of the city and that monochrome is its exemplary form'. Why do you believe this to be the case? What is is that separates abstract art from the non urban environment?
I had in mind the kind of flat, planar abstract art that begins with Malevich, Rodchenko, Popova and others, and has continued in a wide variety of forms in Europe, the Americas, Asia and elsewhere. My point was that you only find flat, regular, monochromatic surfaces in the city. Nature is always about modulation, depth and infinite variety. At the same time people have said abstract art and the monochrome are a turning away from the everyday life of the city. In fact you can find monochromes everywhere in the city, if you look for them, that how the series of photographs, Found Monochromes, came about.
Do you still collect Found Monochromes? Are they something you find yourself unconsciously identifying?
I began photographing found white monochromes in 1997. The most recent one, which I came across a couple of weeks ago, is number six hundred and something. The reasons I began taking them and the reasons I have continued to take them for 20 years may be rather different, but I identify with them quite consciously. They form a kind of 20 year map of my movements within London and in every other city I have visited.
Your connection to the urban environment as a platform for abstract art is clear in a number of your commissions, including this latest one for us. Are you interested in subverting the mundanity of the everyday through bright colours that are impossible to ignore?
The architectural environment tends to be very neutral in terms of colour: concrete, steel and glass tend toward the grey or colourless. I have no problem with this at all, in fact it is a very useful backdrop to my work, which can contrast with it quite dramatically. In addition, many surfaces in the city are shiny or reflective, which means that colour, and illuminated colour in particular, can bounce around this environment a long way from its source, especially at night. Advertisers worked this out a long time ago; I try to use colour for its own sake rather than in the service of a particular product or a market.
I'm not quite vain enough to assume my work is especially subversive, but I do hope that it might invite people to ask some questions about the physical, cultural and chromatic spaces we all inhabit.
Coming back to your commission for Hayward Gallery, what was the brief you were given, and how did you arrive at your work Sixty Minute Spectrum?
To be honest I don't quite remember the exact brief, but I talked with [Hayward Gallery Director] Ralph Rugoff over several months about developing a work that would both draw attention to the gallery – which has been 'dark' for three years – and have some kind of countdown element that would point towards its reopening.
Further to this – why sixty minutes? What was it that drew you to this particular time frame?
I have often thought that clocks are one of the best and most useful forms of public art. This work will function as a kind of timepiece that moves through the spectrum like a minute hand on a clock. In the same way that it is very difficult to see a minute hand move, you won't be able to see the colour change, but if you look away for a short while and then look back you will see that the colour has changed. Also, if you know it is mid-red at 00 on the clock, and mid-green at 30 minutes past the hour, you will also be able to work out the approximate time depending on which particular colour is visible.
Your work has been exhibited both in and on Hayward Gallery before –  with Magic Hour (2004/7) which appeared in our 2013 Light Show exhibition and with Festival Remix, the winter lights project first shown in 2006.  What does this gallery mean to you?
I first visited the Hayward Gallery when I was about 14 years old and I must have been back several times a year, every year, since then, so you can safely say it has been a part of the my cultural life for nearly half a century. It means a great deal to me: it has helped shape who I am as an artist and as a person, for better or worse.
---
David Batchelor's Sixty Minute Spectrum illuminated Hayward Gallery's iconic rooflights until 25 March 2018.
After a two-year refurbishment Hayward Gallery reopened to the public on 25 January 2018.
interview by Glen Wilson
Four Nordic installations that are anything but minimalist
You might think you know all about Nordic design and aesthetics, but four free installations on show now at Southbank Centre could well give you a new perspective.
They couldn't be further away from the clean, minimalistic vibe so many of us associate with the region. Instead they range from the playful to the grotesque – and, with their interactive elements, are great for entertaining children.
All feature as part of our Nordic Matters celebrations.
The Gnome King by Kalle Mustonen
Gnomes play a significant role in many Nordic folk traditions, and our Gnome King is as enigmatic as any you'll have come across. For one thing, he's very big! And while he's a member of royalty, he resembles a traditional garden gnome. You can peek inside him, where you'll discover the Gnome King is also a shed. Is he asleep – or something more sinister?
Visit him for free today, he's lying down on Level 2, Royal Festival Hall, until Wednesday 30 August 2017.
Kalle Mustonen is a Finnish sculptor working in Lahti and Helsinki. Gnomes have figured extensively in his work.
Appearing Rooms by Jeppe Hein
You and your kids might think of this popular summer pop-up as 'the fountain', but did you know that it is actually a playful, interactive sculpture?
It uses walls made of water to form four 'rooms'. The trick is that a randomised sequence means that the walls rise and fall, changing the shape of the rooms without any warning and sometimes giving participants a soaking.
It's also a super fun way to cool down on a hot day – and free to visit. You can find Appearing Rooms on Festival Terrace until Sunday 24 September 2017.
Modified Social Benches NY by Jeppe Hein
Park benches are a common sight in cities everywhere, but ours are sure to catch your eye as you wander around Southbank Centre.
Not only are they a very vibrant colour, but they turn the traditional design of a seat on its head. These park benches twist and turn in unusual ways, to make sure that sitting on them becomes a conscious process, if not always a comfortable one.
They're also fun to climb on, provide great locations for photos and are completely free to use. You can find them in various outdoor locations across our site until Sunday 24 September 2017.
Jeppe Hein is a Danish artist. He recently held an exhibition called Jeppe Hein: Please Touch The Art.
Falling Shawls by Outi Pieski
The Sami people, indigenous to northern areas of what is now Norway, Sweden and Finland, are famous for their intricate weaving techniques. This artwork uses a thousand handcrafted shawls, made by 12 Sami women, to create what Outi Pieski calls a 'drawing in the air'. The result is a colourful, beautiful display which transforms delicate garments into a striking installation.
You can see Falling Shawls by visiting Level 2, Royal Festival Hall – or try climbing the stairs for a different perspective. How many shawls can you count? Runs until Sunday 31 December 2017.
Outi Pieski is a Finnish-Sami visual artist from Utsjoki, the Sami area in northern Finland.
Kalle Mustonen: Gnome King
See sculpture from a Finnish artist who reimagines modern culture in monumental and mythic terms.
5 July – 30 August
The interior of the structure is open Friday – Sunday, 11am – 8pm
You can view the exterior daily between 10am – 11pm
Blue Display Space 2 - Level 2, Royal Festival Hall
Kalle Mustonen's work often plays with the idea of kitsch, bestowing mythic status on everyday objects. In doing so, he explores their underlying commonality with ancient monuments and places of worship.
In this exhibition, Mustonen showcases his intriguing large-scale wooden sculpture Gnome King, which visitors are invited to view inside a shed-like hideaway. The Gnome King is both based on a story from Finnish folklore and reminiscent of a certain variety of garden ornament.
Marianne Heske: Gordian Knot – Necklace
Norwegian artist Marianne Heske suspends a 20-metre glistening necklace made from over 200 Tibetan gold and silver-plated dolls' heads. Take a closer look and try and solve this ultimate problem.
Until Wednesday 30 August
Open daily, 10am – 11pm
Admission is free
Blue Side Foyers, Level 4, Royal Festival Hall
This artwork and documentary is about the youth group HUR, and the personal stories of young people living in the neighbourhood of Holma in Malmö, Sweden. Holma is mostly made up of multi-storey housing blocks, and artist Roxy Farhat has worked closely with the young people and their families to create individual portraits of their lives.
1 July – 30 August
Open daily, 10am – 11pm
Run time: 15 minutes
Green Display Space 3 – Level 2, Royal Festival Hall
The HUR youth organisation is run by young people aged 16 to 25, and focuses on youth development and health in a neighbourhood that is often categorised by the media as 'dangerous'. In this film, these young people define their world, challenge stereotypes and work towards bringing social change.

This film is a result of Konst Händer (Art is Happening), a programme run by Public Art Agency Sweden, with the goal of fostering artistic expression in close collaboration with civil society organisations.
Watch the final Hayward Gallery pyramid go into place
Get a unique view of Hayward Gallery, and London, as the final glass pyramid rooflight is fitted into position on the iconic building.
Our project to Let The Light In on our 1960s arts venues recently reached an important milestone as the final glass pyramid rooflight was lowered into place on top of the Hayward Gallery. And, thanks to some nifty camera-work, you can get a unique pyramid's-eye perspective on the operation.
However, though the pyramids are in place, our work isn't over. There is still much to do in the final year of the refurbishment project, including:
installing the 66 internal coffer linings on Hayward Gallery's upper gallery ceilings; these go under the rooflights helping to let controlled natural light in for the first time
restoring the gallery's stone floors to their original appearance
repaving the famous sculpture terraces and making them waterproof
cleaning some of the gallery's concrete.
Find out more about our historic Let The Light In refurbishment project and how you can get involved.
Unveiling Noémie Goudal's giant billboard commission
Presented by Hayward Gallery, billboard commission, Station II (2015) by Noémie Goudal is typical of the way the artist likes to challenge our perception of reality in her photographs and installations, explains Cliff Lauson, Hayward Gallery curator.
Goudal often subtly stages and reconstructs parts of a scene and then photographs them. However, she is not interested in creating a perfectly seamless image – there are always edges of materials or other imperfections showing that give away the constructed nature of her images. Her work often causes viewers to do a double-take.
Station II (2015) presents a view of a landscape vista
The high vantage point of the image in combination with its forested landscape recalls the romantic tradition in painting. Realised at such a large scale, this heroic view of nature sits uneasily with the surrounding urban environment, in particular alongside the Brutalist architecture of the Queen Elizabeth Hall and Hayward Gallery.
A large circle features prominently in the sky portion of the photograph. This suspended disc actually depicts a different sky that Goudal has previously photographed, printed out and affixed to a large circular support. The cables suspending this panel are visible, as are the individual sheets of paper tiled in a grid that make up the insertion. Goudal's conceit, which she uses across her series of Stations, explores our fascination with the sky, and how we once thought of it as a flat surface that wrapped around the earth.
Installing this billboard commission is always a challenging feat. Abseilers need to descend from the rooftop using ropes. They work in a team for a day to unfurl the printed vinyl, fastening and tensioning it onto the permanent metal frame. Cliff Lauson, Curator
Noémie Goudal's Waterloo Bridge Billboard Commission, 4 April – 6 June 2017 Find out more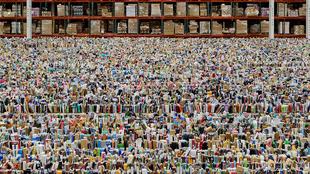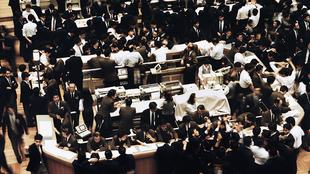 Date override
25 Jan 2018 – 22 Apr 2018
Hero title gray box disabled
Pages