Hayward Gallery welcomes education groups to its exhibitions and events, and offers reductions and supporting material for visiting students.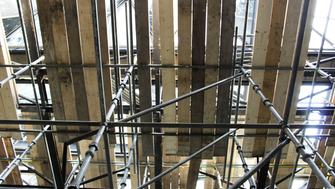 Please note that the Hayward Gallery is currently closed for renovation. It will reopen to the general public in 2018.
Renowned for a diverse range of exhibitions, the site offers a stimulating place for students to experience and learn about contemporary and modern art. 
A reduced rate for school and college groups, including tutors and group leaders, is available Monday to Friday when booking in advance. You can make a booking by calling our group bookings line on 0844 875 0070.
Our local primary and secondary schools in the London Borough of Lambeth can visit the Hayward Gallery free of charge, Monday to Friday. To be entitled to free entry, schools must book in advance by calling the group bookings line.
To help teachers and group leaders plan a group visit, those making advance visits to the Gallery can have their ticket cost refunded when they make a group booking.
Get all the answers to your questions about your trip to the Hayward Gallery below
Can we visit without booking?
Booking your visit in advance is highly advised. If you bring a group to the Hayward Gallery without an advance booking you won't be entitled to receive the discounted group rate, or free entry for local schools. 
Exhibitions at the Hayward Gallery are often very busy, and without an advance booking we can't guarantee entry for a large group. So to avoid disappointment and get the best price, please book your visit in advance.
Will you send us our tickets in advance?
A confirmation of your reservation is sent as soon the booking has been made. Payment can be made by cheque, BACS Transfer or credit/debit card and is required five days before the visit to the gallery.
Tickets will be sent to you if payment is received within that time, otherwise they can be collected at the Hayward Gallery Information Desk on the day of your visit.
Can we book a tour or workshop?
We have a specially trained team of artist educators who can facilitate  tours. The team are skilled in delivering tours to a range of ages and abilities, and can offer a range of options for themes and activities. 
Once you've booked your tickets, get in touch to check availability of workshop and tour leaders, and costs.
email us 
Is there a maximum group size?
Tickets for all visitors to the Hayward Gallery are issued for timed entry in hourly slots. For group visitors, there is a maximum of 30 for each hourly entrance time. If you intend to bring a group of more than 30 people, you may be asked to split the group to stagger entry times.
How many adults should we bring?
It is important that there are enough adults to supervise visits by under 16s. Adult supervision of students under 16 is required at all times, and we ask you to use the following ratios:
1:5 for under 5s
1:10 for under 11s
1:15 for 11-16 year olds
1:20 for 16-18 year olds
We reserve the right to refuse entry to the Hayward Gallery for safety reasons if there are not sufficient adults to supervise your group.
Teachers and group leaders are responsible for students' behaviour whilst at the Gallery
Where can we eat our lunch?
The Royal Festival Hall foyers are open to the public from 10am to 11pm daily.  Opening hours are subject to change for special events; please confirm opening hours in advance of your visit.
Small groups (less than 20) are also able to use the Dan Graham Waterloo Sunset Pavilion, subject to availability.
Do you have a standard risk assessment for school visits to The Hayward Gallery?
We can provide two risk assessments, should you require them, for public access to the Hayward Gallery. One is a general risk assessment for the building and is available whenever you make a booking. The other is specific to particular exhibitions and is only available from the day the exhibition opens.
What do we do when we get The Hayward Gallery?
All group leaders should register at the Information Desk upon arrival.
Can we take bags into the gallery?
Large bags, rucksacks, coats or other articles of luggage are not allowed in the Gallery. A cloakroom and/or provisions for groups to leave such items before entering are available.
Can we take sketching materials and cameras into the gallery?
Students are welcome to sketch in the galleries using pencils. Please help keep the Gallery tidy for other visitors by taking any materials with you after your visit.  Paint, charcoal, pens, crayons, and pastels are not allowed.
Photography is permitted in the foyer and Dan Graham Waterloo Sunset Pavilion.  No photography is allowed in the galleries.
What kind of behaviour is unacceptable in the gallery and shop?
For the safety of the artworks, and other visitors to the Gallery, please remind your groups of the following:
Inside the galleries, please don't: run, touch, lean, shout, eat or drink. 
To avoid congestion in the shop, please ensure pupils visit in small staggered groups and are supervised at all times.Please do: look, listen, debate, think, and discuss.
If you have questions that aren't answered above, please contact us
Thank you, and enjoy your visit to the Hayward Gallery.