Roof Garden, Queen Elizabeth Hall
Our beautiful Roof Garden atop Queen Elizabeth Hall is an oasis in central London. It is free to visit and lets you relax among wild flowers, fruit trees and allotments with beautiful views of the Thames and London skyline.
There is also a cafe/bar serving soft drinks, alcohol, tea and coffee, a range of sandwiches and other snacks, and come November, a Finnish sauna where you can take refuge against the winter. Don't miss out on your chance to experience one of London's best kept secrets.
Open daily: 10am – 10pm
Admission free.
Please note that during our refurbishment works there is no step-free access to the roof garden.
Step into our Nordic sauna on Queen Elizabeth Roof Terrace, and let an expert introduce you to the authentic sauna experience.
Created in 2011 to celebrate of the Festival of Britain's 60th anniversary, this peaceful space is now a much-loved feature of Southbank Centre.
The garden, originally a partnership with the Eden Project, was built and continues to be maintained by Grounded EcoTherapy – a group of volunteers who have experienced homelessness, addiction and mental health problems. The Roof Garden, Queen Elizabeth Hall Roof has helped these individuals turn their lives around, giving them a new focus, building their confidence and improving their wellbeing.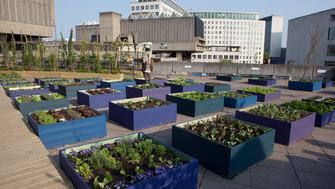 Support the Roof Garden
Love the Roof Garden? Your financial support helps us keep the garden open and thriving for everyone to enjoy.