Winter Light
20 November 2020 – 28 February 2021
Selected artworks from 10am. Full exhibition from dusk until 11.30pm.
Across the Southbank Centre site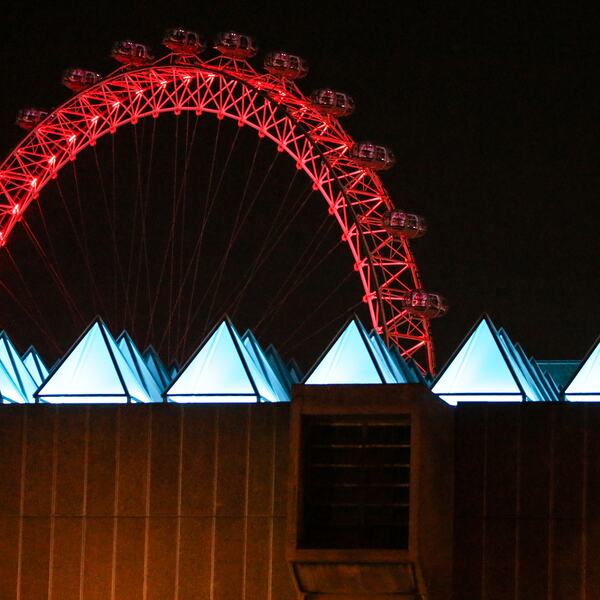 Designed for winter's darkest months, this outdoor exhibition radiates light
Winter Light brings together artworks that take inspiration from light, colour and the poetics of space.
Participating artists in the Winter Light free outdoor exhibition are Simeon Barclay, David Batchelor, James Clar, Shezad Dawood, Kota Ezawa, Navine G. Khan-Dossos, Suzie Larke, Teemu Määttänen, Tala Madani, Tatsuo Miyajima, Louiza Ntourou, David Ogle, Katie Paterson, Jini Reddy, Martin Richman, Tavares Strachan, Pamela Phatsimo Sunstrum, Emma Talbot and Toby Ziegler.
Featuring more than 15 artworks and new commissions, the exhibition is installed across our buildings and along the riverfront.
At a time when we view so much of the world through digital screens, the artists in this exhibition celebrate how the medium of light can transform our physical spaces. 
The artworks also explore ideas about nature, politics and society, gender, aesthetics and the act of looking.
Winter Light features a series of newly commissioned writings by author Jini Reddy, inspired by seasonal variations in light.
The exhibition is free and is visible from outdoor locations around our site, from dusk until late. Artworks will be added to the site until the exhibition is fully realised in mid-December.
Teemu Määttänen's installation is commissioned with the generous support of The Finnish Institute and the Embassy of Finland London.