Gamelan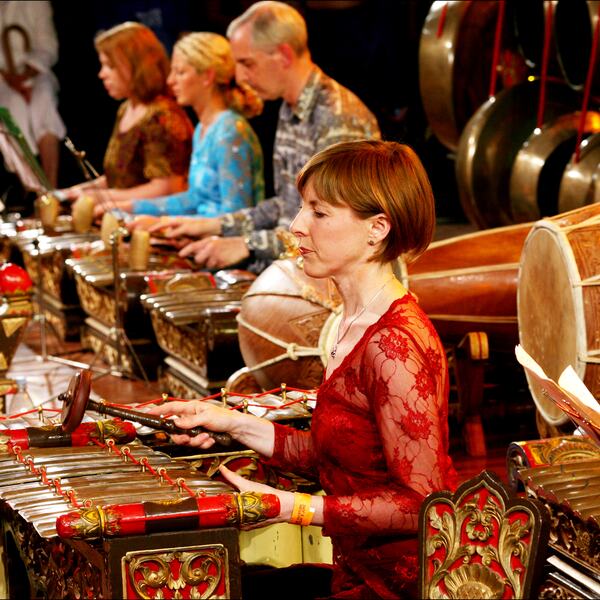 Southbank Centre's Gamelan Programme offers something to suit everybody
For family, school and group workshops to regular classes and performances. No previous musical experience is necessary to play the gamelan and enjoy its wonderful sounds.
What is gamelan?
The term gamelan refers to the ensemble of percussion instruments on which traditional gamelan music of Java and Bali is played. A complete Javanese court-style gamelan comprises two sets of instruments, one for each tuning system: sléndro (a five-tone scale) and pélog (a seven-tone scale). Within each of these tunings are three pathet, a Javanese concept referring to both mode and mood. No two gamelans are tuned exactly alike; each ensemble is unique and may often be given a name.
How does it work?
The layout of the gamelan reflects the role of the different instruments in the music. In the middle of the gamelan, the balungan (or 'skeleton' melody) is played on the bronze metallophones (saron family and slenthem).
The balungan is punctuated by the larger gongs (gong ageng and kempul) and the horizontally-mounted gongs (kenong, kethuk and kempyang) at the back of the gamelan.
At the front of the gamelan a selection of more complex instruments embellish the melody - the two bonang (double rows of gong chimes mounted on a frame), gendèr (multi-octave metallophone), rebab (fiddle), gambang (xylophone), siter (plucked zither) and suling (bamboo flute). A complete ensemble also includes a gérong (male chorus) and pesindhèn (solo female vocalist). The whole gamelan is co-ordinated by the drummer in the centre of the ensemble, playing a selection of kendhang (double-headed drums).
What is it used for?
Traditionally, gamelan music is used in Java for a number of different artistic and cultural purposes. The gamelan can often be found at religious ceremonies, palace rituals and many occasions including weddings, funerals, coming of age ceremonies, village cleansing rituals, celebrations to mark the birth of a new child or important events and birthdays.
The gamelan is often used to accompany dance or shadow-puppet plays and other theatrical forms. Gamelan is also played during klenengans - occasions where communities and local musicians get together to perform for enjoyment or to mark a particular social event.
In addition to ancient traditional gamelan music, popular genres co-exist (Campursari, Keroncong and Dangdut) which are vocal oriented and can sometimes incorporate Western instruments - keyboards, trumpets and drums - with Western tuning.
Get in touch
For more information about gamelan at Southbank Centre, please phone us on 020 7921 0767 or send an email