Island Life Reggae Soundclash
free
Sun 12 Jun, 1pm
Riverside Terrace, Level 2
Gigs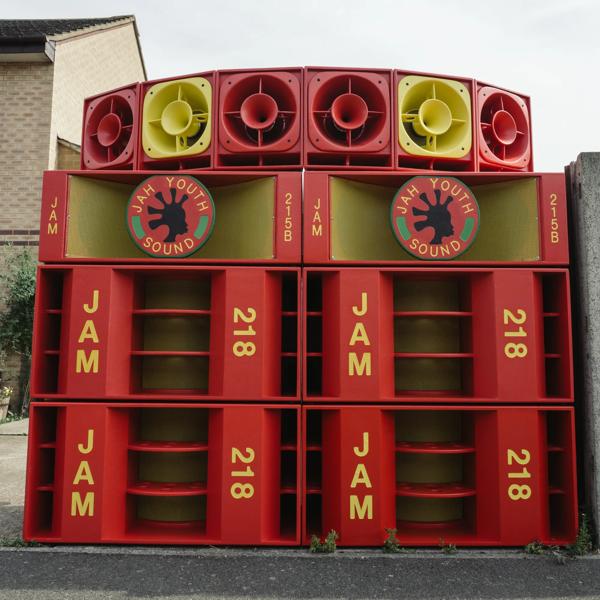 Jah Youth and Lionpulse sound systems meet on our Riverside Terrace for a friendly soundclash, and Seng Seng Rhythm Section live dubs Grace Jones' Island Life.
This powerful line-up is built to celebrate Grace Jones' seminal 1985 album, Island Life.
1pm – 4pm: Lionpulse & Jah Youth Sound Systems friendly clash
4pm – 5pm: Slick & Bobbie (Seng Seng Rhythm Section) perform Island Life in Dub (amplified by both sound systems in unity). Plus performances from Visaka & Kosher
5pm – 6pm: Lionpulse & Jah Youth sound systems friendly clash
Jah Youth Roots Ambassador reggae sound system has been playing roots reggae music since 1975. The Roots Ambassador family includes a tight-knit community of singers and DJs, including Sista Uwimmana, Prince Liv-I-Jah, G Vibes and Jah Youth the Operator.
Lionpulse sound system, founded in 2013 by General H and Live&Direk, are part of a new wave of UK sounds, playing roots, revival and foundation reggae, dub, steppas and 1980s dancehall. Lionpulse hosts the Tangled Roots area at Boomtown Festival each year.
Slick & Bobbie (Seng Seng rhythm section) are a dub-influenced rhythm section and production duo that have provided dub-inspired drums and bass on multiple projects. Whether they're playing beat machines and bass synths, soulful folk, trip-hop laced boom-bap or odd time grunge, all is played through the filter of dub.
Joining Seng Seng, Visaka is a songstress invoking word, sound and power with depth and emotion, a Kendrick Lamar stan and an artist in her own right, with solo work produced by Vice Vic, and collaborations with reggae band The Royal Sounds.
Also joining Seng Seng is Kosher, a freedom fighter, mother and songwriter firmly rooted in word-sound-power roots reggae and dub music culture and spirituality, with releases on UNIT137 and Bun Dem Out spanning reggae to jungle.
DJ Ayito is an artist and activist making a name for herself in the UK reggae scene as a resident with the Wake Up The Lions crew and as a selector at clubs and festivals with a fiery passion for the music and cultural integrity.
The event is hosted by Shumba Youth. You can catch him regularly stirring up riddims across the capital, where his message can be heard loud and clear above the basslines of dub, dancehall, jungle and Afrobeats.
This event is co-produced by DJ Snuff One. In the mix since 1994, Snuff has been a DJ with the Congo Natty live band and a live show and tour DJ for Roots Manuva, Shingai Shoniwa, Shadia Mansour, Caxton Press and Logic. He has also toured with Maverick Sabre, Dead Prez, Immortal Technique, The Pharcyde, Arrested Development, Public Enemy and Talib Kweli.
Dates & times
Sun 12 Jun, 1pm
Approximate run time: 300 mins.
Run times may vary by up to 20 minutes as they can be affected by last-minute programme changes, intervals and encores.
Price
Everyone needs the arts. We need you.
Right now, your support is more important to us than ever before. Help us to continue making the arts available to all.
Venue
Outdoor spaces
As we welcome you back, our number one priority is the health and wellbeing of our visitors and staff, so we've introduced a number of measures to help everyone stay safe. 
Check our event pages for opening dates and times.
Our address is: Southbank Centre, Belvedere Road, London SE1 8XX.
The nearest tube and train stations within 5-7 minutes walk are Waterloo (Northern, Bakerloo, Jubilee and Waterloo & City lines) and Embankment (District & Circle lines).
There are also lots of bus routes with stops 2-5 minutes from our venues. For more information on getting here by road, rail or river.
Toilets
Toilets, including accessible toilets, are open on Level 2 of the Royal Festival Hall for ticket holders and those attending Riverside Terrace events. 
Cloakroom
Situated on Level 1 of the Royal Festival Hall, our cloakroom is accessed via steps or platform lift from the Southbank Centre Square doors. It opens around 60 minutes before the start of any Royal Festival Hall show, and closes around 15 minutes after the performance ends.
The charge is £1 per item, which must be collected on the same day they are stored. Items left here are at the owner's risk and we cannot accept any responsibility for loss or damage, from any cause, to items left in the cloakroom.
Entering the hall
There may be short queues to enter the building and the auditorium. If you are not able to queue or need further assistance, our Visitor Assistants are here to help you. 
For level access to the Royal Festival Hall, please use the external lift near the Artists' Entrance on Southbank Centre Square, Belvedere Road, to Level 2, and enter via Riverside Terrace. All floors are accessible from the main foyer.
We welcome wheelchair users and guide companion dogs.
More about Access & facilities
Parking
Blue Badge holders and those with access requirements can be dropped off on the Queen Elizabeth Hall Slip Road off Belvedere Road (the road between the Royal Festival Hall and the Hayward Gallery).
There are four Blue Badge parking spaces available for visitors located on the Queen Elizabeth Hall Slip Road. Spaces are allocated on a first-come, first-served basis, and are free to use. You must display your Blue Badge as you enter the site. Vehicles that do not display a Blue Badge are refused entry.
Blue Badge parking at National Theatre
Alternative parking for Blue Badge holders visiting the Southbank Centre can be found at the National Theatre car park (330 metres). If you are visiting the Hayward Gallery, just take your badge and car park ticket to the Ticket Desk in the gallery foyer for validation before you leave.
Please note: on Sunday when the National Theatre building is closed there is no step-free access from the car park.
Alternative parking is available nearby at the APCOA Cornwall Road Car Park (490 metres), subject to charges.
Blue Badge parking at APCOA Cornwall Road
Alternative parking for Blue Badge holders visiting the Southbank Centre can also be found at the South Bank Car Park – APCOA Cornwall Road Car Park. Just take your badge and car park ticket to the parking attendant office at the entrance to the car park for validation before you leave.
A drop-off point at the Royal Festival Hall (30 metres) has been created for visitors who are unable to walk from alternative car parks.
Our Access Scheme
If you have any access requirements, please sign up to our Access Scheme for discounts, wheelchair spaces, dedicated seats and free companion tickets. You can also join our mailing list to get news about accessible events and exhibitions.
A selection of the restaurants and cafes on our site and the Southbank Centre Street Food market are now open.