Africa in Fashion: Tailor Re-Made
free
Sat 26 Aug, 3pm & 4.15pm
Blue Side Foyer, Level 2, Royal Festival Hall
Performance & dance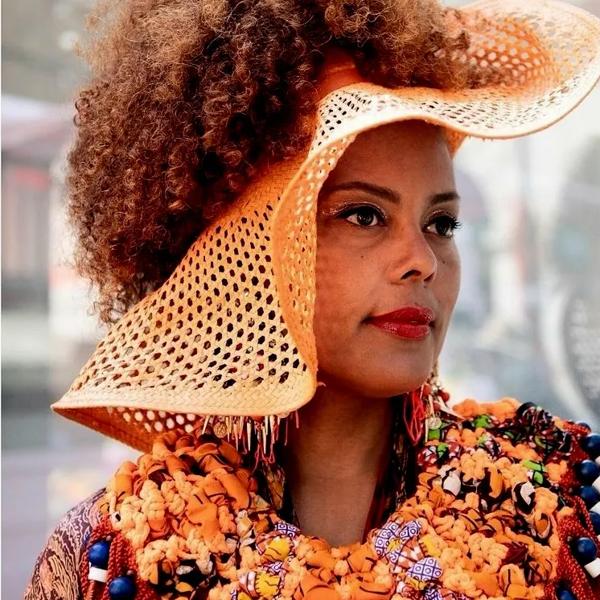 Fashion something new from your old clothes, footwear, hats or bags by embroidering and embellishing, in this workshop with Anita Quansah and Caroline Sani.
Upcycle and rework your old items by creating bold new artworks that help them sparkle anew.
Audiences are invited to take part in any of the two workshops happening across the day – just bring in an item of clothing you would like to upcycle.
Workshop 1: Upcycle with Embellishment
British Ghanaian artist Anita Quansah's practice involves finding exciting ways of embellishing clothes, footwear, hats and bags into distinct wearable art. Her work focuses on what we can make and wear to embody cultural aesthetics and evoke memories.
Workshop 2: Upcycle with Embroidery
Designer Caroline Sani invites you to cut and sew new patterns and bold motifs onto your old clothes to create bold new catwalk-ready pieces. Sani's work focuses on reducing waste and the associated negative footprint that comes with fashion and consumerism. She often highlights the importance of sustainability, cultural peace and the advantages of free speech.
This event is co-curated by Creative Resilience International, a nonprofit cultural production and development organisation whose mission is to support talented yet underrepresented individuals and organisations within design, art and fashion.
The team is made up of industry experts who collectively have over 20 years of experience in cultural strategizing, creative production and advancing education and capacity building across international markets. They champion and empower underrepresented, underappreciated and very talented creatives.
Need to know
Spaces are allocated on a first-come-first-served basis. Please bring an item of clothing to participate in this workshop.
An installation, There Is No Such Things As Rubbish: the never ending story is also displayed during this event. The collaboration between Sokari Douglas Camp, Gary March, Nicola J Reid and Rasaq uses found and discarded objects, supported by digital imagery, and intends to challenge our understanding of physical waste creation and disposal.
Dates & times
Approximate run time: 45 mins.
Run times may vary by up to 20 minutes as they can be affected by last-minute programme changes, intervals and encores.
Price
Everyone needs the arts. We need you.
Right now, your support is more important to us than ever before. Help us to continue making the arts available to all.