Arundhati Roy: Azadi
Until 30 Oct
Online events
Talks & debates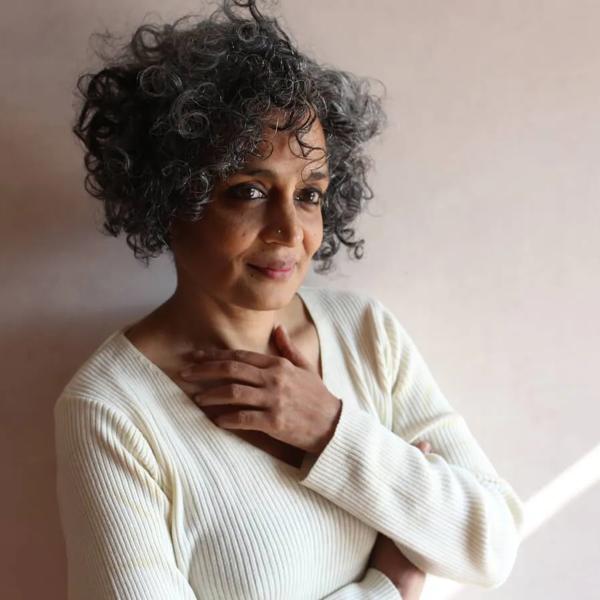 'Historically, pandemics have forced humans to break with the past and imagine their world anew. This one is no different. It is a portal, a gateway between one world and the next.'
Broadcast in conversation on her new book of essays, Azadi, the author and activist reflects on what it means to be free in a post-pandemic world.
'Azadi' is the Urdu word for 'freedom', and is the slogan chanted by Kashmiris against Indian occupation. Ironically, it also became the protest cry of millions demonstrating on the streets of India against Hindu nationalism.
As Arundhati Roy began to ask what lay between these two calls for freedom, all sides fell silent, when coronavirus brought the world to a halt.
Drawing on this timely series of essays, Roy reflects on the nature of freedom against a backdrop of growing authoritarianism.
In conversation with journalist Razia Iqbal, Roy explores topics that encompass the relationship between public and private language, and the role that fiction and imagination can play in these troubling times.
Despite the devastation wreaked by the pandemic, Roy also invites us to see it as an opportunity to imagine a better world.
Arundhati Roy is the author of The God of Small Things, which won the Booker Prize in 1997 and has been translated into more than 40 languages, and The Ministry of Utmost Happiness, which was long-listed for the Man Booker Prize 2017.
Roy has also published several works of non-fiction, including The Algebra of Infinite Justice, Listening to Grasshoppers and Broken Republic.
Razia Iqbal has been a journalist with BBC News for more than three decades. She currently presents two flagship international current affairs programmes on radio: Newshour on the BBC World Service and The World Tonight on Radio 4.
Presented in partnership with Penguin Live.
This event is pre-recorded exclusively for the Southbank Centre.
Need to know
This event is streamed. Streaming is provided by TicketCo on behalf of the Southbank Centre.
Please ensure that you have access to a stable WiFi network in order to watch the event. More information on how to access the stream is available when you click through to the TicketCo website to purchase your ticket.
Ask Arundhati Roy a question
Email us on [email protected] with 'Arundhati Roy' in the subject line by 5pm on Tuesday 20 October for the chance to have your question selected for the Q&A.
Price
Buy seven days' video access: £5
Buy seven days' video access & book bundle: £11
Get presale tickets
Members get the first chance to book our entire programme of events, including go-down-in-history gigs, concerts with world-class orchestras, and talks from cultural icons and political giants.
Venue
Online events
We are streaming events with a number of different platforms.
Check the Where to watch section above to find out which platform you can use to view this specific event.