Out-Spoken
Until 4 Apr
Online events
Literature & poetry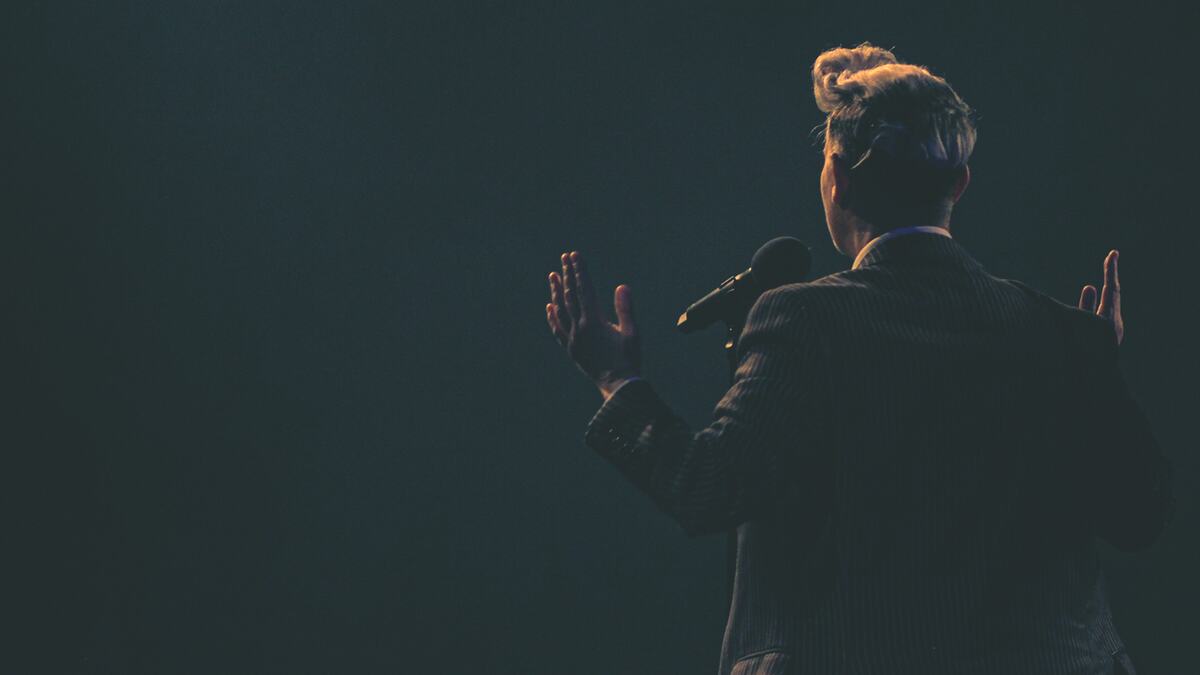 Bringing the cream of UK writing talent to you, our resident poetry and music night goes online for the very first time.
The evening features sets from poets Jay Bernard and Caleb Femi, and music from singer-songwriter Mysie.
Out-Spoken is hosted by Joelle Taylor, with Sam 'Junior' Bromfield spinning the best in reggae, soul and R&B throughout the evening.
This event is pre-recorded exclusively for the Southbank Centre.
Jay Bernard is a poet, writer and fellow of the Royal Society of Literature. They won the 2018 Ted Hughes Award for Surge: Side A, a cross-disciplinary exploration of the New Cross Fire in 1981.
The resulting poetry collection, Surge, was published by Chatto and Windus in 2019 and was shortlisted for the Costa Poetry Award, TS Eliot Prize, Forward Prize for Best First Collection, Dylan Thomas Prize, RSL Ondaatje Prize and John Pollard Foundation International Poetry Prize. Jay Bernard was named Sunday Times Young Writer of the Year 2020.
Poet and director Caleb Femi featured in the Dazed 100 list of the next generation shaping youth culture, and from 2016 to 2018 he was the Young People's Laureate for London.
Using film, photography and music he pushes the boundaries of poetry on the page, in performance and via digital media. His debut poetry collection POOR was released by Penguin in November 2020 and was a New Statesman and Financial Times book of the year.
Mysie (my-zee) began as Lizbet Sempa, a 16-year-old singer-songwriter and pianist, but developed Mysie to channel the creativity of experimental popular music into her work.
Mysie's evocatively playful style draws on her diverse influences, from Thundercat to N.E.R.D, as well as her own rich heritage as the granddaughter of a renowned Ugandan jazz musician. Her debut EP, Chapter 11, attracted nationwide acclaim from the likes of BBC 6 Music and NME.
Need to know
Age recommendation/restriction
This event is streamed. Streaming is provided by TicketCo on behalf of the Southbank Centre.
Please ensure that you have access to a stable WiFi network in order to watch the event. More information on how to access the stream is available when you click through to the TicketCo website to purchase your ticket.
Where to watch
How to watch the stream on your preferred device
After your payment transaction is approved, TicketCo will send you a ticket or purchase confirmation within one hour. Check the email address and/or phone number that you registered with to collect your ticket. 
Watch in a browser on a phone, tablet or computer
TicketCo TV can be streamed using all the main web browsers. Open your email confirmation and click the TicketCo TV icon. This will open a new tab where the event will start. If you have a Google Chromecast connected to your TV, this can also be used to stream the event (so long as it's second generation or newer).
 
Watch on Apple TV or Android TV
If you have an Apple TV or Android TV we recommend downloading the free TicketCo TV app for the best streaming experience.
To use the app, you need tvOS 13.0+ on Apple TV, or Android TV version 7.0+. Download the TicketCo TV app from the app store on your Apple TV. Find it in the Google Play Store on your Android TV.
Once the app is open, type in the five-letter reference code from your ticket. You can find the code in the ticket ID field. After confirming your reference code you'll be redirected to the event.
 
Watch on Amazon Fire TV
Find the TicketCo TV app on Amazon Fire TV Download.
Open the app and add the five-letter reference code from your ticket. You can find the code in the ticket ID field. After confirming your reference code you'll be redirected to the event.
Dates & times
First broadcast: available from 7.30pm on Sun 28 Mar and for seven days on demand.
Price
Buy seven days' video access: £7.50
Venue
Online events
We are streaming events with a number of different platforms.
Check the Where to watch section above to find out which platform you can use to view this specific event.