Winter Light 2020/21
Until 28 Mar 2021
Selected artworks from 10am. Full exhibition from dusk until 11.30pm.
Across the Southbank Centre site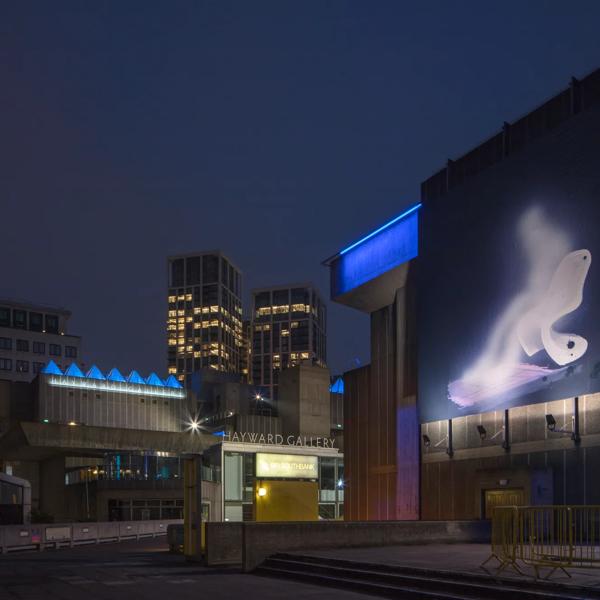 Designed for winter's darkest months, this outdoor exhibition radiates light
Winter Light brings together artworks that take inspiration from light, colour and the poetics of space.
Simeon Barclay
Lives and works in Leeds
Capped, 2016
Arts Council Collection, Southbank Centre, London
Simeon Barclay's work is a visual parody of the popular cartoon character, Andy Capp. Barclay sees the figure as being typical of a certain type of person who finds it impossible to emphasise with others or see beyond themselves. For the artist, this close-mindedness is also reflective of certain attitudes in Britain: for example, the idea of holding on to past glories, while at the same time resisting progress. The types of figures represented by the artwork were commonplace when the artist was growing up in the West Yorkshire town of Huddersfield.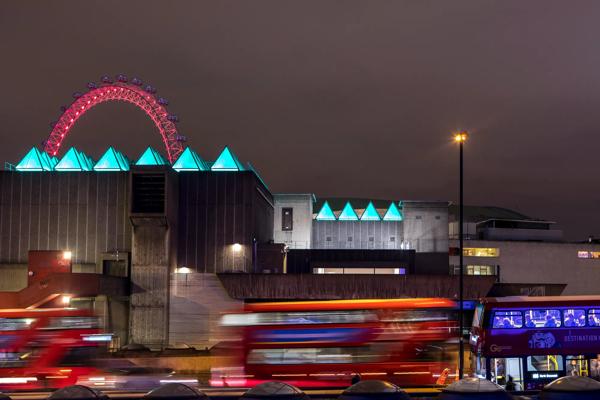 David Batchelor
Lives and works in London
Sixty Minute Spectrum, 2017–
Hayward Gallery windows and rooflights; Queen Elizabeth Hall facade
Courtesy the artist
David Batchelor's Sixty Minute Spectrum (2017–) transforms the Hayward Gallery and Queen Elizabeth Hall into a chromatic clock. Beginning the hour as a vivid red, the pyramid rooflights move gradually through the entire visual spectrum – at times throughout the cycle appearing orange, yellow, green, blue, purple or pink – before returning once more to red. Sixty Minute Spectrum is part of Batchelor's ongoing exploration of the intense, synthetic colour that characterises modern cities.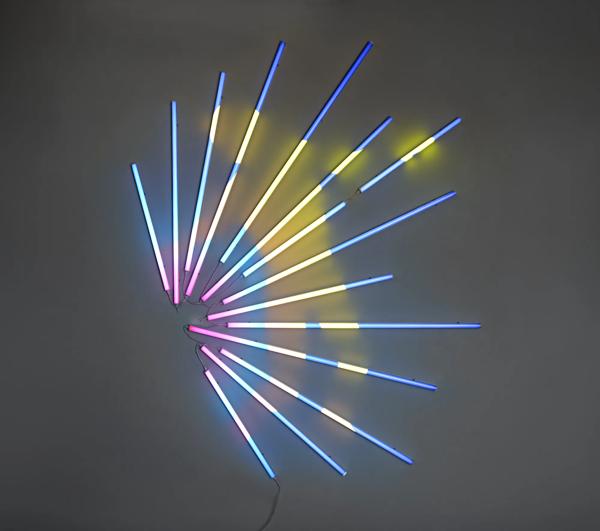 James Clar
Lives and works in Tokyo and New York
Freefall v9, 2011
Courtesy the artist and Jane Lombard Gallery
Working across technology and new media, James Clar investigates perceptions of society and cultural identity. For Freefall v9, he uses coloured light filters to conjure the form of a floating figure across the wall. Borrowing from the visual language of animation and comic books, he has used radiant lines of LED light to emphasise the sense of speed and motion of the figure, perhaps in an emergent or transformational moment.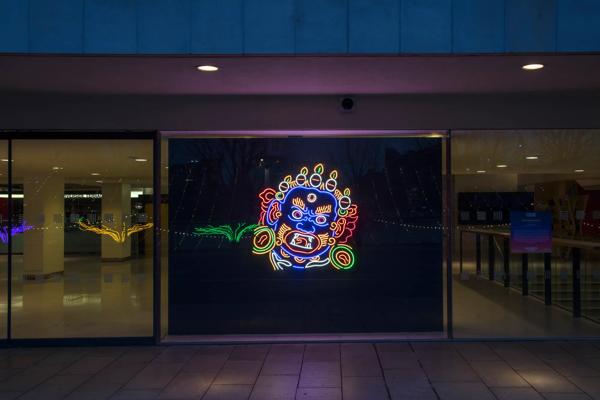 Shezad Dawood
Lives and works in London
Mahakala, 2020
Courtesy the artist and Timothy Taylor, London
Shezad Dawood's work represents one of the eight wrathful gods in Tibetan Esoteric Buddhism. The deity itself can be seen as an image of transformation, and is evoked to overcome obstacles. Mahakala also represents awakened compassion and the ability to think of others before ourselves. The artist describes the work as a 'figurative representation of an abstract energy'. Here, light and colour can be seen as forms of energy that can have positive transformative power, a way in which light comes after the darkness.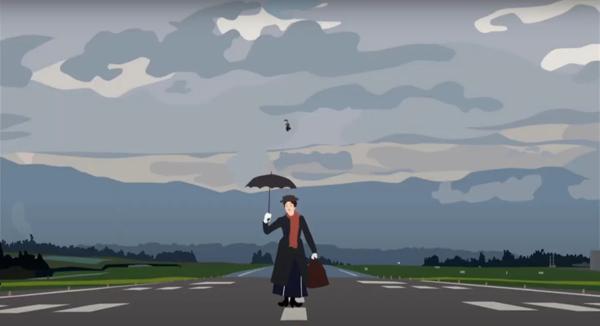 Kota Ezawa
Lives and works in San Francisco
supercalifragilistic, 2016
Colour video, 30s 
Courtesy the artist and RYAN LEE Gallery, New York
A keen observer of news, contemporary culture and public events, Kota Ezawa depicts people and scenes in a signature flattened and colourful style. Originally commissioned for the San Francisco international airport, supercalifragilistic shows a well-known fictional character repeatedly coming in for landing on a runway. At a time of restricted travel, the animation offers a light-hearted take on our once busy skies, as well as an absurdist caricature of the character's flying abilities.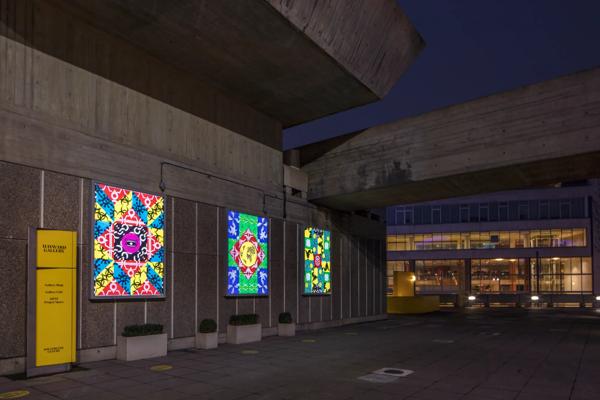 Navine G. Khan-Dossos
Lives and works in London and Athens
 
Photographs by Yiannis Hadjiaslani
From the series No Such Organisation, 2018–2020
Courtesy the artist

Navine G. Khan-Dossos' series No Such Organisation (2018–2020) draws on the artist's ongoing interest in technology, surveillance and freedom of speech. On display here is part of a group of 100 paintings made by the artist between 2018 and 2020 that use graphic symbols associated with geographical locations and digital platforms illustrating certain well-known current events. The works mix a kaleidoscopic combination of geometric patterns, colour and the politics of digital technologies.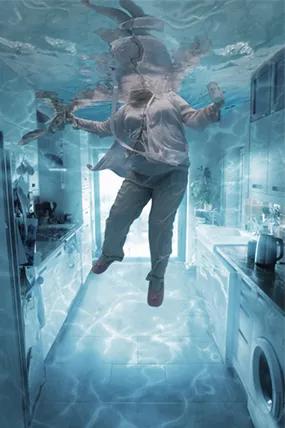 Suzie Larke
Lives and works in Cardiff
Unseen, 2018 – 2020
Courtesy the artist
Suzie Larke uses digital stitching techniques to construct her photographic images. By using 'magical realism' to transform the everyday, Larke's portraits challenge our notions of reality and capture subjective experiences. In Unseen, she focuses on how dealing with struggle is a part of being human, looking in particular at mental wellbeing and feelings of isolation. By externalising these internal struggles, Unseen aims to increase awareness and conversation about mental wellbeing, and unite us in the knowledge that everyone goes through – and can overcome – struggle.