We Cover the Universe
Sat 10 Apr, from 10am
Online events
Family & young people
Bring wonder to your world with an interactive, sensory online show for under-fives, where poetry, drawing and gentle play combine.
We first meet Dot when she's feeling small. She's stuck in a grey room until, one day, she starts to draw and dream.
Plucking up the courage to venture out, she encounters a glorious new world of colour – and learns there's more to life than she'd ever thought.
Friendly performers Rachel Lincoln and Remmie Milner (His Dark Materials: The Subtle Knife) guide you through simple movement and inventive art-making activities on Zoom, showing you how to explore basic household objects for touch and sound.
With magical music, vibrant visuals and playful poetry that appeal to children and adults alike, We Cover the Universe takes families on a journey together, wherever they are, transforming items and spaces before their eyes.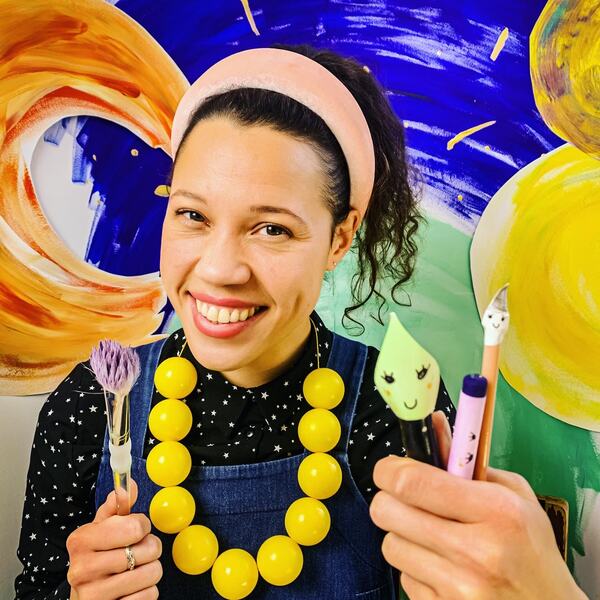 Remmie Milner
Need to know
Age recommendation/restriction
For ages 6 months – 5 years and their parents, carers or guardians.
Parents, carers or guardians must accompany their children at all times.
Ticket sales close one hour before the start time of the event.
Ticket holders receive a Zoom link to join on the morning of the event, along with a list of everyday household objects that you are encouraged to gather to interact with the performance.
You must download Zoom to access this event. We recommend joining via the app. Please ensure that you have access to a stable WiFi network in order to watch the event.
What to bring for the session
These objects will help you interact with the performance. If you can, bring them along when you watch: some paper; something to draw with, such as a pencil or pencils, pens or crayons; some grains or seeds (rice works well) and a wide, shallow container (such as a casserole dish or tray) to put them in; an orange (or a clementine! Or a satsuma!); a torch or phone light; a clear bottle of water; a colander.
You might also want to bring a blanket or cushion, so that you can get nice and cosy at the end of the show. At the end, we'll also ask you to make your space dark if you can, by drawing the curtains and turning off the light.
Don't worry if you can't gather these objects. You can also join in just by bringing yourself!
Dates & times
Sat 10 Apr, from 10am
Venue
Online events
We are streaming events with a number of different platforms.
Check the Where to watch section above to find out which platform you can use to view this specific event.