International Booker Prize 2021 Shortlist Readings
Until 6 Jun
Online events
Literature & poetry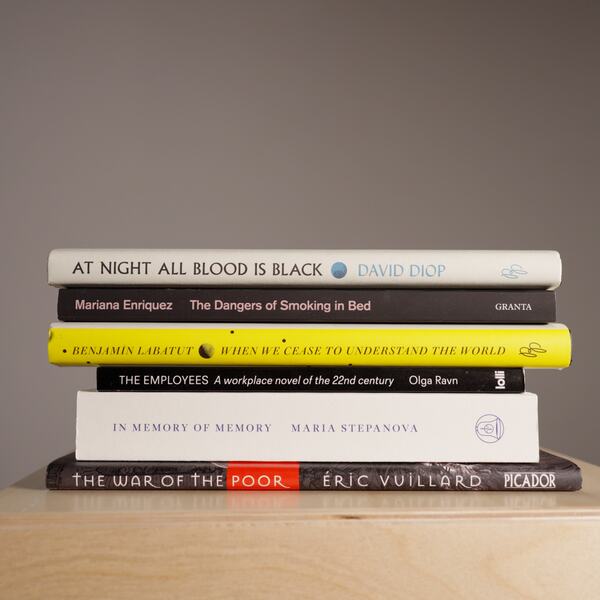 Meet the International Booker Prize 2021 shortlist in a virtual celebration, featuring readings from this year's selected authors and translators.
The International Booker Prize rewards the best work of fiction translated into English from another language, aiming to encourage more reading of quality works of imagination from all over the world.
Join the shortlisted authors and translators for readings in both English and the books' original languages.
The 2021 shortlist is:
At Night All Blood is Black by David Diop, translated from French by Anna Moschovakis The Dangers of Smoking in Bed by Mariana Enríquez, translated from Spanish by Megan McDowell When We Cease to Understand the World by Benjamín Labatut, translated from Spanish by Adrian Nathan West The Employees by Olga Ravn, translated from Danish by Martin Aitken In Memory of Memory by Maria Stepanova, translated from Russian by Sasha Dugdale The War of the Poor by Éric Vuillard, translated from French by Mark Polizzotti
The event is chaired by British writer, editor and podcaster Derek Owusu, whose 2019 debut novel That Reminds Me won the Desmond Elliott Prize.
The winner is announced on Wednesday 2 June.
The 2021 International Booker Prize judging panel is chaired by Lucy Hughes-Hallett and consists of Aida Edemariam, Neel Mukherjee, Olivette Otele and George Szirtes.
We have partnered with Rakuten on our Inside Out series, so we're offering a free ticket to this event for all Club Rakuten members.
Need to know
Age recommendation/restriction
This event is streamed. Streaming is provided by TicketCo on behalf of the Southbank Centre.
Please ensure that you have access to a stable WiFi network in order to watch the event. More information on how to access the stream is available when you click through to the TicketCo website to purchase your ticket.
Where to watch
How to watch the stream on your preferred device
After your payment transaction is approved, TicketCo will send you a ticket or purchase confirmation within one hour. Check the email address and/or phone number that you registered with to collect your ticket. 
Watch in a browser on a phone, tablet or computer
TicketCo TV can be streamed using all the main web browsers. Open your email confirmation and click the TicketCo TV icon. This will open a new tab where the event will start. If you have a Google Chromecast connected to your TV, this can also be used to stream the event (so long as it's second generation or newer).
 
Watch on Apple TV or Android TV
If you have an Apple TV or Android TV we recommend downloading the free TicketCo TV app for the best streaming experience.
To use the app, you need tvOS 13.0+ on Apple TV, or Android TV version 7.0+. Download the TicketCo TV app from the app store on your Apple TV. Find it in the Google Play Store on your Android TV.
Once the app is open, type in the five-letter reference code from your ticket. You can find the code in the ticket ID field. After confirming your reference code you'll be redirected to the event.
 
Watch on Amazon Fire TV
Find the TicketCo TV app on Amazon Fire TV Download.
Open the app and add the five-letter reference code from your ticket. You can find the code in the ticket ID field. After confirming your reference code you'll be redirected to the event.
Dates & times
First broadcast: available from 7.30pm on Sun 30 May and for seven days on demand.
Price
Buy seven days' video access: £7.50
Venue
Online events
We are streaming events with a number of different platforms.
Check the Where to watch section above to find out which platform you can use to view this specific event.