Special Edition: Before Them, We
Wed 7 Sep 2022, 8pm
National Poetry Library, Level 5, Blue Side, Royal Festival Hall
Literature & poetry
£5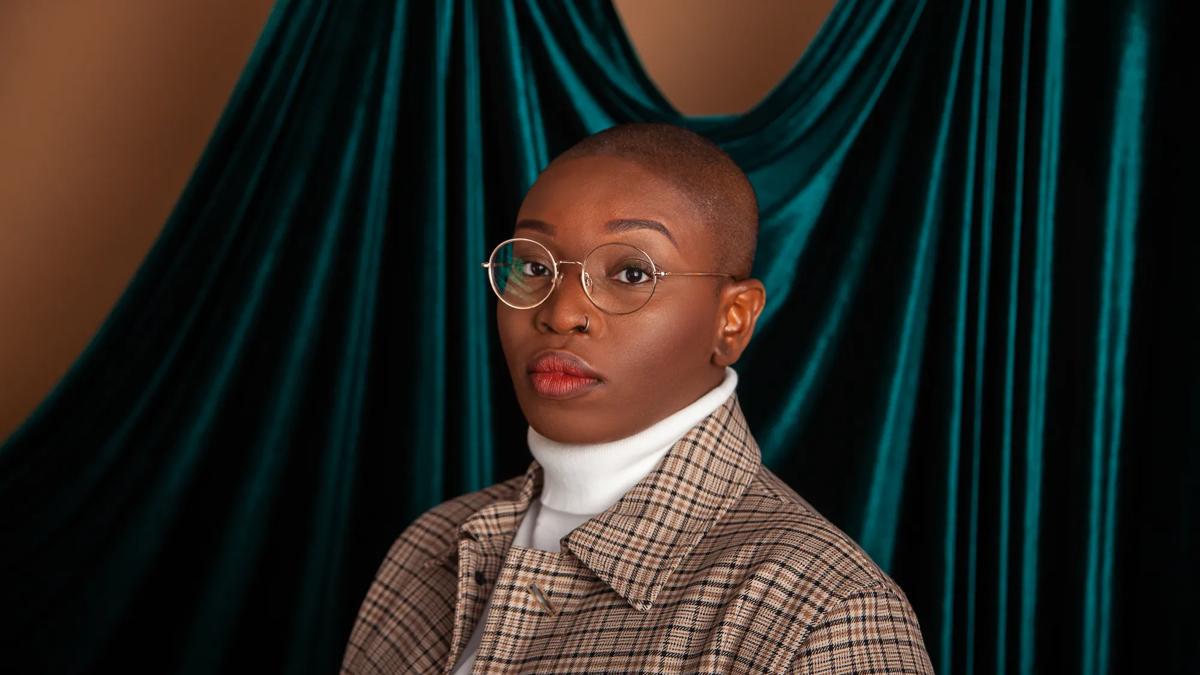 Hear readings from poets featured in the anthology Before Them, We at September's Special Edition in the National Poetry Library, with editor Ruth Sutoyé.
Before Them, We (flipped eye, 2022) is a call to action for adult grandchildren, not only to preserve their family histories, but also to pass them on to future generations – much like African traditions have been doing orally for centuries.
Exploring the lives of grandparents and elders before the families they went on to establish, digging deep into those narratives of their lives that are lesser known: who they loved, why and from where they migrated, why they had families, Before Them, We celebrates the significance of African diaspora familial relationships.
Reflecting on a moment of radical change from the way we live to the way we perceive our family relationships, Sutoyé and anthology poets and contributors share their personal stories in conversation with each other, reading from this exciting collection and engaging with the practice of memory.
The poets appearing alongside Ruth Sutoyé are Clementine E Burnley, Tania Nwachukwu, Gboyega Odubanjo and Hodan Yusuf.
Clementine E Burnley is a feminist migrant mother, writer and trainee psychotherapist. She lives in Edinburgh. Her work has appeared or is upcoming in Magma, Poetry Review and The Centifictionist. She's a 2021 Royal Society of Literature Sky Arts Award winner, an alumnus of Obsidian Foundation, and a 2021 Edwin Morgan Second Life Grantee.
Tania Nwachukwu is an Igbo actor, performer, writer and educator, born and raised in London. She is the co-founder of Black in the Day, a Barbican Young Poets alum, a member of Octavia Poetry Collective and an MA Tutor at Mountview Academy of Theatre Arts and Royal Central School of Speech & Drama.
Gboyega Odubanjo was born and raised in east London. He is an editor of bath magg and the author of two poetry pamphlets, While I Yet Live and Aunty Uncle Poems.
Hodan Yusuf is a poet, writer and actor. She is also a multimedia freelance journalist, and a mediator and trainer in conflict resolution. Her essay 'Waiting to Exhale – The Scarcity of Safe Spaces' was published in the anthology Cut From the Same Cloth.

Dates & times
Wed 7 Sep 2022, 8pm
Approximate run time: 1 hour 30 mins.
Run times may vary by up to 20 minutes as they can be affected by last-minute programme changes, intervals and encores.
Price
Standard entry

£5*

Concessions

25%**

* Excludes £3.50 booking fee.
** Limited availability. Read about concessions.
Tickets can only be sold through the Southbank Centre and our authorised agents, and can't be resold. You can return your tickets to the Southbank Centre for a credit voucher up to 48 hours before the event. Tickets resold on any third-party platforms will become invalid.
Get presale tickets
Members get the first chance to book our entire programme of events, including go-down-in-history gigs, concerts with world-class orchestras, and talks from cultural icons and political giants.
Venue
Royal Festival Hall
Our number one priority is the health and wellbeing of our visitors and staff. 
The Royal Festival Hall is open to all for access to the Level 2 foyers and toilets, Level 1 and Changing Places toilets, the National Poetry Library, Skylon, Riverside Terrace Cafe, Southbank Centre Shop and Members' Lounge at the following times:
*The Royal Festival Hall is open Mon & Tue, 10am – 6pm**; Wed – Sun, 10am – 11pm.

**On event days, the Royal Festival Hall building remains open until the end of the event.
Our address is: Southbank Centre, Belvedere Road, London SE1 8XX. The nearest tube and train stations within 5 – 7 minutes walk are Waterloo (Northern, Bakerloo, Jubilee and Waterloo & City lines) and Embankment (District & Circle lines). There are also lots of bus routes with stops 2– 5 minutes from our venues. For more information on getting here by road, rail or river, see below.
Pre-booking online is recommended. Check our website on the day for returns. There's no need to print your e-ticket – just show your phone to our Visitor Assistants on entry.
Some free events don't require a ticket. Found an event labelled FREE on our website with no way to book? Simply turn up on the day.
If you don't receive your e-ticket
Your e-ticket will be sent to you seven days before the event date from [email protected]. If you don't receive your e-ticket, and it's not in your junk or spam folder, please get in touch. 
More information
Find out all you need to know about tickets, including concessions, group bookings, returns, credit vouchers and more, via the link below.
Toilets
Toilets, including accessible toilets, are open on Level 2 of the Royal Festival Hall. 
Cloakroom
There's a cloakroom in the Green Side Foyer, Level 4, Royal Festival Hall. It's £1 per item, card only. The cloakroom opens about an hour before ticketed events, and closes around 15 minutes after the performance ends. It can be accessed via Lifts 2 & 3, Green Side, Royal Festival Hall.
Any sized item can be left in our cloakroom, including fold-away bicycles. We don't accept non-folding bicycles. Items must be collected on the same day they are stored. From time to time, the cloakroom may not be available. You won't be able to bring any bags over 40 x 25 x 25cm into the auditorium of the Royal Festival Hall or the Queen Elizabeth Hall, or into the Hayward Gallery, so please leave large bags at home.
Items are left in our cloakrooms at the owner's risk, and we cannot accept any responsibility for loss or damage, from any cause, to these items.
We're cash-free
Please note that we're unable to accept cash payments across our site. 
Booking wheelchair positions
When booking a wheelchair position in the Royal Festival Hall for large motorised wheelchairs (more than 65cm wide), please book in the rear stalls or side stalls. Boxes aren't able to accommodate larger wheelchairs due to limited space. If you have any queries, please contact [email protected] or call 020 3879 9555.
Entering the hall
For level access to the Royal Festival Hall from the Queen Elizabeth Hall Slip Road off Belvedere Road, please use the Southbank Centre Square Doors. The JCB Glass Lift is situated at this entrance and will take you to all floors. All floors are accessible from the main foyer on Level 2. If you need further assistance, our Visitor Assistants are here to help you.
You can also use the external lift near the Artists' Entrance on Southbank Centre Square to reach Mandela Walk, Level 2. 
We welcome wheelchair users and guide companion dogs. 
More about Access & facilities
Parking
Blue Badge holders and those with access requirements can be dropped off on the Queen Elizabeth Hall Slip Road off Belvedere Road (the road between the Royal Festival Hall and the Hayward Gallery).
There are four Blue Badge parking spaces available for visitors located on the Queen Elizabeth Hall Slip Road. Spaces are allocated on a first-come, first-served basis, and are free to use. You must display your Blue Badge as you enter the site. Vehicles that do not display a Blue Badge are refused entry.
Blue Badge parking at National Theatre
Alternative parking for Blue Badge holders visiting the Southbank Centre can be found at the National Theatre car park (330 metres). If you are visiting the Hayward Gallery, just take your badge and car park ticket to the Ticket Desk in the gallery foyer for validation before you leave.
Please note: when the National Theatre building is closed (on Sundays, and on days without performances) there is no step-free access from the car park. Please contact the National Theatre directly to check before travelling. Call 020 7452 3961 or email [email protected]
Alternative parking is available nearby at the APCOA Cornwall Road Car Park (490 metres), subject to charges.
Blue Badge parking at APCOA Cornwall Road
Alternative parking for Blue Badge holders visiting the Southbank Centre can also be found at the South Bank Car Park – APCOA Cornwall Road Car Park. Just take your badge and car park ticket to the parking attendant office at the entrance to the car park for validation before you leave.
A drop-off point at the Royal Festival Hall (30 metres) has been created for visitors who are unable to walk from alternative car parks.
Our Access Scheme
If you have any access requirements, please sign up to our Access Scheme for discounts, wheelchair spaces, dedicated seats and free companion tickets. You can also join our mailing list to get news about accessible events and exhibitions.
From a snack with coffee to cocktails and fine dining, plus some of London's best street food – it's all here on the Southbank Centre site.