International Organ Series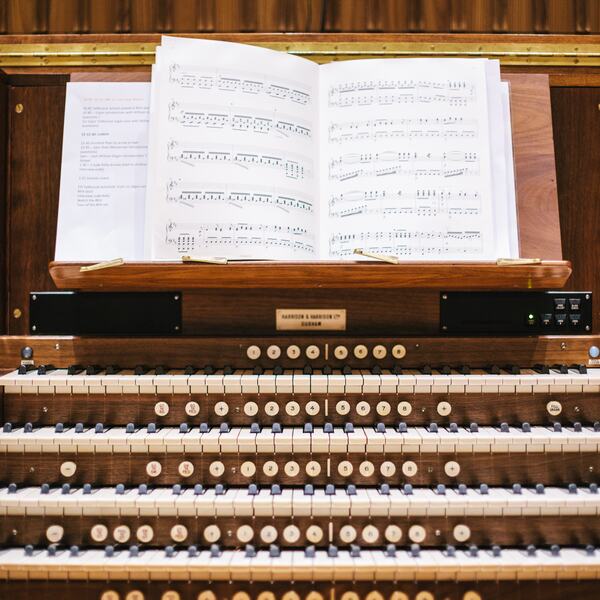 Since 1954, the impressive sight of the organ has greeted audiences entering Royal Festival Hall
Looming large over Royal Festival Hall are the 7,866 pipes of our magnificent organ, an impressive sight that can fill the air with the sounds of birds and cathedrals, funfairs and thunderstorms.
Our International Organ Series invites you to encounter its breathtaking sound with the guidance of the finest performers from around the world.
In 2019/20, Carol Williams makes her Royal Festival Hall debut with a jazz-infused programme of works music by Hendrix, Giles Swayne and Ethel Smith; and Thomas Trotter performs a shimmering programme contrasting works by Mendelssohn and Bach.
The 2020/21 season highlights the great organ works of Bach. Two composers who dared to imagine other worlds are conjured by organist James McVinnie with a programme of traditional and contemporary works by Bach and Glass.
Admire three different images of Bach and Marcel Dupré's most dazzling display piece with Isabelle Demers, who plays the recital entirely from memory. Mischief and magic abound in an all-Bach evening with Robert Quinney.
And join the head organist of Notre Dame, Olivier Latry, who plays great works written in dedication, thanks and commemoration.
Multi-buy discounts
Book multiple International Organ Series events in the same transaction to receive a discount
Save 10%: Book 2 events
Save 20%: Book 5 – or more events 
Not available on Premium seats
'at full tilt, it makes the very air shake, leaving you feeling as if your molecular structure has been re-ordered. The sheer size of the sound it can produce is astonishing.'