Alice Ripoll: Zona Franca
2 –⁠ 4 Nov, 7.30pm
Queen Elizabeth Hall
Performance & dance
£20 ⁠–⁠ £32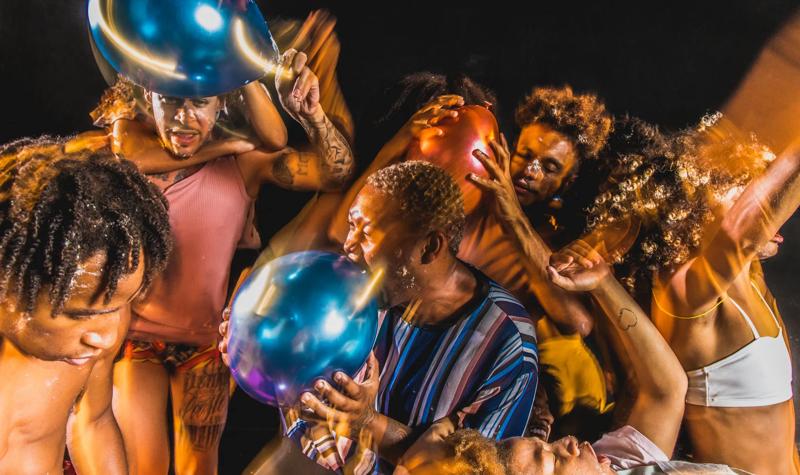 'They are astounding – magnetic, forceful and frenetic, capable of executing the most macro and micro of movements.'
Dance company Cia Suave and Alice Ripoll present Zona Franca, a vibrantly political and poetic experience, connecting eclectic Brazilian dance styles.
Following many global tours, this is the long-awaited London debut of Ripoll, the internationally acclaimed choreographer, and the company from the favelas of Rio de Janeiro.
Zona Franca, Ripoll's latest work, echoes the aspirations of Brazilian youth at the point of transition between Presidents Bolsonaro and Lula. It is a fervent piece that tells of the hopes of a disinherited generation yearning to reinvent itself.
Passinho, dancinha, voguing, samba, hip-hop and other styles of urban dance are the favourite playground and laboratory for Brazilian youngsters, eager to express their thirst for life and desire for freedom.
Zona Franca takes these then steps beyond to combine contact dance, theatre, innovative vocals and folk dances from northern and north-eastern Brazil.
As an extension of her work, Ripoll creates a space where performers and audiences can both find freedom, at a time when darker areas are growing across the world: areas of social, economic and political struggle.
After years of agony, it's time for rebirth.
Alice Ripoll creator
Alan Ferreira and Thais Peixoto creative assistants
Tomás Ribas and Diana Joels lighting
Raphael Elias set and costume design
Gabriel Alves assistant costume designer and seamstress
Alice Ripoll, Alan Ferreira and DJ Seduty sound
DJ Seduty sound editing
Renato Linhares sound technician and repetiteur
Tainã Miranda touring lighting technician
Caick Carvalho illustration and design
Renato Mangolin photos
Gabriel Tiobil, GB Dançarino Brabo, Hiltinho Fantástico, Katiany Correia, Maylla Eassy, Petersonsidy, Romulo Galvão, Tamires Costa, Thamires Candida, Vinicius Rodrigues performers
Natasha Corbelino (Corbelino Cultural) production manager
Milena Monteiro production executive
Thais Peixoto, Isabela Peixoto and Thiago Monteiro production assistants
'breathlessly quick urban dance'
Need to know
This show features latex balloons, strobe and confetti.
Contains some scenes involving nudity.
Dates & times
2 –⁠ 4 Nov, 7.30pm
Approximate run time: 1 hour 15 mins.
Run times may vary by up to 20 minutes as they can be affected by last-minute programme changes, intervals and encores.
Price
Standard entry

£20 ⁠–⁠ £32*

Concessions

25%**

* Excludes £3.50 booking fee.
** Limited availability. Read about concessions.
Tickets can only be sold through the Southbank Centre and our authorised agents, and can't be resold. You can return your tickets to the Southbank Centre for a credit voucher up to 48 hours before the event. Tickets resold on any third-party platforms will become invalid.
Get presale tickets
Members get the first chance to book our entire programme of events, including go-down-in-history gigs, concerts with world-class orchestras, and talks from cultural icons and political giants.
Venue
Queen Elizabeth Hall
Our number one priority is the health and wellbeing of our visitors and staff. 
Open 90 minutes before an event until the end of the event. Closed at all other times.
Our address is: Southbank Centre, Belvedere Road, London SE1 8XX. The nearest tube and train stations within 5-7 minutes walk are Waterloo (Northern, Bakerloo, Jubilee and Waterloo & City lines) and Embankment (District & Circle lines). There are also lots of bus routes with stops 2-5 minutes from our venues. For more information on getting here by road, rail or river.
Pre-booking online is recommended. Check our website on the day for returns. There's no need to print your e-ticket – just show your phone to our Visitor Assistants on entry.
Some free events don't require a ticket. Found an event labelled FREE on our website with no way to book? Simply turn up on the day.
If you don't receive your e-ticket
Your e-ticket will be sent to you seven days before the event date from [email protected]. If you don't receive your e-ticket, and it's not in your junk or spam folder, please get in touch. 
More information
Find out all you need to know about tickets, including concessions, group bookings, returns, credit vouchers and more, via the link below.
Get an overview of the seating layout of Queen Elizabeth Hall by downloading our seating plan.
Toilets
An accessible toilet is located in the foyer.
A Changing Places toilet is located on Level 1 Royal Festival Hall next to the JCB Glass Lift, for the exclusive use of disabled people who need personal assistance to use the toilet.
The facility includes a height-adjustable bench, tracking hoist system, a centrally-placed toilet, a height-adjustable basin and a shower. The key for this room is available from the Welcome Hub on Level 2, Royal Festival Hall. The facility is open daily 10am – 11pm.
Cloakroom
The Queen Elizabeth Hall cloakroom is closed. You won't be able to bring any bags over 40 x 25 x 25cm into the Queen Elizabeth Hall, so please leave large bags at home.
We're cash-free
Please note that we're unable to accept cash payments across our site. 
For step-free access from the Queen Elizabeth Hall Slip Road off Belvedere Road to the Queen Elizabeth Hall auditorium seating (excluding rows A to C) and wheelchair spaces in the Rear Stalls, plus Queen Elizabeth Hall Foyer and the Purcell Room, please use the Queen Elizabeth Hall main entrance.
To reach this entrance, enter the Royal Festival Hall via the Southbank Centre Square Doors. Take the JCB Glass Lift to Level 2 and exit to the Riverside Terrace. Turn right to find the Queen Elizabeth Hall main entrance.
You can also use the external lift near the Artists' Entrance on Southbank Centre Square to reach Mandela Walk, Level 2. 
For access to the Queen Elizabeth Hall auditorium seating rows A to C and wheelchair spaces in the Front Stalls, please enter via the Artists' Entrance in the Queen Elizabeth Hall Slip Road (Level 1).
Talk to a member of staff at the auditorium entrance if you have a disability that means you can't queue, or you need extra time to take your seat. They can arrange priority entry for you as soon as the doors open.
From a snack with coffee to cocktails and fine dining, plus some of London's best street food – it's all here on the Southbank Centre site.