The Universal Addressability of Dumb things
Past exhibition
Hayward Gallery Touring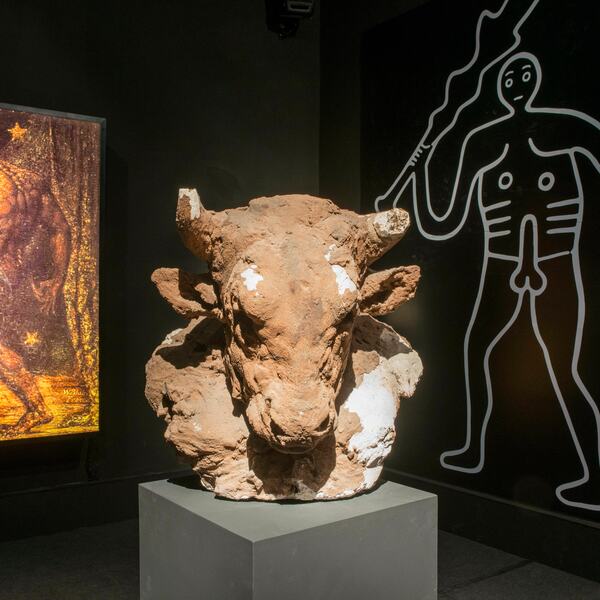 Turner Prize winner Mark Leckey treads the boundaries between the virtual and the real, the 'dumb' and the animate
As modern technology becomes ever more sophisticated and pervasive, objects appear to communicate with us: our phones talk back, refrigerators suggest recipes and websites seem to anticipate our desires.
The Universal Addressability of Dumb Things  presented a kind of 'techno-animism', where the inanimate came to life, returning us to 'an archaic state of being, to aboriginal landscapes of fabulous hybrid creatures, where images are endowed with divine powers, and even rocks and trees have names'. 
Through a conceptual assemblage of archaeological artefacts, contemporary artworks and visionary machines, Leckey proposed an exemplary network of objects - an Internet of Things, all communicating, talking away to one another, and implicitly, looking back at us.
The exhibition was loosely grouped into 'leaky typologies': Man/Bodies, including angels and monsters; Animals, including mummies, fossils and chimeras; and Machines, with circuitry, scientific and medical devices, and spare gadgets.
Exhibition venues
This exhibition toured to the following venues:
the Bluecoat, Liverpool
Nottingham Contemporary
De La Warr Pavilion, Bexhill on Sea
Touring exhibitions
Find out more about our touring exhibitions programme, including exhibitions on tour and available to visit or hire.