Environmental Sustainability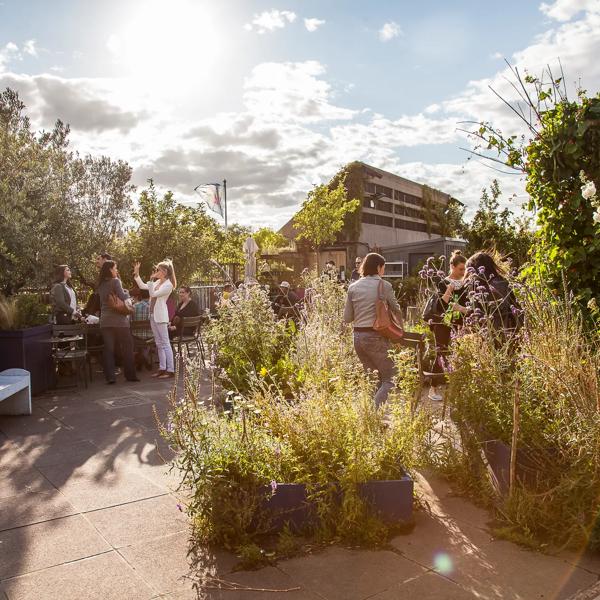 We recognise the climate crisis and the need for urgent action
And we're already making progress. We think about environmental sustainability in everything we do. First off, we're aiming to be a net-zero carbon organisation by 2050.
What does this mean? Well, many human activities in our homes, businesses and organisations cause carbon dioxide or CO2 to be released into the atmosphere, which contributes to the climate crisis. We have a strategy to balance our carbon emissions with carbon removal. This means that our impact is reduced and we can work towards eliminating carbon altogether.



What we're doing
Over the past four years, we've reduced our CO2 emissions by 48%. We were one of the first organisations in the arts sector to be certified as energy efficient under the internationally recognised standard in 2017.
We are committed to reducing carbon emissions by 10% by 2023. 
We currently use 100% renewable electrical energy (biomass) and we'll be switching to wind and/or solar power soon.
We send zero waste to landfill. In 2019, we reduced our use of plastic bottles by 95%, as part of our effort to use less plastic. 
We have signed up to plans to create an environmentally sustainable arts sector. These include the Arts Council England-approved Environmental Policy and Action Plan (2019 – 2023). We've also signed up to the Arts Council England Spotlight programme for building-based National Portfolio Organisations (which includes the net-zero carbon target).
Our commitments
As we mentioned, we've recently reduced our CO2 emissions by 48%. We managed this by replacing inefficient equipment, introducing LED lighting and improving our buildings, (for example, when we refurbished the Queen Elizabeth Hall and Hayward Gallery).
We're proud that we use 100% renewable electrical energy (biomass) and are moving to wind and/or solar power. 
We don't send any of our waste to landfill.  
Our general waste is separated into mixed dry recyclables, food waste and glass. 39% of our waste is dry mixed recyclables, which we send to a recycling facility. They are sorted into paper, card, plastics, metals and wood and sent to reprocessing plants to be made ready to use again.
53% of our general waste is not suitable for recycling. We send it by barge (saving 50,000 lorry trips per year) to a high performance 'waste to energy' plant where it generates 67MW of green electricity a year.
We collect glass on our site every day, and it is recycled and reused.
We also collect food waste, which we send to an anaerobic digestion plant. This converts the waste into methane gas, which is used for energy and high quality fertilizer.
In 2018 we set out to reduce our use of plastics as much as possible. We introduced water fountains and glass bottles for meetings, and now use 95% fewer plastic bottles.
We are currently working to stop using most cleaning-related chemicals on our site. We're installing a new chemical-free cleaning system which uses purified micro-filtered water instead.