Environmental sustainability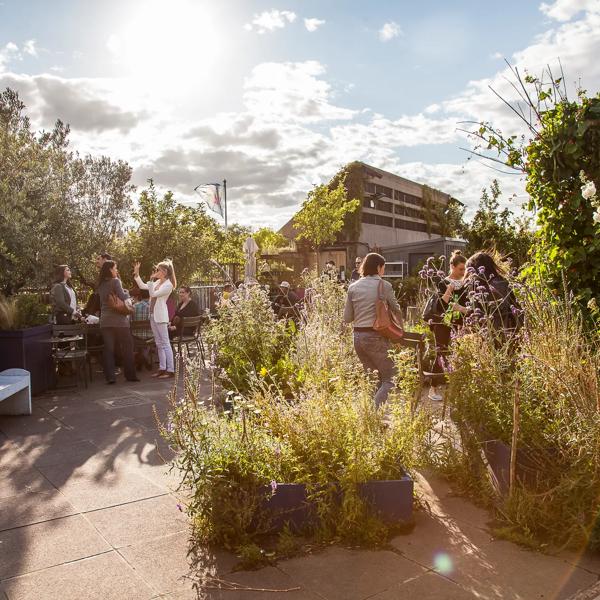 The Southbank Centre recognises the climate crisis, and the urgency of environmental and social challenges, including climate change, biodiversity loss and inequality, means the imperative to act has never been stronger.
Environmental sustainability is hugely important to the Southbank Centre and is one of our strategic priorities. We're already making progress. We're aiming to be a net zero carbon organisation by 2040 by setting science-based targets to reduce our emissions, and we're working on a detailed roadmap to get us there. 
What we're doing 
We've set net zero targets for our organisation, in line with the Science Based Targets initiative. Find out more
We aim to be:
Net zero in Scope 1 & 2 emissions by 2035  
Net zero in Scope 3 emissions by 2040
How we will achieve it
Our targets will be achieved across four key areas:
Our aim
We will reduce the emissions from our buildings to zero as quickly as the technology allows, recognising the challenges of our listed building status.
What have we done so far?
We have replaced older, inefficient lighting with LED over much of the site, with plans to continue this switch with the remaining lights

We have installed water-efficient toilets in our office building. These use approximately 66% less water than the previous toilets and use compressed air to assist the flush

Reduced winter heating temperatures by 1°C in order to save energy
What do we aim to achieve?
By 2025:
50% reduction in carbon emissions from our building

20% reduction in our water usage

Top ten key suppliers will have carbon reduction targets in line with

SBTi
Our aim
We will shift to a net zero carbon approach to guide programming decisions from an operational point of view, and ensure a significant proportion of our content focuses on one or more elements of sustainability.
What have we done so far?
Creating a summer festival with a climate theme in 2023

Starting to assess the carbon footprint of our exhibitions
What do we aim to achieve?
By 2025:
50% or more of our visual arts exhibitions or productions focus on sustainability as a theme

Last leg of any deliveries into the Southbank Centre to be zero emissions
Our aim
We will put sustainability at the heart of decisions about how we operate, and engage our employees and our visitors in a culture of sustainability through our programmes and activities across the centre.
What have we done so far?
In our bars and cafes, we have introduced compostable cups and cutlery, which are disposed of in our on-site food composter

Developed a sustainability e-learning module, which will be rolled out for all staff to complete
What do we aim to achieve?
By 2025:
We aim to attain Plastic Free status

100% of employees will have received sustainability training

80% recycling rate
Our aim
We will enable and support our commercial partners to address their key sustainability challenges, and ensure that we can deliver a vibrant and sustainable commercial offer for all of our visitors and staff.
What have we done so far?
Installed an industrial food composter on-site, which has significantly reduced our waste collections to reduce the emissions associated with collections

Worked with the commercial units and pop-ups to reduce single-use plastics and waste segregation
What do we aim to achieve?
By 2025:
25% reduction in food waste from commercial tenants and our own food outlets

75% of restaurants moved away from gas by end of 2025

50% of tenants have set carbon reduction targets in line with SBTi

Aiming to introduce new innovative recycling systems by Q2 2023
We have appointed a Sustainability Advisor, and as appropriate we will seek specialist expertise in key areas to guide our actions on energy, biodiversity and water.