Southbank Centre Archive Studio
Opening times
Research access is available by appointment on Tuesdays, Wednesdays and Fridays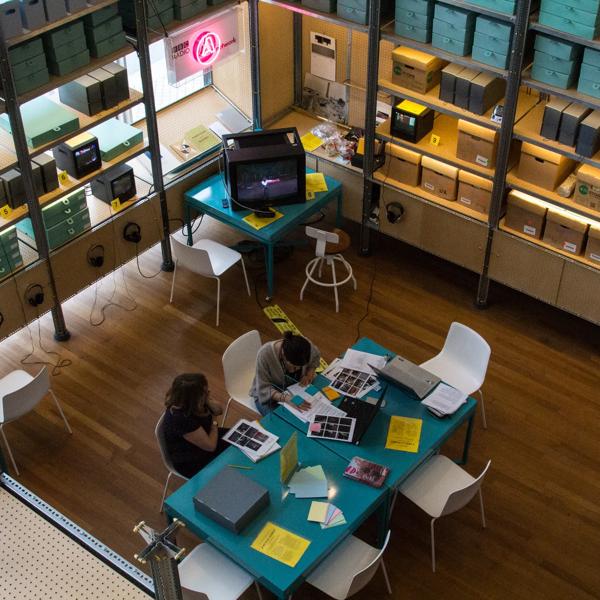 It's not a time machine, but it might as well be
Our clear-walled archive studio makes our historical collections accessible to the public.
Building for the future
From 2015 to 2018, we completed a restoration project on the Queen Elizabeth Hall, the Purcell Room and the Hayward Gallery. The project preserved and improved these architectural treasures for our audiences. 
It was made possible by a £4.9 million award from the Heritage Lottery Fund and the generosity of our supporters. Our archive studio was at the heart of the project. We created a new approach to collections management, asking visitors to help us develop our archive. 
Now, we offer access to our archive materials for whoever wants to view them – or help us to develop our collection.
Email enquiries
From November 2020, we can carry out research for you. Email us at [email protected]k with your enquiry. But do bear with us if we can't help you as much as we'd like to. We will do the best we can bearing in mind that the archive studio is currently closed.
About the Archive Studio
Found on Level 2 of the Royal Festival Hall, this purpose-built space was created by Jonathan Tuckey Design to show off materials relating to our buildings, events, exhibitions and performances.  
It was designed to give everyone the chance to get hands-on with items that contributed to some of the most significant events in our cultural history. 
In its distinctive turquoise boxes, it holds reference materials such as a set of monthly 'what's on' guides dating from 1951 to the present day, Hayward Gallery exhibition material and historical photographs, books and articles relating to our venues.
Our regular Archive Studio events programme is on hold until spring 2022 while we do some essential collections storage work and develop the digital archive. 
Our collections (which are stored in the studio and off-site) are available to researchers by appointment on Wednesdays and Fridays.
To arrange a visit email us 
Our Archive Studio is known for its friendly staff and ever-growing catalogue (we're still discovering new things in our collection).