The End of the Line: Attitudes in Drawing
Past exhibition
Hayward Gallery Touring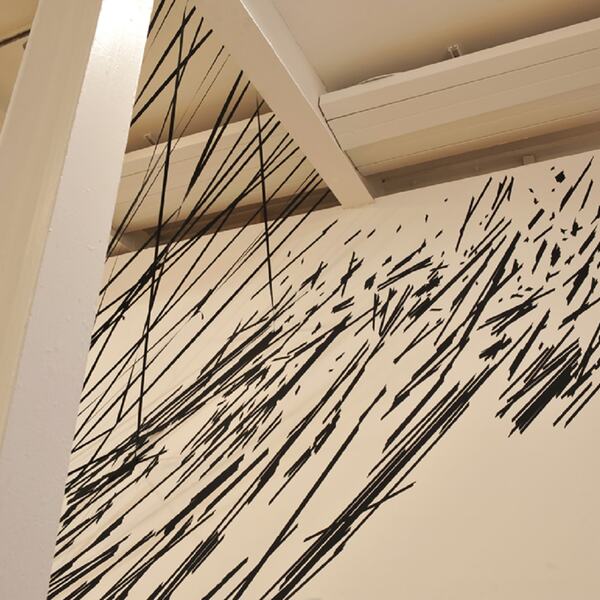 Hayward Touring exhibition of new and recent works by 11 international artists
The exhibition explored a very diverse range of approaches to drawing, from meticulously rendered scenes of everyday life in pencil to three-dimensional drawings in tape, invading architectural space.
All of these artists treat drawing as a primary means of expression, a practice in its own right, with its own integrity. They illustrate how, through drawing, people from every continent have access to the same essential codes and tools for communicating ideas, dreams and interpretations of the world. 
The End of the Line: Attitudes in Drawing was organised by Hayward Touring in collaboration with mima, Middlesbrough Institute of Modern Art and The Bluecoat, Liverpool, in association with The Drawing Room, London.
Featured artists
Jan Albers (Namibia/ Germany), Michaël  Borremans (Belgium), Marc Brandenburg (Germany), Fernando Bryce (Peru/Germany), Kate Davis (New Zealand/UK), Kim Hiorthøy (Norway), Monika Grzymala (Poland), David Haines (UK/Netherlands), Garrett Phelan (Ireland), Naoyuki Tsuji (Japan) and Sandra Vasquez de la Horra (Chile).
Exhibition venues
This exhibition toured to the following venues:
Mima, Middlesbrough Institute of Modern Art, Middlesbrough
The Bluecoat Gallery, Liverpool
City Museum and Art Gallery, Bristol
The Fruitmarket Gallery, Edinburgh
Touring exhibitions
Find out more about our touring exhibitions programme, including exhibitions on tour and available to visit or hire.