Hayward Gallery Waterloo Billboard Commissions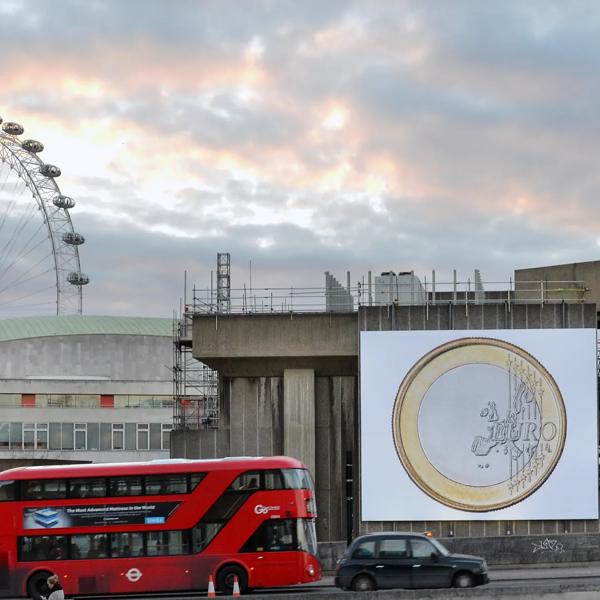 A series of large-scale billboard artworks by international artists
These commissions were launched in 2016 and are seen by tens of thousands of people crossing Waterloo Bridge each day.
The Waterloo Billboard Commissions launched in April 2016 with an artwork by Japanese artist Yoshitomo Nara. Marching on the Butterbur Leaf (2016), Nara's Manga-influenced artwork, depicted a young girl playfully encouraging passers-by to fall in step. 
The second commission in the series, on display from 31 August – 16 October 2016, featured an artwork by Canadian artist Rodney Graham. In Sunday Sun,1937 (2012) a man is tucked up in bed reading the Sunday funnies. Despite the date – the eve of the Second World War – the grim news of the time is nowhere to be seen.
The third commission in the series was Euro (2012) by Danish artists group Superflex. This image of a euro coin with its value conspicuously absent was made by the group in response to the Greek financial crisis. It has gained new resonance since the UK's decision to leave the EU.
The fourth commission, on display from 4 April – 6 June 2017, featured an image by French artist Noémie Goudal. Station II (2015) and is part of the artist's Southern Light Stations series. In this striking image, Goudal explores the relationship between the manmade and the organic, and our enduring fascination with the sky. 
The latest commission in the series came from American artist Sam Durant. Like, Man, I'm Tired of Waiting (2002), on display from 29 August to 27 November 2017, is part of the artist's series of text-based artworks drawn from historical protest placards and signs. The text in Like, Man, I'm Tired of Waiting originates from a hand-written placard used in the March on Washington in 1963, a landmark event of the American Civil Rights movement.
The Waterloo Billboard Commissions have been generously supported by Stephen Friedman Gallery, London, Lisson Gallery, the Danish Agency for Culture, Edel Assanti, London, Galerie Les Filles du Calvaire, Paris, Lizbeth and George Krupp, and the Rennie Foundation.