19 Magical Instagram Moments from Grace Jones' Meltdown
Mon Jun 20, 2022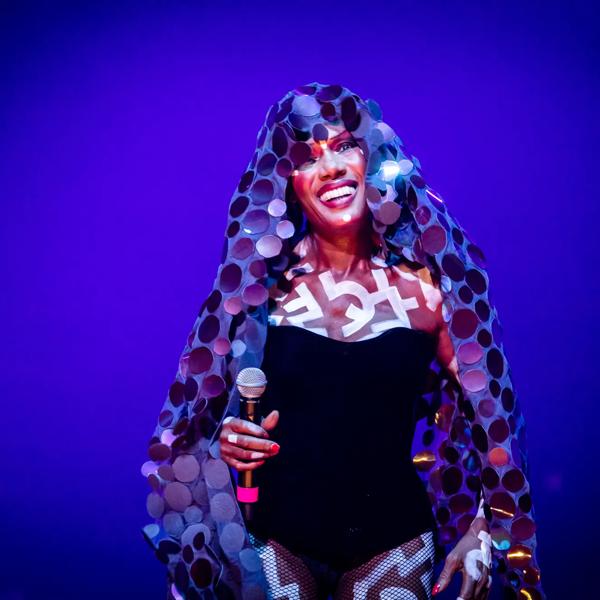 All things come to those who wait. That's certainly the case with Grace Jones' Meltdown.
Originally scheduled for the summer of 2020, the festival had to be twice put back owing to the impact of Covid-19. But, as Jones herself stated '​​there is no pandemic in the world that will stop me from curating the Meltdown festival.' She wasn't wrong. And so after two years of waiting, June 2022 finally saw the legendary artist on the Southbank Centre stage, bookending ten days of musical majesty, with two typically iconic performances.
Our brilliant inhouse photographers have taken thousands of images throughout those ten days; capturing every single concert in an effort to convey the extent of the festival's impact. But the true joy of a festival like Meltdown comes from being right there in amongst it, whether that's selfie-ing away whilst strutting a Grace Jones inspired catwalk on our terrace, or being in the line of fire from Peaches' giant inflatable phallus. So rather than show you more of our festival photos we've opted to project the pick of your pics instead. Strap in, here are 19 memorable moments from this year's Meltdown.
We can't really start anywhere else can we? Grace Jones christened her own Meltdown on Friday 10 June with the aid of Chineke! Orchestra and her trusty hula-hoop. Not even her own outfit was prepared for her magisterial moves.
Meltdown's opening day wasn't just about Grace Jones though. From the moment folk clocked out for the weekend No Signal had helped set the mood by spinning the tunes on our Riverside Terrace, and in post-gig our Queen Elizabeth Hall Foyer saw Honey Dijon and guests keep everyone moving 'til sunrise.
We all needed to feel the wind on our face after that late night and Meltdown's opening Saturday delivered the perfect opportunity. Some of London's finest skaters, including Kadija Kamara, Stormskater, Nadia aka Sourgrapism, and Johnny Montero joined us on our Riverside Terrace to Roll Up to The Bumper with roller-skating workshops and performances that proved hugely popular.
Despite this wheely joyful experience Saturday belonged to one woman only, the remarkable Peaches, and a show that delivered everything you've come to expect from the Canadian superstar. A dress made of breasts, a remarkable amount of consenting nudity and, oh yes, a stroll out over the heads of the audience inside a huge inflatable penis.
Onto Sunday, and another great afternoon of free fun out on our Riverside Terrace as the resounding bass of the Island Life Reggae Soundclash rattled our Royal Festival Hall to its 70-year old foundations to draw in dub fans young and old.
Come nightfall and whilst there may have been less bass, there was certainly no less stage presence in our Royal Festival Hall as the wonderful Angélique Kidjo gave it her all for an enraptured audience.
Weekend one out the way, time for a different diversion as South London's Dry Cleaning brought their post-punk sound and the distinctly scornfully dry vocals of frontwoman Florence Shaw to our Queen Elizabeth Hall.
Then on Tuesday it was time for some unlikely fusion, as Hot Chip joined forces with DR Congo's Kasai Allstars to form Hot Congotronics. With these artists having only properly met for the first time the day before, we'd be lying if we said there wasn't a little bit of trepidation in the wings as this one-off supergroup took the stage, but we really needn't have worried as they soon had the Royal Festival Hall on its feet.
Wednesday marked the moment Meltdown went beyond its halfway point, but there was still an incredible amount to see and experience. In our Queen Elizabeth Hall an enraptured audience were experiencing Oumou Sangaré, an incredible performer who, in the words of The Observer's reviewer Kitty Empire 'from out of nowhere, can hit a note like a mallet'. 
Nextdoor in the Purcell Room, Black feminist punk band Big Joanie were showing a sell out crowd exactly why they've been picking up plaudits in the music press this year.
But the stand out performance of Wednesday night surely belongs to Charles Hazlewood's incredible shiny suit. The composer and conductor was suitably and snazzily attired to lead the Paraorchestra as they took on the guise of the Love Unlimited Synth Orchestra for a tribute to the music of Barry White that featured a particularly astounding set from guest performer Shingai. Still, that suit though.
Thursday saw a couple of rising stars take centre stage, most notably the remarkable – and heavily pregnant – Greentea Peng who brought her distinctive neo-soul vocals to the Royal Festival Hall's youngest audience of the week.
The second of those rising stars was Skinny Pelembe, a man who told those gathered to hear him that he doesn't go in for encores. His Purcell Room audience weren't buying that though, and duly forced him to return to the stage to give one at the end of his wonderfully intimate set.
Ok, so I know we said we were only featuring your 'grams in this, but forgive us this one entry from our own feed. Because we can't ignore the vibes of Meltdown's second Friday, and you lot were all living the moment too much to capture it. Out on our Riverside Terrace, as London sweltered in the peak of the summer's first heatwave, ShezAr and The Soul Sirens served up a real treat, giving the gospel treatment to Grace Jones' back catalogue and providing a truly memorable Meltdown moment in the process.
Not that the musical joy was only confined to outdoors on that second Friday; we were really spoiling those of you inside as well. In the Purcell Room, Shingai was leaving no space of the auditorium untouched as she took her spellbinding set into the seats. John Grant and Blancmange had the Queen Elizabeth Hall up and moving, and over in the Royal Festival Hall Skin and Skunk Anansie were being, well, everything you expect of Skin and Skunk Anansie, bringing a stadium show to the stage.
Somehow, in no time at all, we found ourselves on the festival's penultimate day. And though the sunshine may have disappeared the heat was still being brought to our Riverside Terrace where willing volunteers strutted The People's Runway for Africa Fashion Week London's A Night of a Thousand Graces.
Later that night we were treated to performances from two musical elder statesmen. In the Queen Elizabeth Hall, the 72-year old Lee Fields, backed by The Expressions, put on an old-school soul show so magical it healed his own twisted ankle whilst getting the venue up on their feet and out into the aisles.
Meanwhile, over in the Royal Festival Hall, the incomparable Baaba Maal – a spring chicken at a mere 69 years of age – was fusing the sound of West Africa with electronic elements to much the same end result.
And so, sadly, all good things must come to an end. On Sunday it was finally time to pull this much anticipated Meltdown festival up to the bumper, but not before going out with a bang.
*Adopts Ian McShane voice* Ladies and gentlemen, Miss Grace Jones.
There are some truly wonderful photos of Grace Jones' finale show out there, and whilst we chose to feature this one, we also wanted to highlight the succinct yet perfect summary offered up on another post by Daniel Alford who wrote... 'One of the best things I've ever seen. She rode a man through the crowd. Became a disco ball. And arrived on stage in a 20 foot dress. 74 ladies and gentlemen!'
Amen Daniel. Let us all take heed from our incredible curator of this year's Meltdown and remember, age is just a number, folks. You're only as old as the security man you ride through the Royal Festival Hall.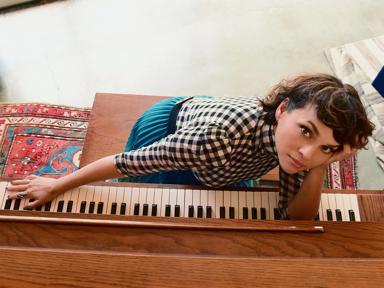 Gigs at the Southbank Centre
We're more than just the home of Meltdown. Enjoy live contemporary music gigs and performances that blur genre boundaries and showcase the best new sounds from across the globe.