Every 27 September
Fri Sep 27, 2019
Every day at Southbank Centre, since 3 May 1951, we have made plans, booked artists, put on performances and created unforgettable experiences for audiences. And, for each and every one of those days, we have kept a record.
This means that choosing any date at random to explore the last 67 years, you can uncover the workings behind the UK's largest arts centre. There is nothing particularly out of the ordinary about 27 September, but this look back through our records for that date over the years, give a snapshot of the planning that goes into each and every event that takes place here at Southbank Centre. Events, some of you may have been with us to enjoy.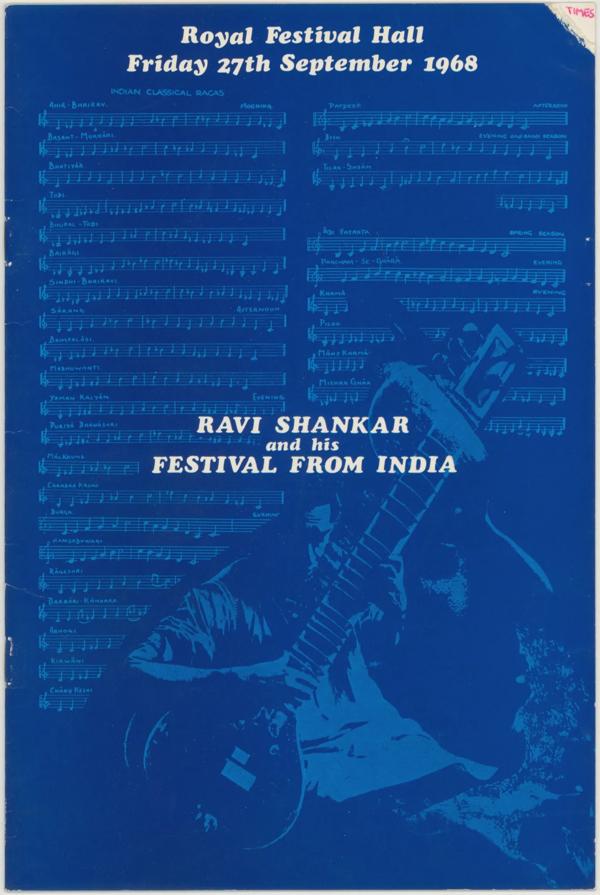 Ravi Shankar, programme, 1968
This is the cover of the programme for Ravi Shankar's Festival From India in our Royal Festival Hall, 27 September 1968. The event was a showcase of Indian music featuring several brilliant musicians whom Shankar had brought over from India for this tour, including Shivkumar Sharma (santoor), Sabri Khan (sarangi), Sharad Kumar (shehnai), Palghat Raghu (mridangam), Jitendra Abhisheki and Lakshmi Shankar (vocals).
This was Ravi Shankar's 11th Royal Festival Hall performance, having made his debut here with us on 4 October 1958. By the mid 1960s, following relentless touring and a series of classic records and film scores, Ravi Shankar had come to embody Indian culture in the West.
[Image credit: Shankar Presentations Ltd.]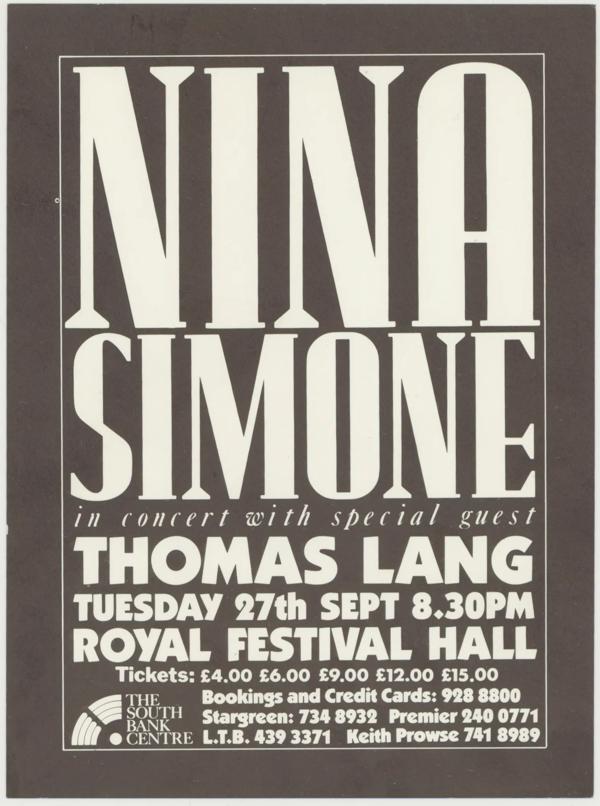 Nina Simone, flyer, 1988
On 27 September 1988, 'the High Priestess of Soul', the legendary singer songwriter and piano player Nina Simone took to our Royal Festival Hall stage.
Simone was a frequent visitor to London in the 1980s, performing regularly at Ronnie Scott's Jazz Club, where she recorded the 1984 album Live at Ronnie Scott's. Her special guest for this performance was a fellow Ronnie Scott's regular, the Liverpudlian jazz singer and songwriter Thomas Lang.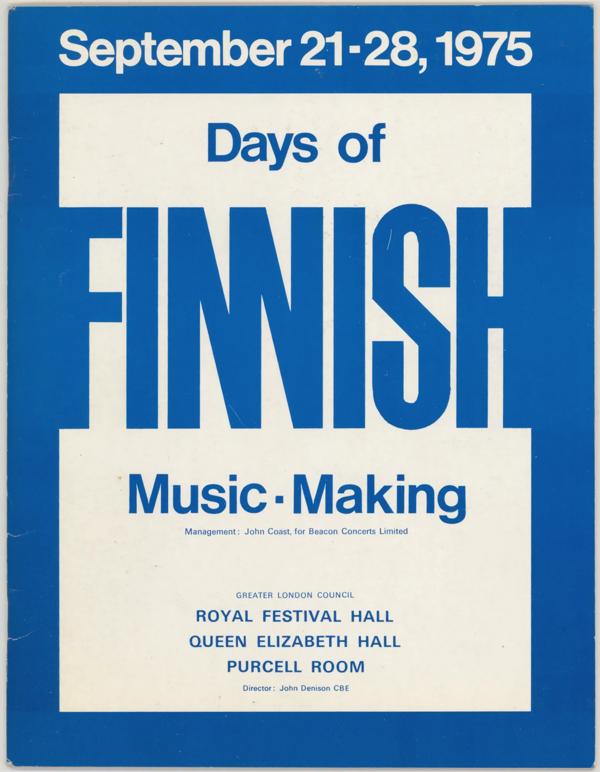 Days of Finnish Music Making, programme, 1975
Taking place across our three main concert venues, Days of Finnish Music Making lasted for a full week in late September 1975.
For our date of 27 September the programme includes details of a Finnish Jazz Workshop in Queen Elizabeth Hall, led by the pianist and composer Heikki Sarmanto, and a performance from the Finnish Radio Chamber Choir in Purcell Room.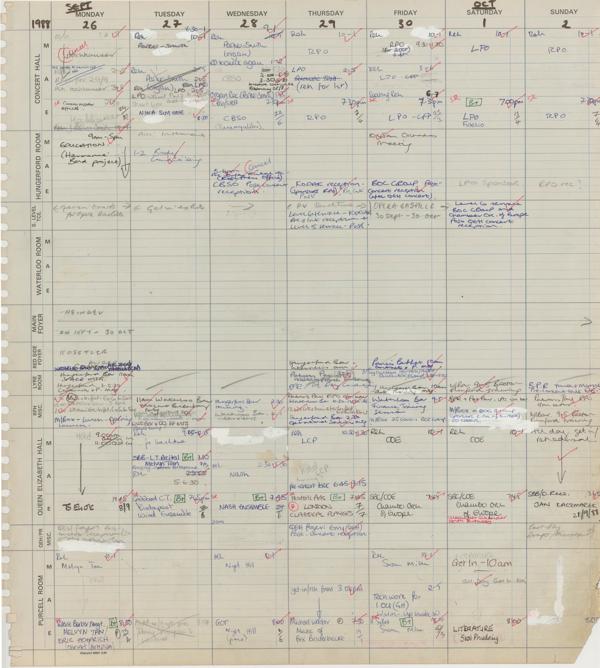 Southbank Centre lettings diary, 1988
You're probably wondering, 'what's a lettings diary?' Well, kept in the planning office, lettings diaries recorded details of activities and events booked in each of our venues. Each event would be literally 'pencilled in', then overwritten in pen, and ticked after they had been confirmed. Although the 1980s diary information looks complex, there were fewer events at that time (around 1,200 each year, compared with more than 3,500 held here during 2017/18) and bookings were limited to indoor venues. Now, any location across the site is a potential performance space.
Entries for 27 September 1988 include rehearsals for Parker-Smith (8.30-13.00) and London Philharmonic Orchestra (14.00-17.00) in the Royal Festival Hall. There is a Mozart Bicentenary meeting in the Waterloo Bar at 11.00, whilst over in the Queen Elizabeth Hall there is a piano being tuned (9.15-12.15), the pianist Melvyn Tan is bringing in a fortepiano (13.10), and a concert from the Budapest Wind Ensemble (19.45).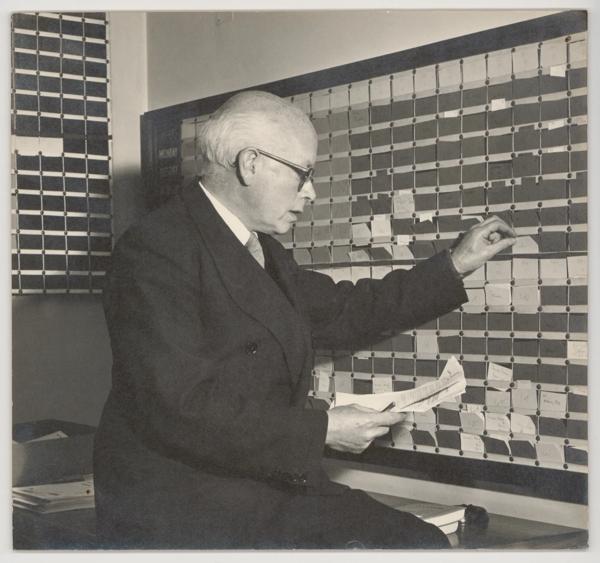 T.E. Bean, Royal Festival Hall General Manager, 1951
T.E. Bean, was the first General Manager of the Royal Festival Hall, having previously managed the Halle Orchestra.
He is pictured here in 1951 in front of the venue's wall-mounted event booking system which was in use until the late 1980s. The system involved colour-coded cards for orchestras and promoters being slotted into the boards to allocate concert dates and avoid programme clashes.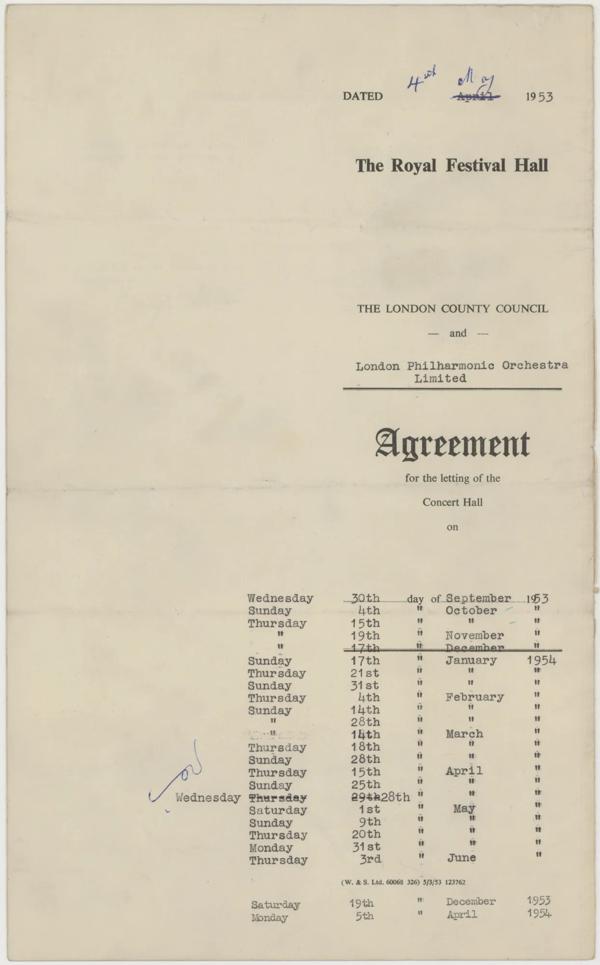 London Philharmonic Orchestra, contract, 1953
On 27 September 1953, the London Philharmonic Orchestra were in the final rehearsals ahead of a run of 23 Royal Festival Hall concerts, beginning on 30 September and running on to 3 June 1954. The concert dates are listed on this contract to let the hall, which was signed on 4 May 1953.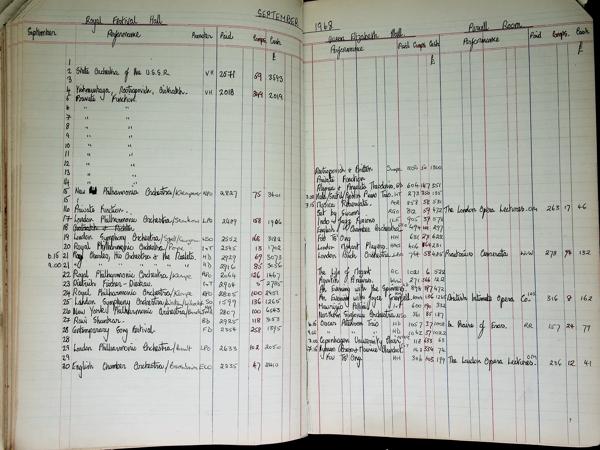 Southbank Centre attendance book, 1968
This attendance book for our three main venue spaces - Royal Festival Hall, Queen Elizabeth Hall and Purcell Room - actually spans January 1957 to June 1970, but we've picked out this page from September 1968. Each page details the number of tickets sold for each concert, and the number of complimentary tickets.
On 27 September Ravi Shankar's performance packed out Royal Festival Hall with 2,925 tickets sold, including 118 complimentary tickets. On the same night we also hosted the Northern Sinfonia Orchestra in Queen Elizabeth Hall in front of a slightly more modest crowd of 361, 85 of whom received complimentary tickets.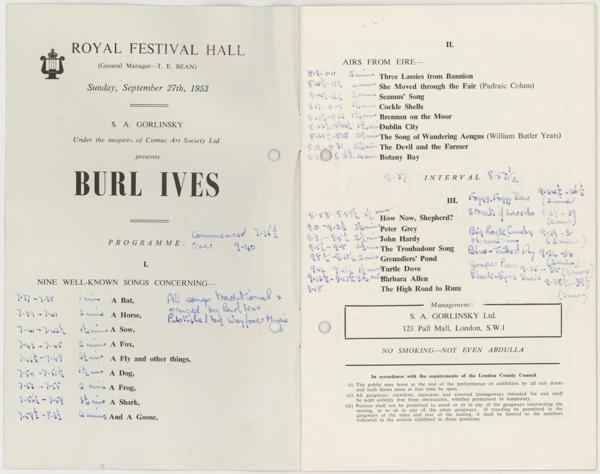 Burl Ives, programme, 1953
Pictured here are the inside pages of the programme produced for a concert by the American folk singer and actor Burl Ives at Royal Festival Hall on 27 September, 1953.
The pages detail Ives setlist, and as you can hopefully make out, have been annotated with handwritten timings for each of the songs in the performance.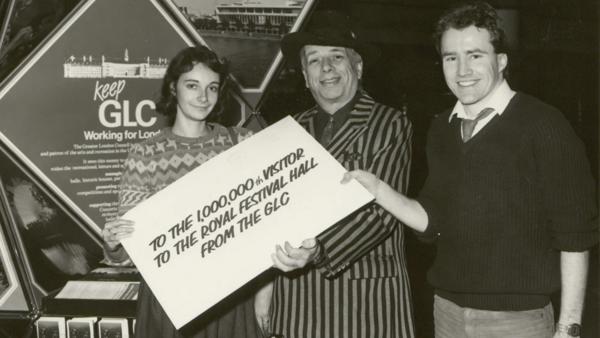 George Melly, 1982
The unmistakable figure of writer and musician George Melly stands in front of a Greater London Council display board as he welcomes the 1,000,000th visitor to the Royal Festival Hall in 1982.
Unfortunately we are none the wiser as to who the two people pictured with Melly are, nor which of them is the 1,000,000th visitor. Perhaps you know them. Perhaps it's you. If so we would love to hear from you.