Meltdown: the first 25 years
Thu Aug 9, 2018
First held in 1993, Meltdown has grown to become one of the UK's most anticipated annual music events.
Each year an iconic artist is welcomed to the Southbank Centre to curate their own personal festival; showcasing their interests and influences on our stages.
In its opening 25 years Meltdown was led by an incredible array of names from David Bowie to Yoko Ono, John Peel to M.I.A., and our archivists have pulled together this collection of images and artefacts from the festival's first quarter century.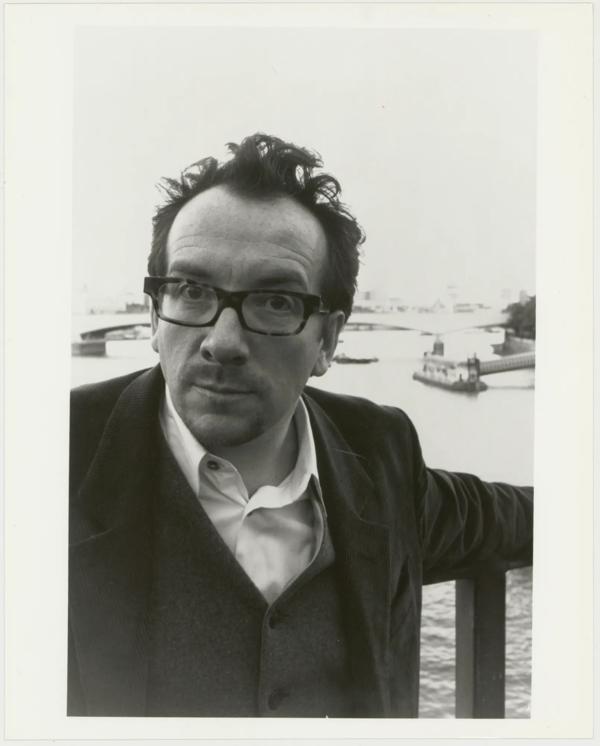 Elvis Costello, 1995
Elvis Costello was appointed curator of the third Meltdown in 1995; taking the festival in a more contemporary direction. Costello's Meltdown fused classical, jazz, folk and pop with the aid of Brodsky Quartet, Bill Frisell Trio, June Tabor, Steve Nieve, and, in what would sadly prove to be his last UK appearance, Jeff Buckley.
Whilst many of the Meltdown photographs in our collection are press shots, this stands out as a rare image taken here outside Southbank Centre, on the old Hungerford Bridge.
(Photo by Tim Kent)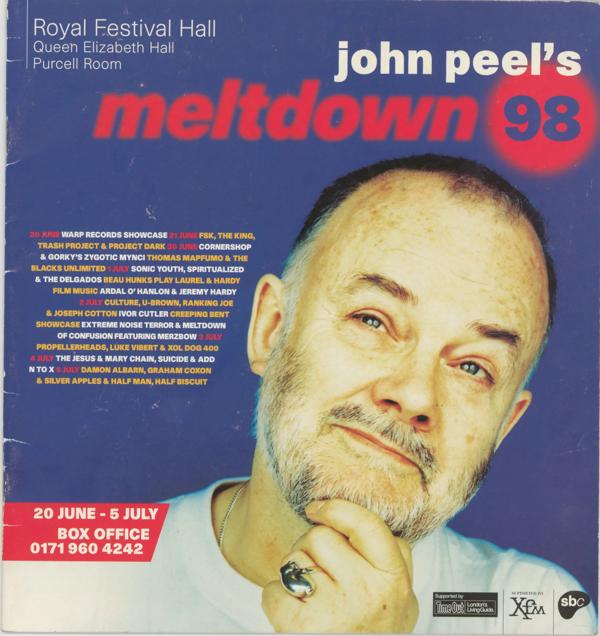 John Peel, 1998
Respected DJ John Peel became the first non-musician to take the helm of Meltdown, and duly led the sixth edition of the festival down a very different path.
The front cover from the programme details the incredible array of contemporary acts to play the festival in Peel's year, including Cornershop, The Delgados, Damon Albarn, Sonic Youth and Spiritualized, plus stand-up comedy from Ardal O'Hanlon and Jeremy Hardy.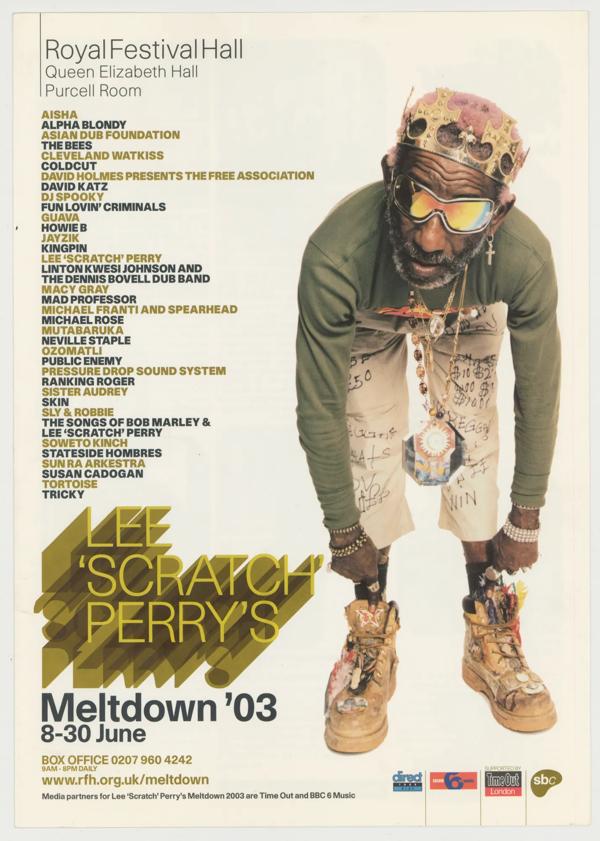 Lee Scratch Perry, 2003
Jamaican producer and pioneer of dub, Lee 'Scratch' Perry headed up Meltdown's 11th incarnation.
As detailed on the cover of this programme for the the 2003 festival, Perry's Meltdown included a cross-Atlantic mix with New York alt rock from Fun Lovin' Criminals, British indie from The Bees, Chicago synthesiser jazz from Sun Ra and British-Asian dancehall and ragga from Asian Dub Foundation.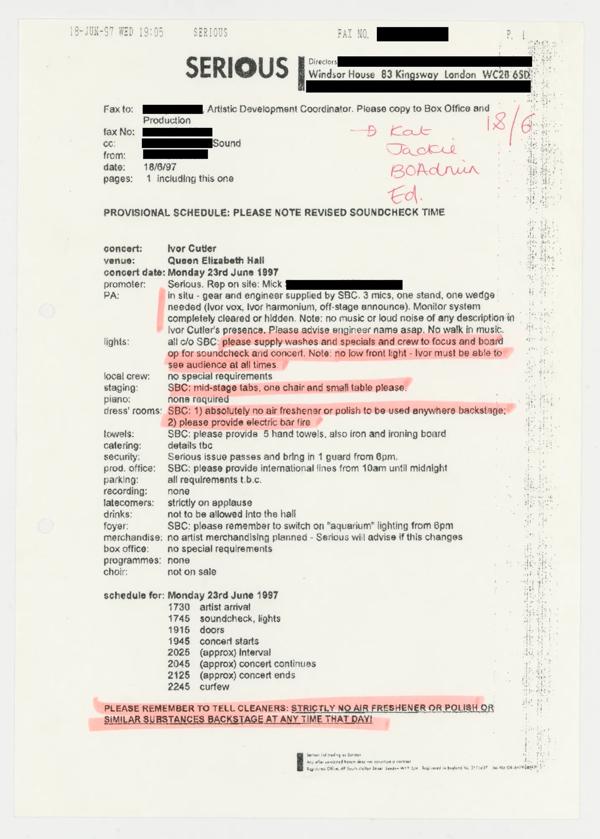 Ivor Cutler, 1997
This is the provisional schedule – shared between Source artist management and Southbank Centre – for Ivor Cutler's concert as part of Laurie Anderson's Meltdown, on 23 June 1997.
An eccentric poet, singer, songwriter and storyteller Cutler's offbeat humour had ensured he maintained an appeal that spanned generations. Aged 74 when he made this appearance at our Queen Elizabeth Hall, Cutler's somewhat unique insistence that no air freshener or polish be used backstage is obviously quite important, as it is both repeated and highlighted on each appearance on the schedule document.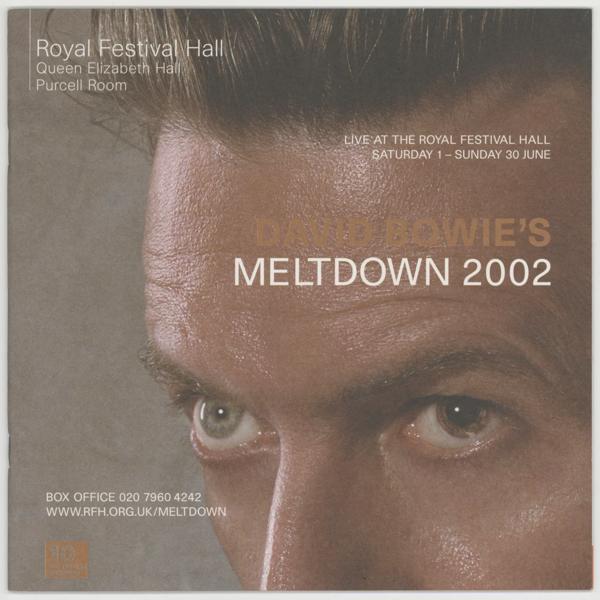 David Bowie, 2002
No-one was likely to turn down an invitation to appear at David Bowie's Meltdown – how could you say no to those eyes? – leading to an impressively big hitting guitar-band heavy bill for the tenth edition of the festival.
Coldplay, Badly Drawn Boy, Gonzales, Peaches, Suede, Supergrass, Television, The Polyphonic Spree, The Divine Comedy, and The Yeah Yeah Yeahs were among many to rock our stages.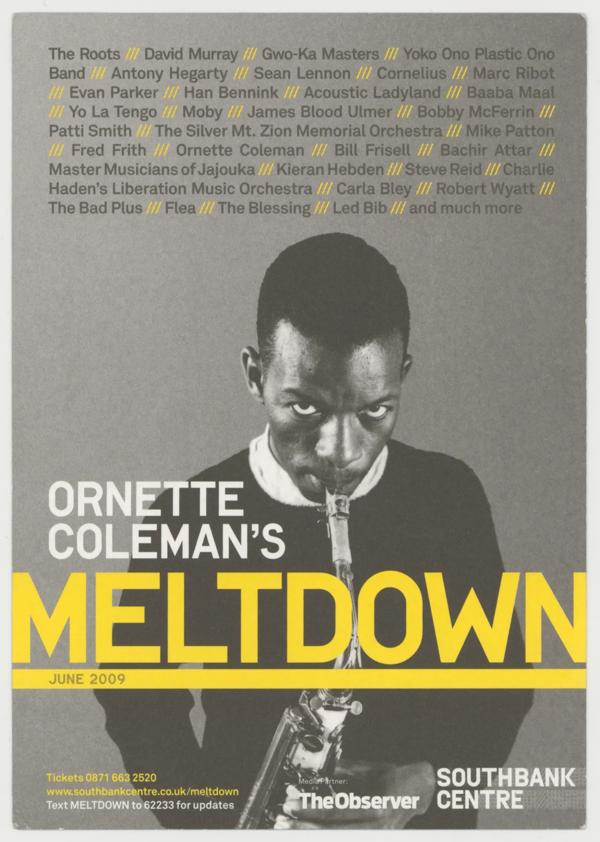 Ornette Coleman, 2009
As curator of the 16th Meltdown, Ornette Coleman brought both past and future curators together, with Patti Smith (2005) and Robert Wyatt (2001) on a bill that also included Yoko Ono (2013) and The Plastic Ono Band.
Offering one of Meltdown's most eclectic line-ups, the celebrated jazz saxophonist also gave us Moby, Bobby McFerrin and Morocco's Master Musicians of Jajouka.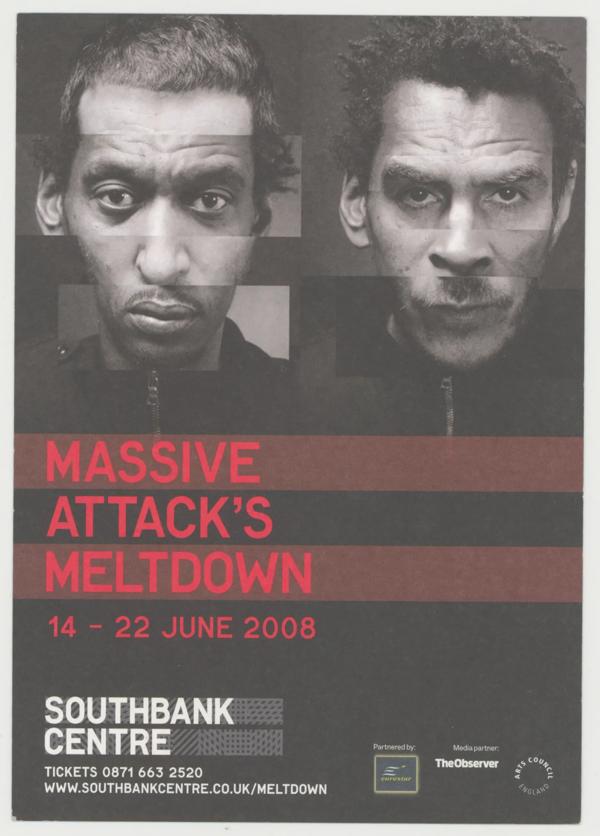 Massive Attack, 2008
Bristolian trip-hop superstars Massive Attack ran the show for the 15th Meltdown; serving up a riotous mix of old school - Grace Jones, Gang of Four and Stiff Little Fingers - and huge contemporary names, including Elbow, Fleet Foxes and Aloe Blacc.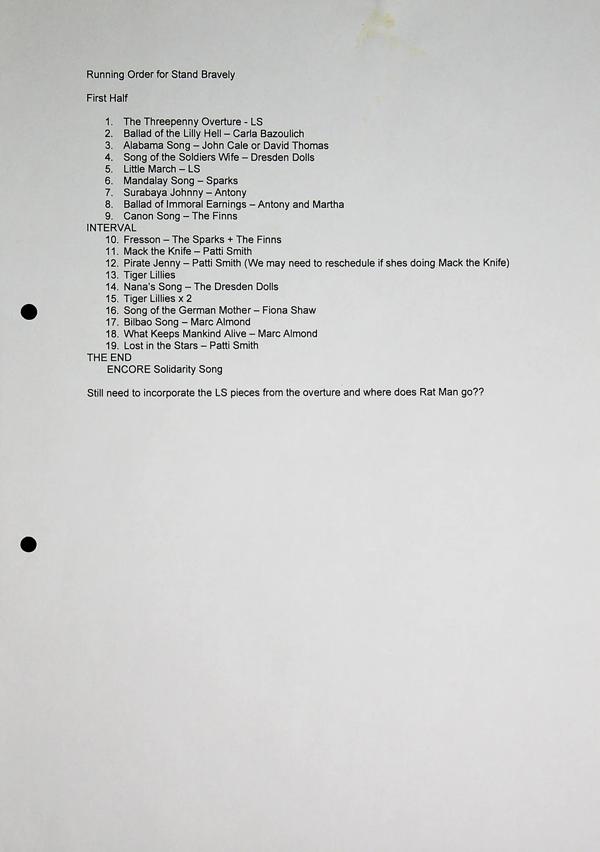 Patti Smith, 2005
Singer songwriter and poet Patti Smith delivered a wide-ranging 13th Meltdown, with an incredible array of solo performing talent included Beth Orton, Sinead O'Connor, Billy Bragg, Jeff Beck, John Cale and Martha Wainwright, complimented with poetry from Lemn Sissay.
Smith herself was hugely involved in the bill, as typified by the event from which this set-list comes; Stand Bravely Brothers, Smith's tribute evening to Bertolt Brecht. As well as Smith, the event included performances from Sparks, Marc Almond, and Anohni.
Though typed this set list wasn't quite complete as can be seen by the notes on the need to find room to incorporate pieces from London Sinfonietta, and where indeed does the song Rat Man go?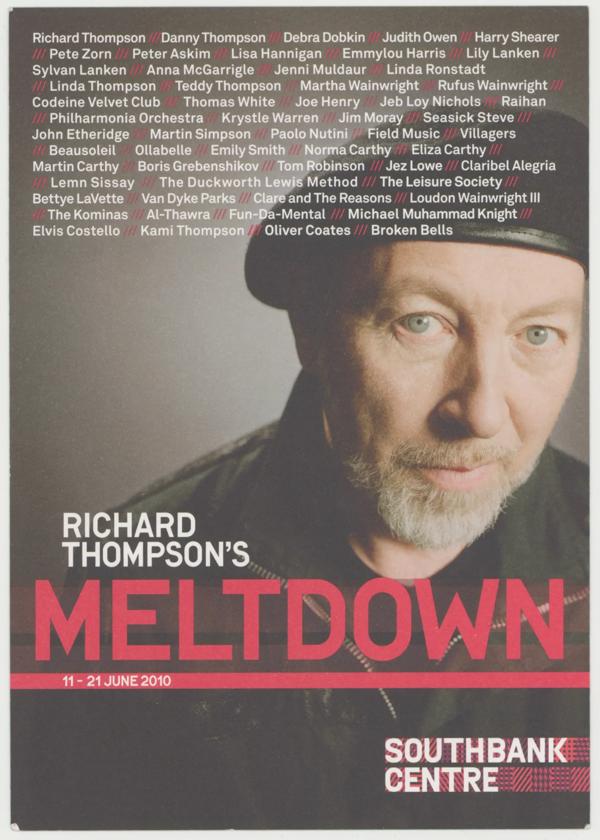 Richard Thompson, 2010
'Who wouldn't relish an opportunity like this? It's an opportunity for me to show off some of my favourite artists, and a chance to discover some new things myself'.
Those were the words of Richard Thompson, in an interview with The Guardian, after being chosen as curator of the 2010 Meltdown festival. Thompson's folk roots were evident across his festival bill which included performances from Rufus and Martha Wainwright, Seasick Steve, The Duckworth Lewis Method, Paolo Nuitini, and a return of past curator Elvis Costello.