Las Iguanas brings you Latin cool, mouth-watering ingredients and South American culture.
Find a mash-up of mouth-watering ingredients and South American culture in this funky restaurant with vibrant décor and big smiles all round.
Las Iguanas brings food alive with an irresistible bolt of Latin American energy. 
Tuck in to zingy seasonal superfood salads or hearty Brazilian curries. Keep hunger at bay with a taco tray to share or a selection of tapas.
In the bar, you'll find tropical punches bottled up ready to share and classic cocktails including the signature Caipirinhas made with Las Iguanas' own Cachaça distilled near Rio by cachaça master Joao Luiz.
Love Valentine's Day  
Whether it be for your soul sista, soul mister or all your favourite singletons, everyone has a lot of love to give. So, celebrate Valentine's Day and every kind of love at Las Iguanas, where you will receive a free glass of fizz on arrival.
Las Iguanas will treat you and your table to a free glass of cava when you book a table for Thu 14 Feb. Choose from a range of vibrant Latin American dishes packed with flavour from the à la carte menu, including vegan, vegetarian and gluten-free options. Continue the celebrations into the night with the Havana Lounge, including live DJ from 11pm until late.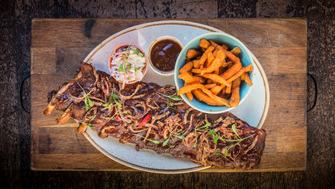 opening times
Monday – Thursday 12 noon – 11pm
Friday 12 noon – late
Saturday 12 noon – late
Sunday 12 noon – 10.30pm
Enjoy the late night Havana Lounge every Wednesday-Saturday