Beethoven 250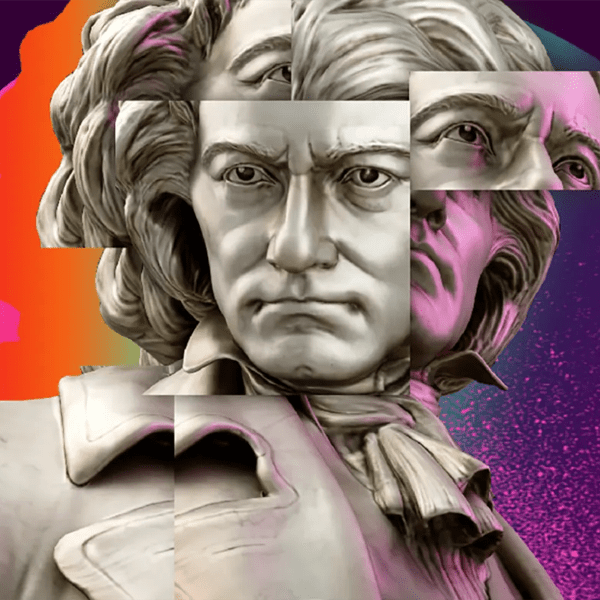 A year-long celebration of Beethoven from January 2020
The composer who penned the four most recognisable notes in the history of music. A true artist: dishevelled, volatile and unlucky in love – but a great believer in humanity. A genius who wrote some of his greatest works after he lost his hearing.
You know the Beethoven myth, now discover more about the man and the music as we celebrate the 250th anniversary of the composer's birth.
Part of our year-long series Beethoven 250, our performances of Beyond Beethoven 9 on Thursday 16 and Saturday 18 April 2020 could not take place as we are currently closed due to the coronavirus.
With Southbank Centre Associate Artist Marin Alsop conducting and performers including the National Youth Orchestra of Great Britain, Beyond Beethoven 9 reimagined the masterwork as part of the global project All Together: A Global Ode to Joy.
In the spirit of this project, delve deeper into Beethoven's final Symphony, the triumphant Ninth, and beyond with our series of blogs, playlists and videos.
Beethoven 250 continues into 2021 with artists including Daniele Rustioni, Zubin Mehta, Bryn Terfel, Santtu-Matias Rouvali, Daniel Barenboim, Anoushka Shankar and Pierre-Laurent Aimard.
The season also encompasses the London Philharmonic Orchestra's new series 2020 Vision, casting fresh light on the composer's music and on those who came exactly 100 and 200 years after him.
Events include Beethoven rarities alongside famous symphonic works, outstanding chamber concerts and contemporary reflections and reinterpretations of Beethoven's music.
Beyond Beethoven 9 is generously supported by the David and Jennifer Sieff Charitable Trust in memory of David Sieff. With additional generous support from Alexander Graham and Luke Mayhew.
"Beethoven was all about love and joy and celebrating the essence of what it is to be human, and what it is to be connected. That's what we're trying to do in this project – throw the doors wide open and say 'Come on, everybody owns this piece. Everybody owns this idea. And together we're much stronger'."
Save money with multi-buy
Look out for series discounts in the ticketing area of selected event pages – add multiple events from the same series to your basket and get discounts of up to 30%. Tickets must be purchased in the same transaction.