London Sinfonietta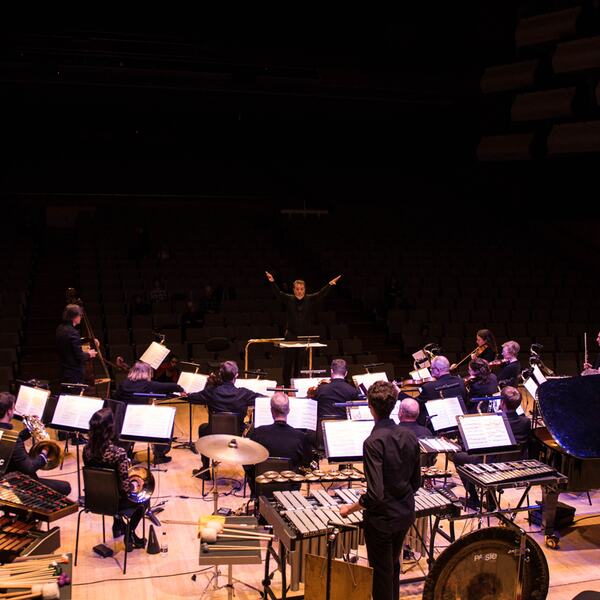 This world-leading new music ensemble isn't afraid to take risks
Resident at Southbank Centre, the London Sinfonietta is one of the world's finest contemporary music ensembles with a reputation built on cutting-edge programming and virtuosic performances.
Founded in 1968, the ensemble has a commitment to new music that has seen it commission over 400 works, and premiere hundreds more. 
Its mission is to place the best contemporary classical music at the heart of today's culture; engaging and challenging the public through inspiring performances of the highest standard, and taking risks to develop new work and talent. 
The ensemble's 2020/21 season presents programmes for the people, integrating the pubic and themes from today's society throughout its curation, from climate change to LGBTQ+ representation.
The season kicks off with a free day of new music from a wide range of composers, curated for audiences new and old, on The Clore Ballroom at Royal Festival Hall, in an opportunity to experience contemporary music in a casual setting and to participate in some music-making on the day. 
Cross-genre approaches continue to influence the ensemble, as they welcome back art students from Central Saint Martins who respond to the music of James Dillon and Chaya Czernowin. 
Tenor Mark Padmore returns with composer Luke Bedford's new work In the Voices of the Living; a commission from Columbia University professor George Lewis is at the heart of a concert celebrating voices from around the world.
Laura Bowler's new work set to the text of Extinction Rebellion's manifesto invites the public to contribute images that represent their experience of climate change.
The ensemble also welcomes back musicians from the Royal Academy of Music Manson Ensemble in an evening dedicated to composer Claude Vivier, conducted by Ilan Volkov.
'We owe the London Sinfonietta more than we shall ever know'
'The London Sinfonietta doesn't do nostalgia'
'The world's top new music ensemble'