Philharmonia Orchestra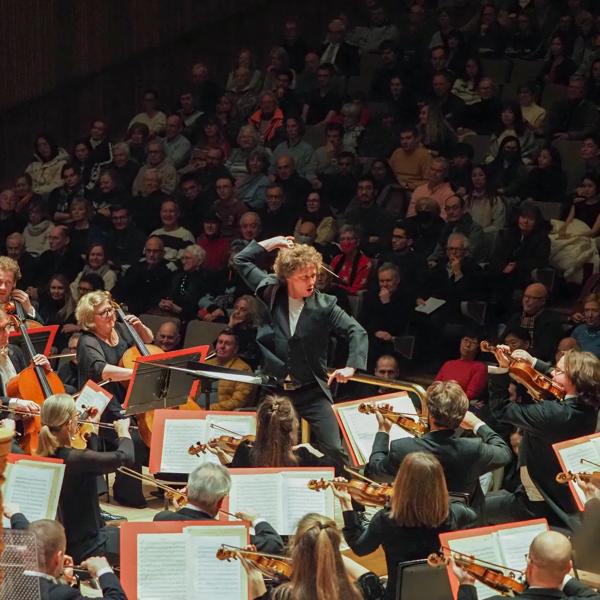 The Philharmonia creates thrilling experiences in music for a global audience
Founded in 1945, the Philharmonia is made up of 80 outstanding musicians, of 16 nationalities. Santtu-Matias Rouvali has been their Principal Conductor since 2021.
In the 2023/24 season, Rouvali conducts some thrilling repertoire, from Tchaikovsky and Elgar to Duke Ellington and Wynton Marsalis. You can also catch him on drums at the free Philharmonia Big Band performance.
Violinist Nicola Benedetti and soprano Julia Bullock are the Philharmonia's Featured Artists this season. Both of them appear in the Philharmonia's autumn series Let Freedom Ring: Celebrating the Sounds of America, alongside the Philharmonia's Principal Guest Conductor Marin Alsop, and leading jazz musicians such as the Marcus Roberts Trio, esperanza spalding and Ravi Coltrane. The series celebrates the dazzling diversity of American music, the creative crosscurrents between classical music and jazz, and the musicians whose distinctive sounds have shaped their country's identity.
In February, soprano Julia Bullock brings her project History's Persistent Voice to London, exploring the work and experiences of Black American artists in song, readings and visual art. 
Pianists Dame Mitsuko Uchida, Daniil Trifonov, Bruce Liu, Alexandre Kantorow and Alice Sara Ott all perform piano concertos with the Philharmonia this season. Alongside perennial favourites, there's the chance to hear a fantastic jazz concerto by Nikolai Kapustin, and a UK premiere by Bryce Dessner. 
Leonidas Kavakos is both soloist and conductor in Mendelssohn's beloved Violin Concerto in November. Look out for violinist Isabelle Faust and cellist Sol Gabetta in the summer. 
Sarod virtuoso Soumik Datta is the Philharmonia's Artist in Residence this season. He's working with members of the Philharmonia and refugee musicians to create a new piece – hear the results of their collaboration in May. 
You can also enjoy free performances by members of the orchestra in the Philharmonia Chamber Players and Music of Today series.
'There were "wow" moments aplenty as the Philharmonia laced up its hiking boots and happily hit every waymark in Strauss's mountain journey'