Philharmonia Orchestra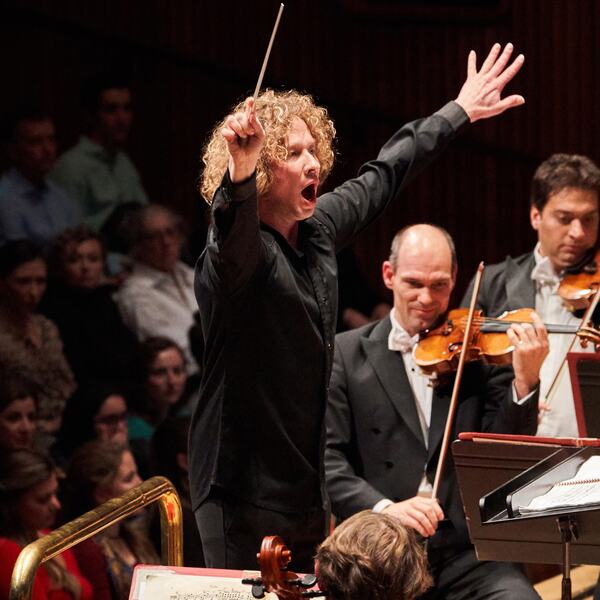 The Philharmonia creates thrilling experiences in music for a global audience
The Philharmonia Orchestra welcomes their new Principal Conductor, Santtu-Matias Rouvali, and presents a new series on humanity's relationship with nature.
The 2021/22 season sees Finnish conductor Santtu-Matias Rouvali take up the baton as Principal Conductor. 
His series Human / Nature explores how composers have addressed humanity's place within the natural world, and how today's musicians can confront the climate emergency. 
The series embraces masterpieces as varied as Beethoven's Pastoral Symphony, Stravinsky's The Rite of Spring, Philip Glass' music for the cult film Koyaanisqatsi, and a new violin concerto by Bryce Dessner. 
Violinist and conductor Pekka Kuusisto is the Philharmonia's Featured Artist, House of Absolute are Artists in Residence, and the season also features violinist Hilary Hahn, and pianists Pierre-Laurent Aimard and András Schiff.  
Since 1945, the Philharmonia has pioneered the use of technology to bring great music to the broadest possible audience. 
Interactive installations, virtual reality projects and stunning online concerts have brought the orchestra to lifelong fans and first-time listeners on five continents.
At the heart of the orchestra's work is its Southbank Centre residency – more than 30 live concerts each year, bringing the world's leading conductors and soloists to London to perform great music for you.
'playing of sizzling virtuosity and vividness from the orchestra'