London Contemporary Orchestra
Until 20 Mar
Online events
Gigs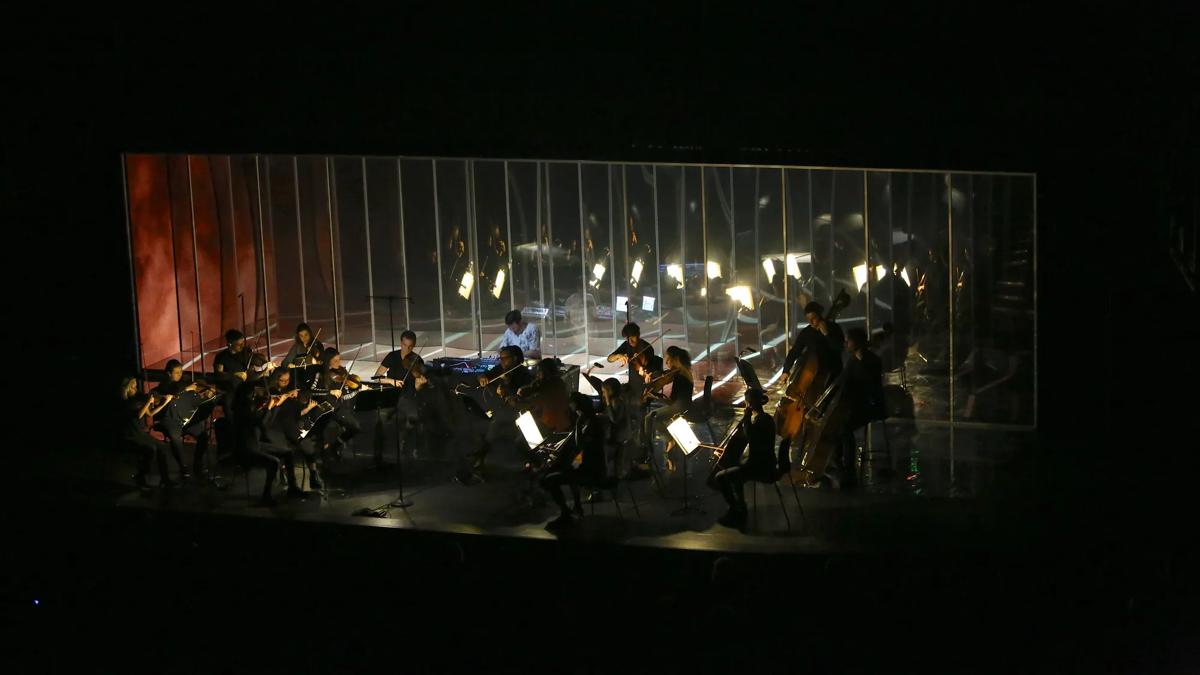 The innovative ensemble presents orchestral versions of new electronic masterpieces and a UK premiere.

The London Contemporary Orchestra redefines the role of the orchestra in the modern world with their interpretations of striking electronic releases from 2020.
The orchestra has been commissioned to reinterpret the hypnotic electronics of Kelly Lee Owens' version of 'Arpeggi' by Radiohead and the immersive poignancy of Duval Timothy's 'Look'.
These meditative pieces accompany the first UK performance of a magnum opus from Sigur Rós guitarist Kjartan Sveinsson.
Der Klang der Offenbarung des Göttlichen ('The Explosive Sonics of Divinity') is described by Sveinsson as a 'four-act opera'. This rare first-time performance brings out two major influences on Sveinsson's approach to composition, the natural landscape of his home country, Iceland, and the explosive sounds of Sigur Rós.
Leading vocal groups VOCES8 and Apollo5 perform world premiere arrangements of music by two of Iceland's most-loved contemporary music artists.
Robert Ames reconstructs 'Ascent' by the Oscar-winning composer behind the 2019 Joker score, Hildur Gudnadóttir, and 'momentary' by Ólafur Arnalds.
Supported by Arts Council England.
Performers
London Contemporary Orchestra

Robert Ames

conductor

VOCES8

Apollo5
Repertoire
Duval Timothy

:

Look arr. Robert Ames for orchestra

(World premiere)

Hildur Gudnadóttir

:

Ascent arr. Robert Ames for chorus

(World premiere)

Kelly Lee Owens

:

Arpeggi arr. Robert Ames & Ben Corrigan for orchestra

(World premiere)

Ólafur Arnalds

:

momentary arr. Geoff Lawson for chorus

(World premiere)

Kjartan Sveinsson

:

Der Klang der Offenbarung des Göttlichen

(UK premiere)
Need to know
This event is streamed. Streaming is provided by DICE on behalf of the Southbank Centre.
Please ensure that you have access to a stable WiFi network in order to watch the event. More information on how to access the stream is available when you click through to the DICE website to purchase your ticket.
Dates & times
19 – 20 Mar
First broadcast: 19 Mar, 7.30pm GMT, available for 24 hours

Europe: 8.30pm CET, available for 24 hours
Australia and Asia: 6.30am AEDT, available for 24 hours
USA and Canada: 11.30am PT / 2.30pm ET, available for 24 hours
Price
Get presale tickets
Members get the first chance to book our entire programme of events, including go-down-in-history gigs, concerts with world-class orchestras, and talks from cultural icons and political giants.
Venue
Online events
We are streaming events with a number of different platforms.
Check the Where to watch section above to find out which platform you can use to view this specific event.