Taos Bertrand: brutal syntax
Wed 14 Jun, 7.45pm
Purcell Room at Queen Elizabeth Hall
Gigs
£15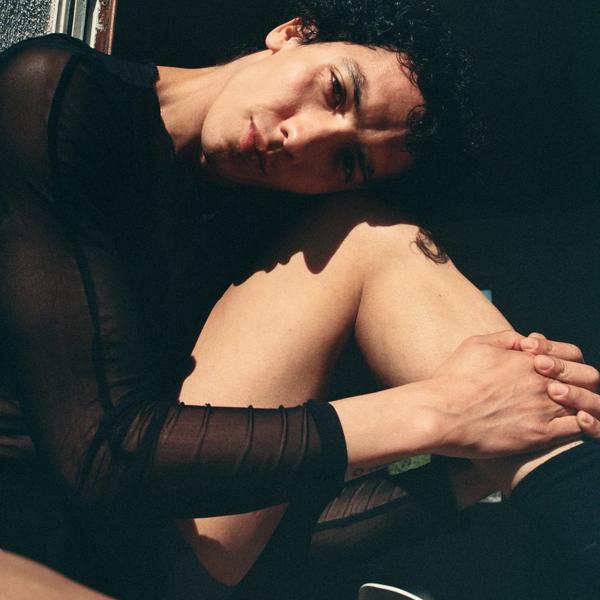 The dancer and choreographer presents the world premiere of a celebratory club culture-inspired dance work, commissioned especially for Meltdown.
Taos Bertrand explains: 'In brutal syntax, I invite a sorority of contemporary dancers and ribbon gymnasts to compose a dance language sustaining an architecture for trouble, ornamentation, lust and rebirth.
'It's like an adolescent reminiscence, a celebration of the 2000s where excessive techno beats, poetry, sassy baroque mutations and R&B aesthetic can bloom within the soundscape designed by producer Kelman Duran.
'Brutal as a trans-choreographic genre where dance and ribbon gymnastics, organic grace and machinic time, club culture and ambient can f*ck to reach a realness in our contemporary space.'
As writer and scholar McKenzie Wark says in her book Raving: 'Techno began as the sound of blackness giving itself a future in the ruins ... A trans time, with no future, yet which makes a present of the present. Then gates to paradise are locked. It became private property. But we can go round the back and hop the fence.'
Taos Bertrand studied literature and philosophy at the Sorbonne, as well as contemporary dance at the Conservatoire des abbesses in Paris.
Taos Bertrand has previously worked with Christine and the Queens and collaborators including choreographers Olivier Dubois and Adam Linder, Erwan Ha Kyoon Larcher, Valentin Noujaïm, Jean-Luc Verna, the collective (LA) HORDE and pianist Koki Nakano. Her work is motivated by questions of writing and materiality, prophecy and trouble, ghosts and avatars.
She has worked on Noh theatre during her residency at Villa Kujoyama in Kyoto, and recent works include 2022's The end of the forests, a trio on cruising mythology, in collaboration with the sound designer PYUR; and Promettre, a duet co-written with Erwan Ha Kyoon Larcher for Vive le sujet du Festival D'Avignon.
In 2023, Taos Bertrand dances for Adam Linder at the Museum of Contemporary Art in Sydney and is co-creating a workshop for the students of Beaux-arts de Paris at Lafayettes Anticipations.
brutal syntax is in collaboration with LA-based Dominican producer Kelman Duran.
The visuals are created by Karim Boumjimar.
Need to know
Please note that strobe, haze and loud music are used during this performance.
Follow @meltdownfest on Twitter for all of our Meltdown updates.
Dates & times
Approximate run time: 30 mins.
Run times may vary by up to 20 minutes as they can be affected by last-minute programme changes, intervals and encores.
Price
Standard entry

£15*

Concessions

25%**

* Excludes £3.50 booking fee.
** Limited availability. Read about concessions.
Tickets can only be sold through the Southbank Centre and our authorised agents, and can't be resold. You can return your tickets to the Southbank Centre for a credit voucher up to 48 hours before the event. Tickets resold on any third-party platforms will become invalid.
Get presale tickets
Members get the first chance to book our entire programme of events, including go-down-in-history gigs, concerts with world-class orchestras, and talks from cultural icons and political giants.
Venue
Purcell Room
Our number one priority is the health and wellbeing of our visitors and staff. 
Open 90 minutes before an event until the end of the event. Closed at all other times.
Our address is: Southbank Centre, Belvedere Road, London SE1 8XX. The nearest tube and train stations within 5-7 minutes walk are Waterloo (Northern, Bakerloo, Jubilee and Waterloo & City lines) and Embankment (District & Circle lines). There are also lots of bus routes with stops 2-5 minutes from our venues. For more information on getting here by road, rail or river.
Pre-booking online is recommended. Check our website on the day for returns. There's no need to print your e-ticket – just show your phone to our Visitor Assistants on entry.
Some free events don't require a ticket. Found an event labelled FREE on our website with no way to book? Simply turn up on the day.
If you don't receive your e-ticket
Your e-ticket will be sent to you seven days before the event date from [email protected]. If you don't receive your e-ticket, and it's not in your junk or spam folder, please get in touch. 
More information
Find out all you need to know about tickets, including concessions, group bookings, returns, credit vouchers and more, via the link below.
Get an overview of the seating layout of the Purcell Room by downloading our seating plan.
Toilets
An accessible toilet is located in the foyer.
A Changing Places toilet is located on Level 1 Royal Festival Hall next to the JCB Glass Lift, for the exclusive use of disabled people who need personal assistance to use the toilet.
The facility includes a height-adjustable bench, tracking hoist system, a centrally-placed toilet, a height-adjustable basin and a shower. The key for this room is available from the Welcome Hub on Level 2, Royal Festival Hall. The facility is open daily 10am – 11pm.
Cloakroom
The Queen Elizabeth Hall and Purcell Room cloakroom is closed. You won't be able to bring any bags over 40 x 25 x 25cm into the venues, so please leave large bags at home.
We're cash-free
Please note that we're unable to accept cash payments across our site. 
Purcell Room is located in Queen Elizabeth Hall. For step-free access please use Royal Festival Hall JCB glass lift to Level 2 and enter via Riverside Terrace.
Talk to a member of staff at the auditorium entrance if you have a disability that means you can't queue, or you need extra time to take your seat. They can arrange priority entry for you as soon as the doors open.