Jhumpa Lahiri in Conversation
Until 13 May
Online events
Literature & poetry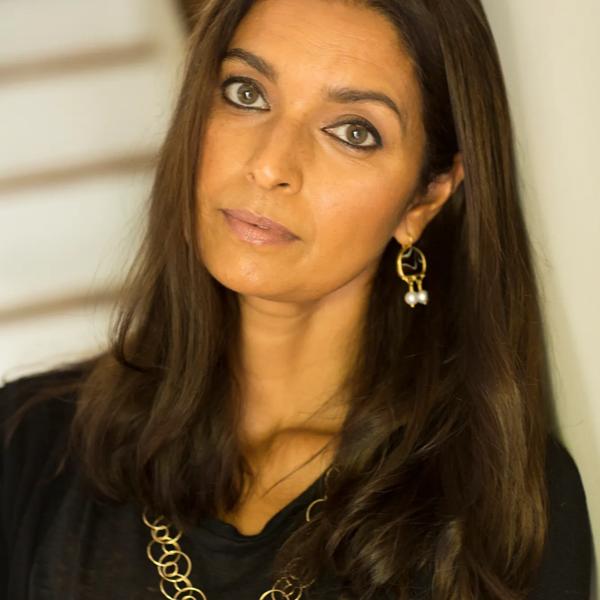 'She has a talent – magical, sly, cumulative – that most writers would kill for'
In an exclusive broadcast, the Pulitzer Prize-winning author discusses her latest novel, Whereabouts, a haunting portrait of a woman on the cusp of change.
Tracing the steps, observations and conversations of a woman in a beautiful and lonely Italian city, Whereabouts is a dazzling evocation of a place.
Between the bright pavements and bridges, a mother consumed by her own grief and a train station filled with the promise of being spirited away, Lahiri draws us into the intimate inner world of a woman caught between the past and the possibility of transformation.
One day at the sea, both overwhelmed and replenished by the sun's vital heat, her perspective will change forever.
A work of rare artistry, Whereabouts – first written in Italian and then translated by the author herself – brims with the impulse to transcend boundaries.
Through this remarkable feat of translation and artistry, Lahiri's distinctive sensibility has taken on still more expansive dimensions.
Join Jhumpa Lahiri for a rare virtual appearance as we celebrate her latest work of fiction.
In this exclusive event, Lahiri reads from and reflects on Whereabouts, and takes us through the journey of translating it herself.
Lahiri is in conversation with Thea Lenarduzzi, writer, podcaster and commissioning editor at the Times Literary Supplement.
Jhumpa Lahiri's debut collection of stories, Interpreter of Maladies, won the Pulitzer Prize, among other plaudits, and became an international bestseller.
Her first novel, The Namesake, and second collection, Unaccustomed Earth, were both named book of the year by multiple publications. Her most recent book is her second novel, The Lowland.
Thea Lenarduzzi is a writer, editor, podcast host and winner of the 2020 Fitzcarraldo Editions Essay Prize. She is working on Dandelions, a family story of Italian-English ties, to be published by Fitzcarraldo Editions.
This event is pre-recorded exclusively for the Southbank Centre.
'A fine writer, discriminating, compassionate and surprising'
'Lahiri joins the ranks of those whose work goes further and illuminates human nature in general'
Need to know
Copies of Whereabouts are available for £14.99. The books are sent out by Foyles via post (postage is included in the price).
This event is streamed. Streaming is provided by TicketCo on behalf of the Southbank Centre.
Please ensure that you have access to a stable WiFi network in order to watch the event. More information on how to access the stream is available when you click through to the TicketCo website to purchase your ticket.
Dates & times
First broadcast: available from 7.30pm on Thu 6 May and for seven days on demand.
Price
Buy seven days' video access: £7.50
Get presale tickets
Members get the first chance to book our entire programme of events, including go-down-in-history gigs, concerts with world-class orchestras, and talks from cultural icons and political giants.
Venue
Online events
We are streaming events with a number of different platforms.
Check the Where to watch section above to find out which platform you can use to view this specific event.
Watch online
How to watch the stream on your preferred device
After your payment transaction is approved, TicketCo will send you a ticket or purchase confirmation within one hour. Check the email address and/or phone number that you registered with to collect your ticket. 
Watch in a browser on a phone, tablet or computer
TicketCo TV can be streamed using all the main web browsers. Open your email confirmation and click the TicketCo TV icon. This will open a new tab where the event will start. If you have a Google Chromecast connected to your TV, this can also be used to stream the event (so long as it's second generation or newer).
 
Watch on Apple TV or Android TV
If you have an Apple TV or Android TV we recommend downloading the free TicketCo TV app for the best streaming experience.
To use the app, you need tvOS 13.0+ on Apple TV, or Android TV version 7.0+. Download the TicketCo TV app from the app store on your Apple TV. Find it in the Google Play Store on your Android TV.
Once the app is open, type in the five-letter reference code from your ticket. You can find the code in the ticket ID field. After confirming your reference code you'll be redirected to the event.
 
Watch on Amazon Fire TV
Find the TicketCo TV app on Amazon Fire TV Download.
Open the app and add the five-letter reference code from your ticket. You can find the code in the ticket ID field. After confirming your reference code you'll be redirected to the event.