Notes on Compassion: Words, Music and Us
Sun 25 Jun, 8pm
Queen Elizabeth Hall
Literature & poetry
£10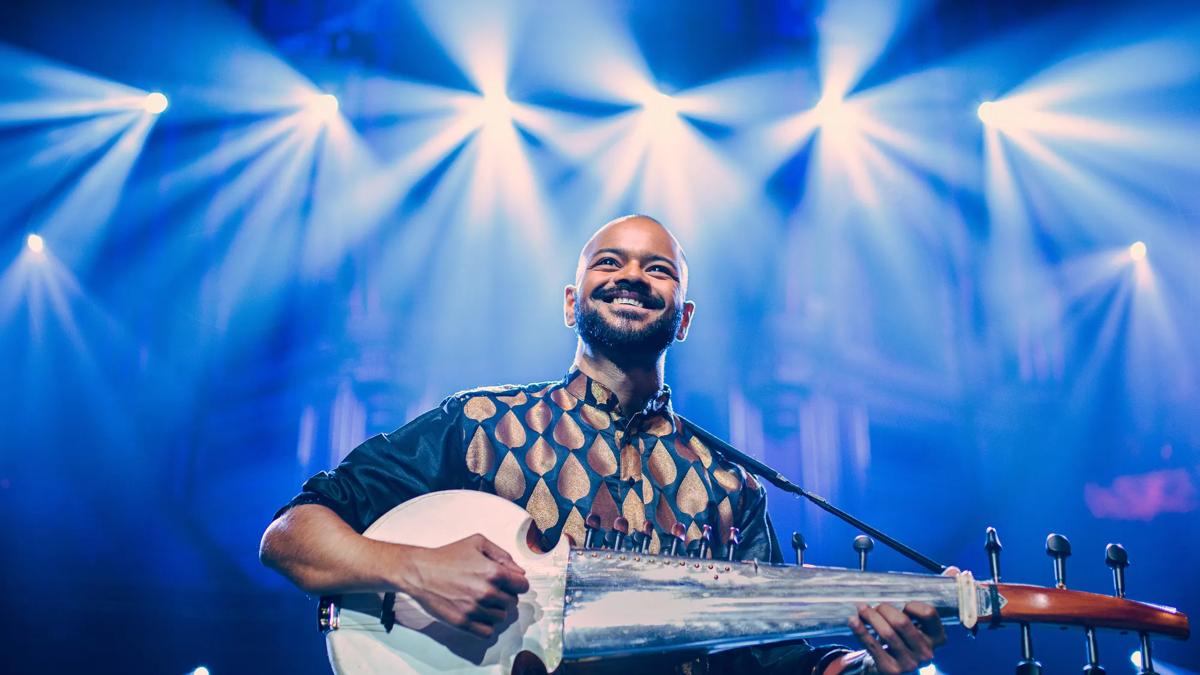 Marking the 25th year of Refugee Week, an evening of music and spoken word hosted by comedian Fatiha El-Ghorri responds to this year's theme, Compassion.
There are performances from AWATE, Soumik Datta, FaceSoul, Vanessa Kisuule, Kaia Laurielle, Rachel Long, Momtaza Mehri and Sukina Noor, and an original choral performance from Woven Gold, hosted by Fatiha El-Ghorri.
We're bringing together poets and musicians to share their responses on Compassion, helping us create a safe, shared space to unpick what it means today and how we can extend compassion beyond our own networks.
Do we live in times where acting with compassion may feel like a radical act? How can we grow compassion by doing small, everyday acts that have potential to affect and support people outside our immediate circles of friends and family?
Underneath Fatiha El-Ghorri's colourful hijab is a mind full of cutting observations and engaging witticism of the life and times of a British Muslim woman. By sharing stories of her own experiences – which are funny, thought-provoking and honest – El-Ghorri smashes the Muslim stereotypes and challenges people to reconsider what they know about Islam, Muslims and Muslim women especially.
AWATE is a rapper, writer, producer and performer focused on stories at the intersection of race, class and surrealism – with a dose of humour. Happiness, his debut album, was released in 2018.
Winner of the Aga Khan Music Award, Soumik Datta is a visionary musician with the ability to cross boundaries, cultures and art forms. Called 'One of the biggest new music talents in Britain' by Vogue, Datta is a sarod virtuoso, composer and Artistic Director of the Soumik Datta Arts charity, and his work pushes the limits of Indian classical music to address the urgent issues of our times. Tonight he performs an extract of touring project Hope Notes, which combines refugee stories with sarod, strings and electronica. The critically acclaimed work was commissioned by the Southbank Centre to raise awareness about displacement and refugee mental health issues.
Faisal Salah, known by his stage name FaceSoul, is a London-based artist born in East Africa. At 19 he began travelling the world, performing for different communities. He combines his love of singing, poetry and storytelling with his Islamic roots, bringing his spirituality to his practice.
Vanessa Kisuule is a writer and performer based in Bristol who's won numerous slam titles, appeared at an array of literary and music festivals and was Glastonbury Festival's Resident Poet in 2019.
Kaia Laurielle is a singer/songwriter from south-east London whose music is a blend of electronic, alternative soul and R&B. As a champion for Black love, her lyrics tell the stories of those forgotten or overshadowed.
Rachel Long is a poet and the founder of Octavia – Poetry Collective for Women of Colour, which is housed at the Southbank Centre. She has been shortlisted for Young People's Laureate for London and was awarded a Jerwood/Arvon Foundation mentorship.
Momtaza Mehri is a poet and independent researcher working across criticism, translation, anti-disciplinary research practices, education and radio. She is a former Young People's Poet Laureate for London and Frontier-Antioch Fellow.
Sukina Noor is a poet, spoken-word artist, playwright, workshop facilitator and educator, artistic curator, writer and public speaker. She has toured extensively across the UK, Europe, America and Africa.
Woven Gold is a choir of refugees and asylum seekers from around the world which performs original songs and music written together, or traditional music from their own countries, led by professional musicians.
Need to know
Please note that haze is used during this event.
Dates & times
Sun 25 Jun, 8pm
Approximate run time: 1 hour 30 mins.
Run times may vary by up to 20 minutes as they can be affected by last-minute programme changes, intervals and encores.
Price
Standard entry

£10*

Concessions

25%**

* Excludes £3.50 booking fee.
** Limited availability. Read about concessions.
Tickets can only be sold through the Southbank Centre and our authorised agents, and can't be resold. You can return your tickets to the Southbank Centre for a credit voucher up to 48 hours before the event. Tickets resold on any third-party platforms will become invalid.
Get presale tickets
Members get the first chance to book our entire programme of events, including go-down-in-history gigs, concerts with world-class orchestras, and talks from cultural icons and political giants.
Venue
Queen Elizabeth Hall
Our number one priority is the health and wellbeing of our visitors and staff. 
Open 90 minutes before an event until the end of the event. Closed at all other times.
Our address is: Southbank Centre, Belvedere Road, London SE1 8XX. The nearest tube and train stations within 5-7 minutes walk are Waterloo (Northern, Bakerloo, Jubilee and Waterloo & City lines) and Embankment (District & Circle lines). There are also lots of bus routes with stops 2-5 minutes from our venues. For more information on getting here by road, rail or river.
Pre-booking online is recommended. Check our website on the day for returns. There's no need to print your e-ticket – just show your phone to our Visitor Assistants on entry.
Some free events don't require a ticket. Found an event labelled FREE on our website with no way to book? Simply turn up on the day.
If you don't receive your e-ticket
Your e-ticket will be sent to you seven days before the event date from [email protected]. If you don't receive your e-ticket, and it's not in your junk or spam folder, please get in touch. 
More information
Find out all you need to know about tickets, including concessions, group bookings, returns, credit vouchers and more, via the link below.
Get an overview of the seating layout of Queen Elizabeth Hall by downloading our seating plan.
Toilets
An accessible toilet is located in the foyer.
A Changing Places toilet is located on Level 1 Royal Festival Hall next to the JCB Glass Lift, for the exclusive use of disabled people who need personal assistance to use the toilet.
The facility includes a height-adjustable bench, tracking hoist system, a centrally-placed toilet, a height-adjustable basin and a shower. The key for this room is available from the Welcome Hub on Level 2, Royal Festival Hall. The facility is open daily 10am – 11pm.
Cloakroom
The Queen Elizabeth Hall cloakroom is closed. You won't be able to bring any bags over 40 x 25 x 25cm into the Queen Elizabeth Hall, so please leave large bags at home.
We're cash-free
Please note that we're unable to accept cash payments across our site. 
For step-free access from the Queen Elizabeth Hall Slip Road off Belvedere Road to the Queen Elizabeth Hall auditorium seating (excluding rows A to C) and wheelchair spaces in the Rear Stalls, plus Queen Elizabeth Hall Foyer and the Purcell Room, please use the Queen Elizabeth Hall main entrance.
To reach this entrance, enter the Royal Festival Hall via the Southbank Centre Square Doors. Take the JCB Glass Lift to Level 2 and exit to the Riverside Terrace. Turn right to find the Queen Elizabeth Hall main entrance.
You can also use the external lift near the Artists' Entrance on Southbank Centre Square to reach Mandela Walk, Level 2. 
For access to the Queen Elizabeth Hall auditorium seating rows A to C and wheelchair spaces in the Front Stalls, please enter via the Artists' Entrance in the Queen Elizabeth Hall Slip Road (Level 1).
Talk to a member of staff at the auditorium entrance if you have a disability that means you can't queue, or you need extra time to take your seat. They can arrange priority entry for you as soon as the doors open.
From a snack with coffee to cocktails and fine dining, plus some of London's best street food – it's all here on the Southbank Centre site.