Skin: It Takes Blood and Guts
Until 11 Mar
Online events
Literature & poetry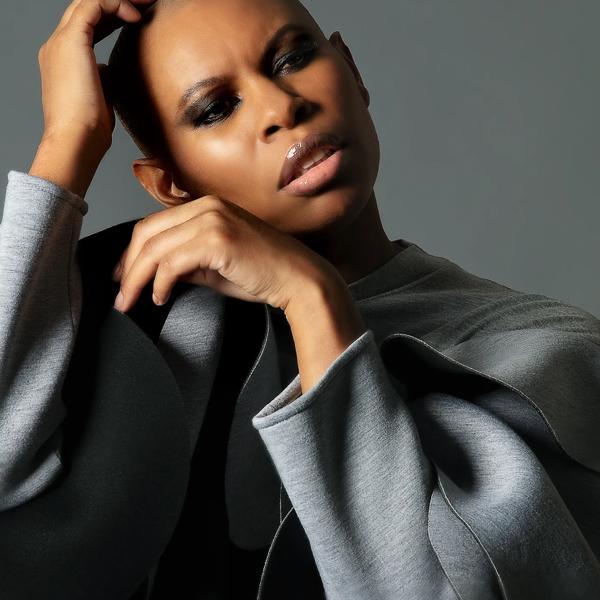 'You've got to keep moving forward, keep striving for everything you want to be.'
 
The lead singer of rock band Skunk Anansie, solo artist, LGBTQI+ activist and all-around trailblazer launches her memoir in a broadcast event.
Told with honesty and passion, It Takes Blood and Guts is the story of how a gay, Black, working-class girl with a vision fought poverty and prejudice to write songs, produce and front her own band, and become one of the most influential women in British rock.
'It's been a very difficult thing being a lead singer of a rock band looking like me and it still is.
'I have to say it's been a fight and it will always be a fight. That fight drives you and makes you want to work harder… It's not supposed to be easy, particularly if you're a woman, you're Black or you are gay like me.'
Born to Jamaican parents, Skin grew up in Brixton in the 1970s.
Her career as an artist began in the 90s, when Skunk Anansie was formed in the sweat-drenched backrooms of London's pubs.
Since then, she has headlined Glastonbury and toured the world, both as lead singer of the multi-million-selling band Skunk Anansie and as a solo artist.
For this event, she is in conversation with the broadcaster, film-maker, critic and journalist, Bidisha.
This event is pre-recorded exclusively for the Southbank Centre.
We have partnered with Rakuten on our Inside Out series, so we're offering a free ticket to this event for all Club Rakuten members.
Need to know
Copies of Skin's new book, It Takes Blood and Guts, are available for purchase within the UK for £20. The books are sent out by Foyles via post (postage is included in the price).
This event is streamed. Streaming is provided by TicketCo on behalf of the Southbank Centre.
Please ensure that you have access to a stable WiFi network in order to watch the event. More information on how to access the stream is available when you click through to the TicketCo website to purchase your ticket.

Dates & times
First broadcast: available from 7.30pm on Thu 4 Mar and for seven days on demand.
Price
Buy seven days' video access: £7.50
Get presale tickets
Members get the first chance to book our entire programme of events, including go-down-in-history gigs, concerts with world-class orchestras, and talks from cultural icons and political giants.
Venue
Online events
We are streaming events with a number of different platforms.
Check the Where to watch section above to find out which platform you can use to view this specific event.
Watch online
How to watch the stream on your preferred device
After your payment transaction is approved, TicketCo will send you a ticket or purchase confirmation within one hour. Check the email address and/or phone number that you registered with to collect your ticket. 
Watch in a browser on a phone, tablet or computer
TicketCo TV can be streamed using all the main web browsers. Open your email confirmation and click the TicketCo TV icon. This will open a new tab where the event will start. If you have a Google Chromecast connected to your TV, this can also be used to stream the event (so long as it's second generation or newer).
 
Watch on Apple TV or Android TV
If you have an Apple TV or Android TV we recommend downloading the free TicketCo TV app for the best streaming experience.
To use the app, you need tvOS 13.0+ on Apple TV, or Android TV version 7.0+. Download the TicketCo TV app from the app store on your Apple TV. Find it in the Google Play Store on your Android TV.
Once the app is open, type in the five-letter reference code from your ticket. You can find the code in the ticket ID field. After confirming your reference code you'll be redirected to the event.
 
Watch on Amazon Fire TV
Find the TicketCo TV app on Amazon Fire TV Download.
Open the app and add the five-letter reference code from your ticket. You can find the code in the ticket ID field. After confirming your reference code you'll be redirected to the event.