Marina Abramović Institute Takeover
4 –⁠ 8 Oct, various times
Queen Elizabeth Hall
Performance & dance
£60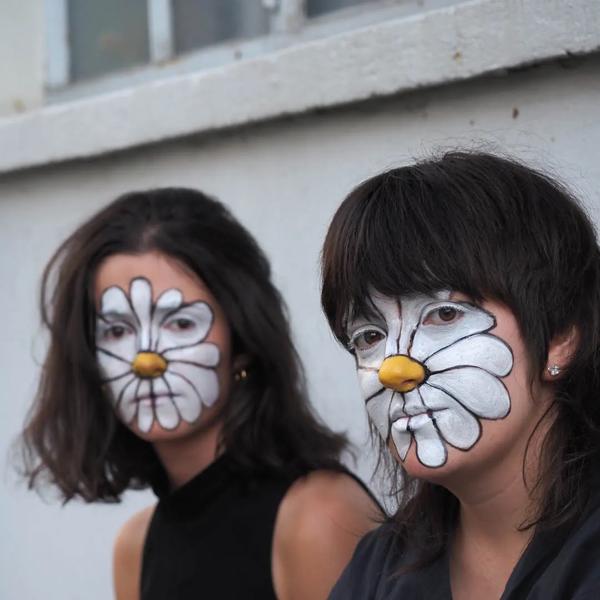 The entire Queen Elizabeth Hall – backstage and all – transforms into the set for enthralling durational performances, curated by conceptual artist Marina Abramović and MAI.
The performances use the entirety of the Queen Elizabeth Hall, and is self-led, letting you explore all parts of the building, including the auditorium, Purcell Room, backstage dressing rooms, green rooms, technical spaces and foyer.
The artists have all been invited to make site-specific, long-durational work. They engage with endurance, presence and participation, creating an infinite possibility of encounters between visitors and artists.
The artists featured are Collective Absentia, Carla Adra, Cassils (appearing Wed 4 – Fri 6 Oct only), Paula Garcia, Miles Greenberg, Sandra Johnston, Carlos Martiel, Yiannis Pappas, Paul Setúbal, Aleksandar Timotic and Despina Zacharopoulou.
Marina Abramović is participating on Wednesday 4 October and Sunday 8 October (session one) and is also present at various other times during the takeover.
Carla Adra collaborators: Catherine Carter, Sara Checconi S, Cansu Ezgi Ince, Tyler Carney and Cléo Quesne.
Paula Garcia collaborators: Luis Figueiredo de Mesquita, Artem Pylypenko, Vivian Magalhães and Martina O'Shea.
Miles Greenberg collaborators: Ayo (Taboo) Babatope, Sanchez Rhys, Nemar Parchment, Alexander Aplerku, Samuel de Saboia, Cameron James, Dinero Thompson, Jean Paul Paula, James Corbin, James Jordan Johnson, Kieram Corrin Mitchell, Valerie Ebuwa, Madinah Farhannah Thompson, Elisabeth Mulenga and Chloe Finali.
Marina Abramović Institute (MAI) presents and supports performance art at a global scale. Through an artist-driven process, the institute maintains both a multidisciplinary approach to performance and a focus on long-durational work.
MAI aims to address the complexity of the present time in order to shift awareness and consciousness of human beings through performance. It promotes interdisciplinary collaboration between practitioners of all disciplines, including art, science, technology, and spirituality.
In 2023, MAI opened its space in Karyes, Greece to support creative processes around performance art and generate collaborative thinking. The institute hosts Cleaning the House, a workshop developed by Abramović to reset the body and help understand one's physical or mental limits. The workshops are open to public participants coming from any discipline.
Globally, the institute creates communal participatory projects that critically engage with time, place, and human experiences. MAI has presented major performance projects in Sao Paulo (2015), Athens (2016), Kyiv (2017), Bangkok (2018), Istanbul (2020) and Amsterdam (2022).
Marina Abramović Institute is: Marina Abramović, Thanos Argyropoulos, Serge Le Borgne, Paula Garcia, Billy Zhao
Need to know
Age recommendation
For ages 16+. One of the performance pieces has an age recommendation of 18+. Visitor Assistants are available to provide guidance at the point of entry to this performance.
The event on Saturday 7 October at 12 noon is British Sign Language interpreted (BSL).
This event is self-led, and you are free to enter or leave each artist's work at your own pace.
Marina Abramović is participating on Wed 4 & Sun 8 Oct (session one), and is also present at various other times during the takeover.
Cassils is participating on the following dates: Wed 4, Thu 5 & Fri 6 Oct.
This event deals with themes of oppression, racism, violence, mortality and trauma. Audiences will encounter nudity and loud noise.
Dates & times
4 –⁠ 6 Oct, 6pm 
7 - 8 Oct, 12pm & 4pm
Approximate run time: 4 hours
Run times may vary by up to 20 minutes as they can be affected by last-minute programme changes, intervals and encores.
Price
Standard entry

£60*

Concessions

25%**

* Excludes £3.50 booking fee.
** Limited availability. Read about concessions.
Tickets can only be sold through the Southbank Centre and our authorised agents, and can't be resold. You can return your tickets to the Southbank Centre for a credit voucher up to 48 hours before the event. Tickets resold on any third-party platforms will become invalid.
Get presale tickets
Members get the first chance to book our entire programme of events, including go-down-in-history gigs, concerts with world-class orchestras, and talks from cultural icons and political giants.
Venue
Queen Elizabeth Hall
Our number one priority is the health and wellbeing of our visitors and staff. 
Open 90 minutes before an event until the end of the event. Closed at all other times.
Our address is: Southbank Centre, Belvedere Road, London SE1 8XX. The nearest tube and train stations within 5-7 minutes walk are Waterloo (Northern, Bakerloo, Jubilee and Waterloo & City lines) and Embankment (District & Circle lines). There are also lots of bus routes with stops 2-5 minutes from our venues. For more information on getting here by road, rail or river.
Pre-booking online is recommended. Check our website on the day for returns. There's no need to print your e-ticket – just show your phone to our Visitor Assistants on entry.
Some free events don't require a ticket. Found an event labelled FREE on our website with no way to book? Simply turn up on the day.
If you don't receive your e-ticket
Your e-ticket will be sent to you seven days before the event date from [email protected]. If you don't receive your e-ticket, and it's not in your junk or spam folder, please get in touch. 
More information
Find out all you need to know about tickets, including concessions, group bookings, returns, credit vouchers and more, via the link below.
Get an overview of the seating layout of Queen Elizabeth Hall by downloading our seating plan.
Toilets
An accessible toilet is located in the foyer.
A Changing Places toilet is located on Level 1 Royal Festival Hall next to the JCB Glass Lift, for the exclusive use of disabled people who need personal assistance to use the toilet.
The facility includes a height-adjustable bench, tracking hoist system, a centrally-placed toilet, a height-adjustable basin and a shower. The key for this room is available from the Welcome Hub on Level 2, Royal Festival Hall. The facility is open daily 10am – 11pm.
Cloakroom
The Queen Elizabeth Hall cloakroom is closed. You won't be able to bring any bags over 40 x 25 x 25cm into the Queen Elizabeth Hall, so please leave large bags at home.
We're cash-free
Please note that we're unable to accept cash payments across our site. 
For step-free access from the Queen Elizabeth Hall Slip Road off Belvedere Road to the Queen Elizabeth Hall auditorium seating (excluding rows A to C) and wheelchair spaces in the Rear Stalls, plus Queen Elizabeth Hall Foyer and the Purcell Room, please use the Queen Elizabeth Hall main entrance.
To reach this entrance, enter the Royal Festival Hall via the Southbank Centre Square Doors. Take the JCB Glass Lift to Level 2 and exit to the Riverside Terrace. Turn right to find the Queen Elizabeth Hall main entrance.
You can also use the external lift near the Artists' Entrance on Southbank Centre Square to reach Mandela Walk, Level 2. 
For access to the Queen Elizabeth Hall auditorium seating rows A to C and wheelchair spaces in the Front Stalls, please enter via the Artists' Entrance in the Queen Elizabeth Hall Slip Road (Level 1).
Talk to a member of staff at the auditorium entrance if you have a disability that means you can't queue, or you need extra time to take your seat. They can arrange priority entry for you as soon as the doors open.
From a snack with coffee to cocktails and fine dining, plus some of London's best street food – it's all here on the Southbank Centre site.