Choreographing Redoubt
Mon 28 Jun 2021, 7pm
Online events
Talks & debates
Free for members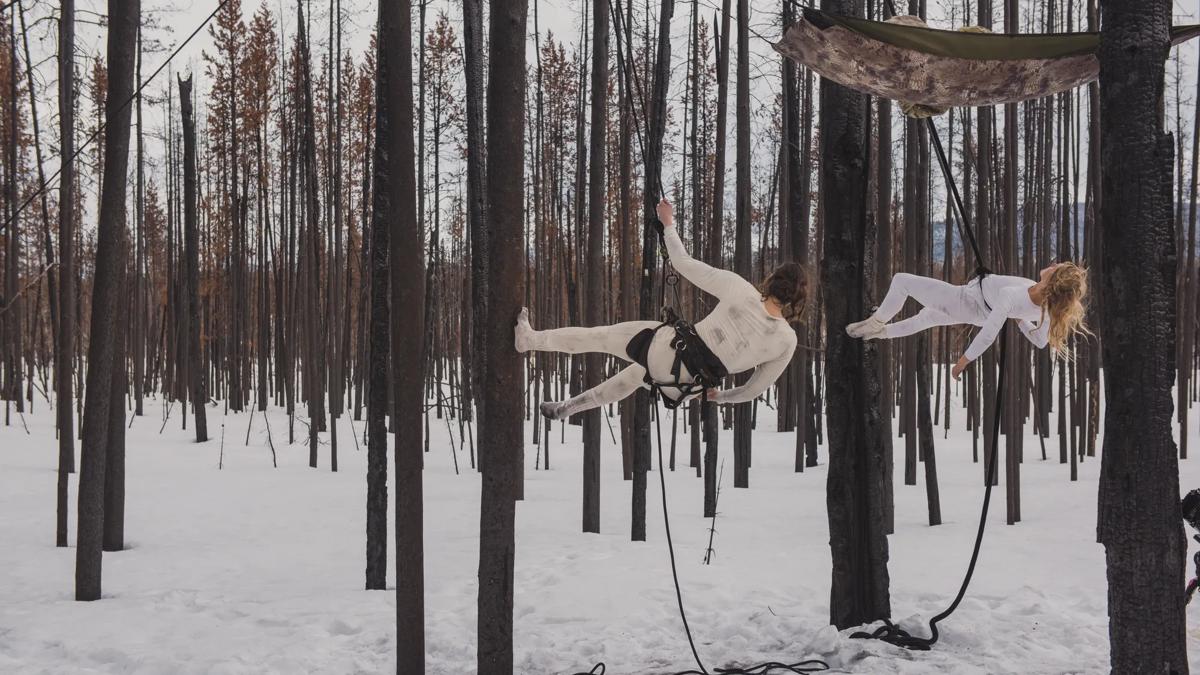 Join us for a live-streamed conversation about the choreography of the hunt and animal-human relations in Matthew Barney's latest film.
Dancer and choreographer Eleanor Bauer and writer Filipa Ramos take a closer look at Redoubt, which features in our Hayward Gallery exhibition Matthew Barney: Redoubt.
Bauer discusses her choreography for Redoubt and her performance as one of the two dancers who accompany Diana on her epic wolf hunt.
Ramos draws on her research into artists' cinema, animals and ecology.
Eleanor Bauer is a performer and choreographer working at the intersections of dance, writing, and music.
Her work has been performed widely internationally, including most recently at Dansens Hus, Stockholm; Stoa's Moving in November festival, Helsinki; Kaaitheater, Brussels; Danspace Project, New York; Festival d'Automne at Lafayette Anticipations, Paris; and Schauspielhaus Bochum.
Bauer has worked with Matthew Barney as a performer in Redoubt (2018), Drawing Restraint 24 (2017) and River of Fundament (2014).
She has also performed in the work of Trisha Brown, Anne Teresa De Keersmaeker/Rosas, Xavier Le Roy and Boris Charmatz, among others.
Filipa Ramos is a writer and lecturer specialising in contemporary art, cinema and ecology. She is Curator of Art Basel Film and teaches at London's Central Saint Martins and Basel's Arts Institute of the Hochschule für Gestaltung und Kunst, Fachhochschule Nordwestschweiz.
Ramos is a founding curator of Vdrome, a programme of screenings of films by visual artists and film-makers. Her writing and research on art, film and nature has been published widely, including within Theater, Garden, Bestiary: A Materialist History of Exhibitions and The Wild Book of Inventions.
Price
Standard entry: £5
Members: free
Concessions: free for students
Southbank Centre takes a strong view on secondary ticketing. We require the lead booker to attend (photo ID may be requested). Tickets can only be resold by Southbank Centre or one of its authorised agents.
Get presale tickets
Members get the first chance to book our entire programme of events, including go-down-in-history gigs, concerts with world-class orchestras, and talks from cultural icons and political giants.
Venue
Online events
We are streaming events with a number of different platforms.
Check the Where to watch section above to find out which platform you can use to view this specific event.
Watch online
This event takes place live online via Zoom. A link with joining details will be sent to bookers an hour before the event start time.
We advise that you join the event 25 minutes before the start time, so that if you have any technical difficulties, you don't miss the beginning of the show.
Please make sure that you have access to a stable WiFi network in order to watch the event. 
Have you downloaded the Zoom app? 
A whole host of technical errors can be avoided if you use the app. It's free, and we advise that you download it to your laptop, tablet or smartphone before the event, giving yourself plenty of time in case you meet with any technical difficulties. 
What if you already have Zoom? 
Please check that you have the most up-to-date version installed before you join the event. You can do this by clicking your profile picture, then selecting 'check for updates'. If there is a newer version, Zoom will download and install it. 
Are you having trouble downloading or using Zoom? 
You can see their guide for new users HERE
Are you having trouble joining the event? 
If you're viewing on your browser rather than in the Zoom app, this may be due to ad blocker software. Try disabling any ad blocker software you have running. You can also try opening the link using a different browser. To avoid these issues, we recommend that you use the Zoom app. 
Have you found yourself in a waiting room? 
Don't worry, your host will check you in to the event when it begins. We advise you try to join events up to 25 minutes in advance to check that everything is working properly. Before the start time, you will be kept in a waiting room. 
What time zone is the event in? 
All performance times are listed in Greenwich Mean Time (GMT). Make sure you check the performance time in your time zone ahead of the performance.
Are you under 16? 
Under 16s may not attend events unless an adult is in the room throughout the event. Please make sure that your screen name appears as first name only. 
Do you need any more help? 
If you have any questions or need more help before the day of the event, please contact us on [email protected] 
We hope you enjoy the event and we are excited to see you there!