Hire Purcell Room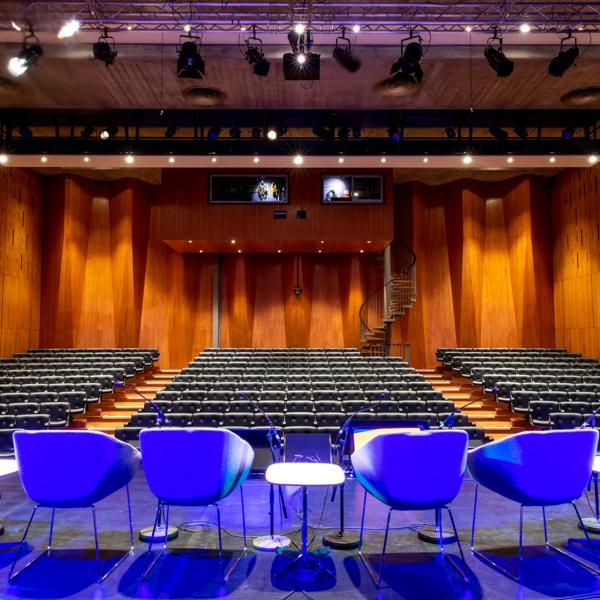 The Purcell Room is ideal for up to 300 people
The Purcell Room is the perfect London venue for conferences, meetings and private concerts
This recently refurbished, wood-panelled auditorium has an intimate atmosphere making it suitable for smaller scale events such as meetings, seminars, panel discussions, conferences and private concerts, which can be held with a live audience, as a hybrid event or virtually.
Located within the iconic Queen Elizabeth Hall, the Purcell Room offers a combination of state-of-the-art technical equipment, new seating and air conditioning. The backstage spaces include two dressing rooms, and a Green Room, making for a relaxing experience for anyone about to take to the stage. An area of the adjoining foyer is included with the venue hire for delegate registration and catering.
Need more space? You can also hire the Queen Elizabeth Hall Foyer on an exclusive basis. This bright and welcoming space is perfect for networking and exhibitions.
Venue Hire Rates 2022/23
Half day: £3,672 (8am – 12.30pm / 12.30pm – 5pm)

All day: £5,675 (8am – 5pm)

Evening: £5,675 (5pm – 11pm)

24 hours: £10,849
All prices are exclusive of VAT.

We offer a 10% discount to registered charities.

By having your event in the Purcell Room at Queen Elizabeth Hall, you are supporting our mission to keep the arts open and accessible to all.
Get in touch
Contact our specialist team for more information and to make a booking
Explore the space
Take a walk around the Purcell Room at Queen Elizabeth Hall with our new 3D virtual tours.
Views of the Purcell Room Auditiorium