Queen Elizabeth Hall Roof Garden Cafe & Bar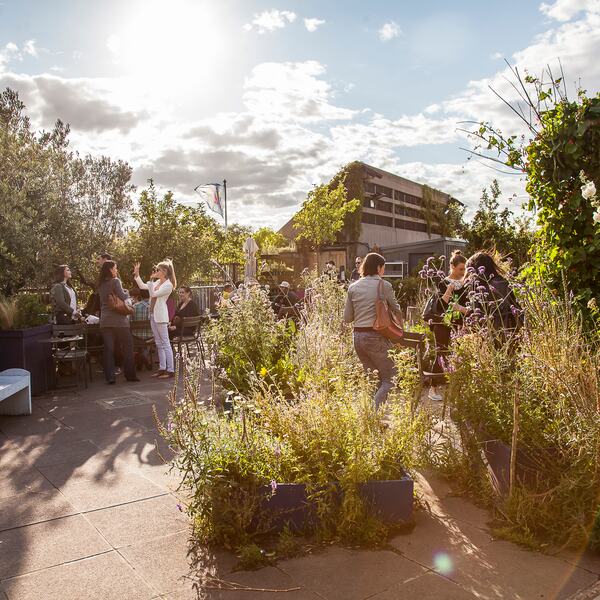 Welcome to London's very own secret garden
Nestled on top of the Queen Elizabeth Hall, the Roof Garden Cafe & Bar is a haven, home to over 200 wild native plants, a luscious lawn and views across London.
Relax with an expertly made coffee using hand-roasted coffee beans, homemade pastries, and free Wi-Fi. This is the ideal spot to lose yourself in a great book, or to work remotely surrounded by nature. 
Alongside the cafe, the bar offers cocktails inspired by the garden and a plethora of gins from across these shores. 
From the white sandy beaches of Isles of Scilly up to the historic medieval city of Stirling in Scotland, explore the botanical world of speciality gins and find a new tipple to satisfy the palate. 
In the ten years since it opened, this peaceful space has become a much-loved feature of the Southbank Centre, especially on sunny days.
The garden, originally a partnership with the Eden Project, was built and continues to be maintained by volunteers from Grounded EcoTherapy, a group which offers people dealing with issues like homelessness and addiction help through horticulture.
You can pre-order food and drink via our new mobile app.
Opening hours
Open Tuesday – Sunday, 12 noon – 8pm. 
Closed on Mondays.
Location
Roof Garden, Queen Elizabeth Hall