WOW – Women of the World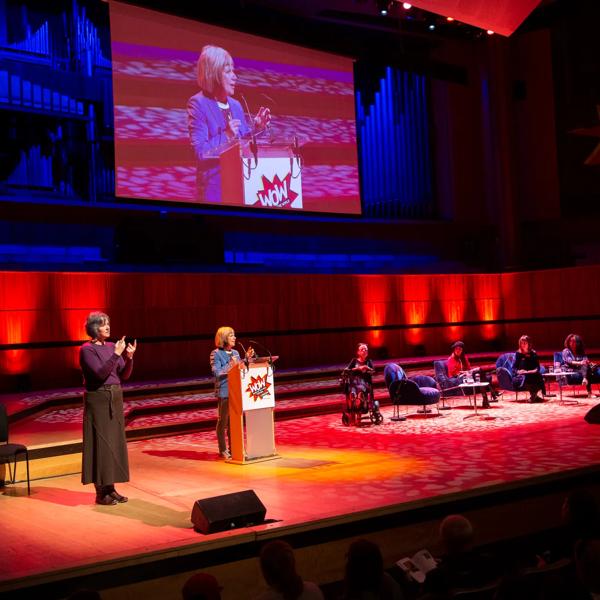 The WOW movement has reached three million people on six continents
The world's biggest, most comprehensive festival celebrating women, girls and non-binary people is back in 2023 with its 13th edition.
Presented by The WOW Foundation, WOW festivals have now taken place in more than 30 locations across the globe on six continents. 
The WOW London festival is a chance to be part of the global movement and see world-class speakers, activists, musicians and comedians all in one place.
We come together for three days of life-changing conversations, incredible performances and interactive workshops. Everyone is welcome.
For 2023, the WOW Day Pass returns on Friday, Saturday and Sunday. Each day festival-goers can explore a totally different line-up of dozens of talks, workshops, performances, music and more. 
As each day will feature different events, you can book to come for one day or buy Day Passes for all three days.
You can also book tickets for separately ticketed evening talks and performances, and family-friendly events.
There's loads of free stuff to discover too, from the much-loved WOW Marketplace, WOW Pop-Up performances and WOW Speed Mentoring. 
Keep an eye out for more announcements in the coming months, including a line-up of separately ticketed evening talks, performances and more; family-friendly events and a digital programme.
At WOW, there's space for discussions ranging from sex to politics, grandmotherdom to divorce, childlessness to career changes. 
It's a chance for both the most difficult discussions and the funniest interactions that bring us all together.
The WOW Foundation produces festivals in partnership with amazing organisations across the world to celebrate women and girls, and raise awareness globally of the issues they face and possible solutions. 
Led by Jude Kelly CBE, it is a charity that works to build and sustain a global movement that believes a gender equal world is possible and desirable, through WOW festivals and empowering women and girls. 
WOW festivals are presented by arrangement with the Southbank Centre.