Everyday Heroes
Past exhibition
4 SEPTEMBER – 1 NOVEMBER 2020
Across the Southbank Centre site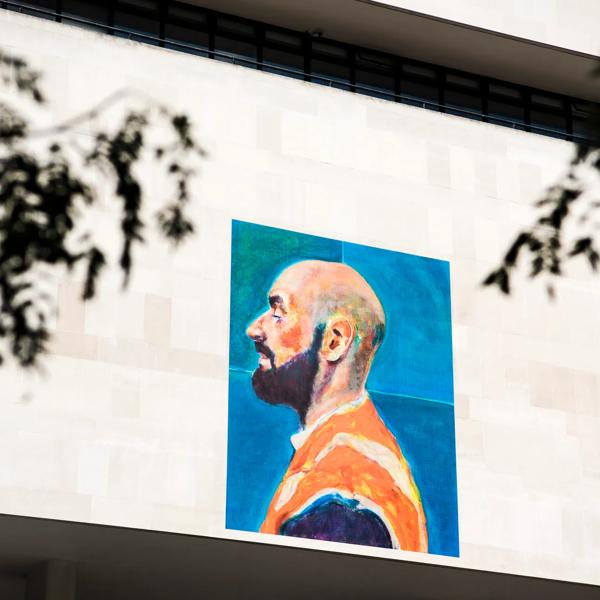 Celebrating key workers through art and poetry
The outdoor spaces around the Hayward Gallery and the Southbank Centre come alive with Everyday Heroes, a free open-air exhibition celebrating key workers in a vivid series of art and poetry commissions.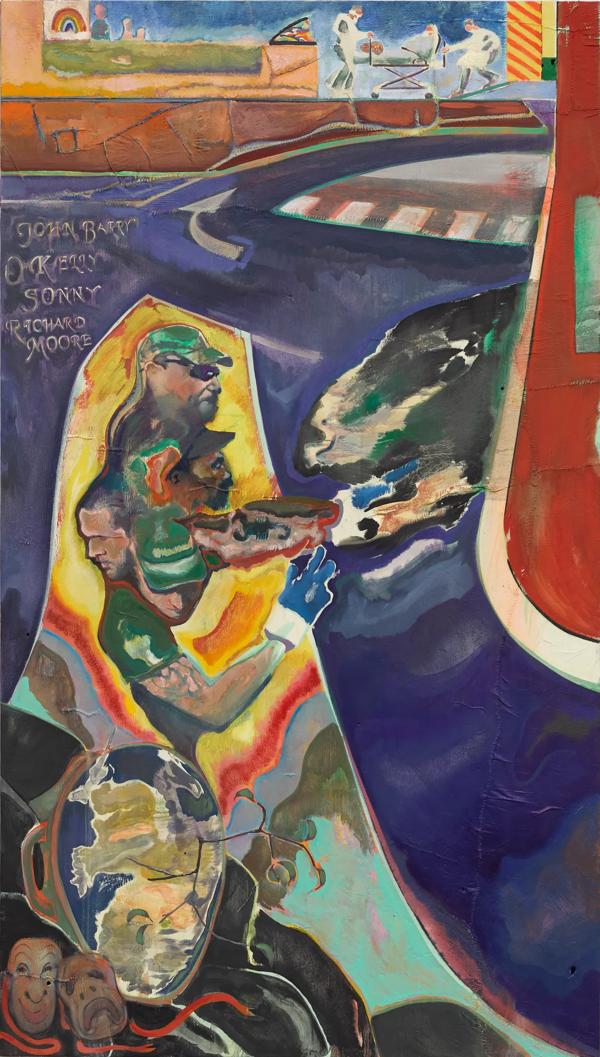 Michael Armitage
Lives and works between London and Nairobi
John Barry, O Kelly, Sonny and Richard Moore, 2020
Oil on Lubugo bark cloth
At the top of this painting a pair of paramedics maneuver a stretcher into an ambulance. Below, a team of refuse collectors are pictured at work, four figures blending seamlessly into one – their individual names listed beside them. This is the first painting by Armitage set in the UK, but it follows his usual practice of reflecting on current events. 'Painting is a way of thinking through something, trying to understand an experience or an event a little better, and trying to communicate something of the problem to others', Armitage has said.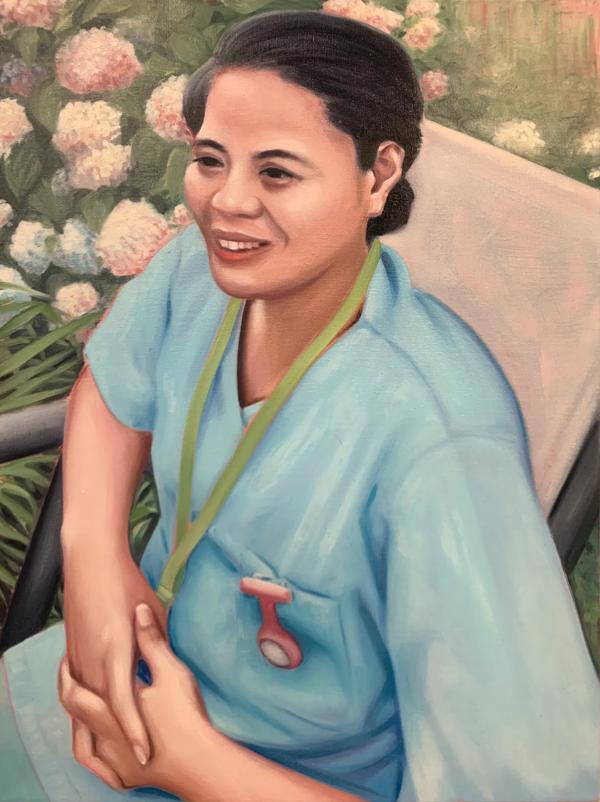 Lydia Blakeley
Lives and works in Leeds
Jacqui, 2020
Oil on linen
Tom, 2020
Oil on linen
Tom at the counter, 2020
Oil on linen
Lydia Blakeley's aunt Jacqui is a nurse at a community hospital in Oxfordshire. 'This period has been extremely stressful and worrying, especially for people like my aunt, who carried on working throughout the lockdown', Blakeley comments. 'It's been bleak, but I wanted my portraits for Everyday Heroes to convey the opposite: resilience, quiet optimism and serenity, and to show the individuals during a moment of calm.' Two further portraits by Blakeley, which feature two shop assistants – both called Tom – who work in the shop next door to her studio, can be found at either end of Southbank Centre's Mandela Walkway.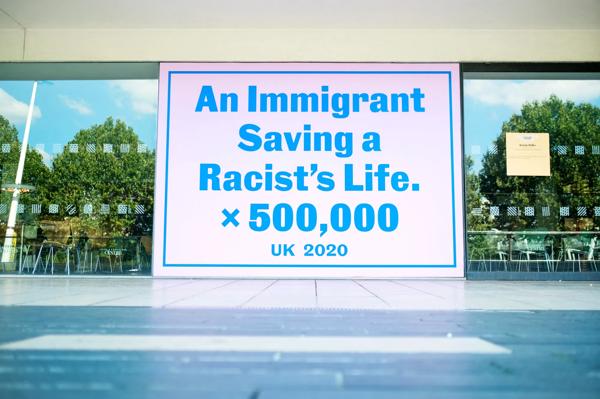 Jeremy Deller
Lives and works in London
An Immigrant Saving a Racist's Life x 500,000, 2020
'This text is a word portrait of what's been going on in the UK over the last few months.' – Jeremy Deller.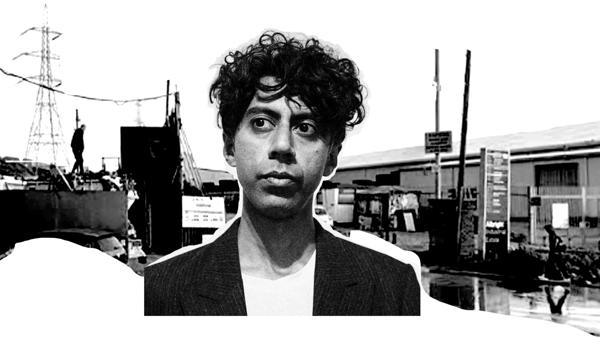 Laura Grace Ford
Lives and works in London
Majed, 2020
Collage
This collage by Laura Grace Ford depicts the artist's friend, Majed, who works as an occupational health doctor at London Gateway port in Essex. Majed provides medical and pastoral support to dock workers, HGV drivers, and Asbestos workers throughout Essex. 'I think occupational health professionals are massively undervalued', Ford comments. 'Without them life would be a lot more dangerous for precarious workers'. Majed's work throughout the pandemic has contributed to the smooth running of food delivery, logistics and construction.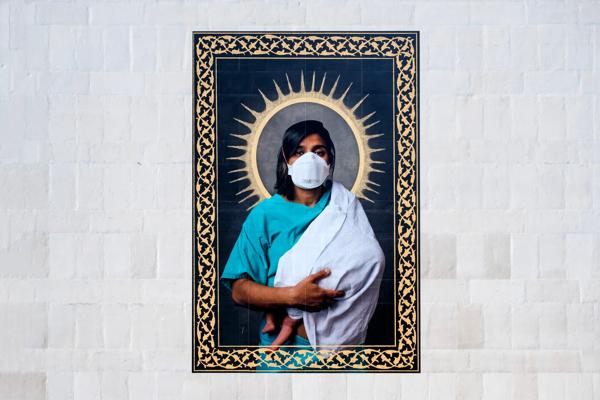 Mahtab Hussain
Lives and works in Birmingham
Dr A Shahid with Ember, 2020
C-Type with paint
The Surgeon, 2020
C-Type with paint
Mahtab Hussain has contributed two portraits to Everyday Heroes. In one of these images, a surgeon is pictured with one of the tools of his trade – a stapler used for keyhole gastrointestinal surgery. In the other, dermatologist Dr A Shahid, a friend of the artist, who worked throughout the pandemic while heavily pregnant, is pictured with her scrubs, her mask, and her newborn. The elements in gold reference the decorative surfaces of Mughal miniature paintings. Speaking of the border of interlocking fish that frames Dr A Shahid, Hussain has said: 'A fish symbolises fertility, emotion, creativity, rebirth, good luck and transformation', as well as 'happiness, strength and endurance'.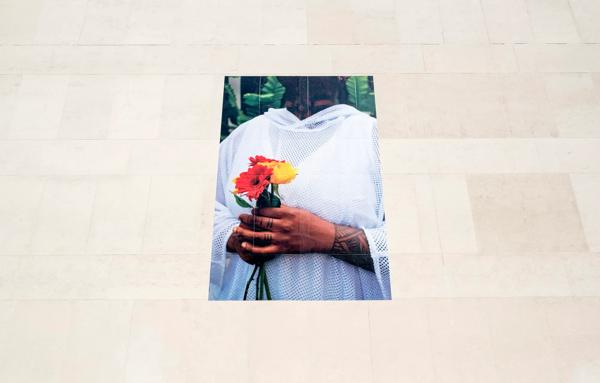 Evan Ifekoya
Lives and works in London
No 1. Start From A Place Of Abundance, 2018
Photograph
Arts Council Collection, Southbank Centre
Evan Ifekoya is interested in 'the artist as maker, the artist as mediator, the artist as facilitator, the artist as healer'. This photograph is part of a series of images that explore everyday rituals, intimacy and community, as well as our 'spiritual-material relationship to the natural world'. It is part of a larger body of work, Ritual Without Belief, that emerged from the artist's ongoing residency at Lambeth's Gasworks gallery, in 2018.
Matthew Krishanu
Lives and works in London
The group of portraits that Matthew Krishanu has produced for Everyday Heroes focuses on four female religious workers who, along with other religious workers across the country, continued to find ways to serve their community throughout the crisis. The subjects are Rehanah Sadiq, a Muslim chaplain for two Birmingham NHS hospital trusts; Eve Pitts, Britain's first black female Church of England vicar; Margaret Jacobi, a rabbi at a progressive Jewish synagogue; and Deseta Davis, a pastor and prison chaplain. All four live in Birmingham, a city that Krishanu knows well, and are pictured at work, sometimes dressed in ceremonial clothes, or personal protective equipment.