Everyday Heroes
Past exhibition
4 SEPTEMBER – 1 NOVEMBER 2020
Across the Southbank Centre site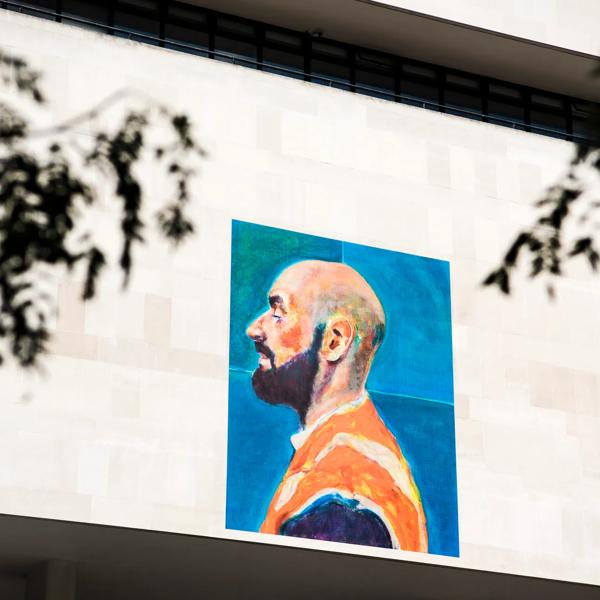 Celebrating key workers through art and poetry
The outdoor spaces around the Hayward Gallery and the Southbank Centre come alive with Everyday Heroes, a free open-air exhibition celebrating key workers in a vivid series of art and poetry commissions.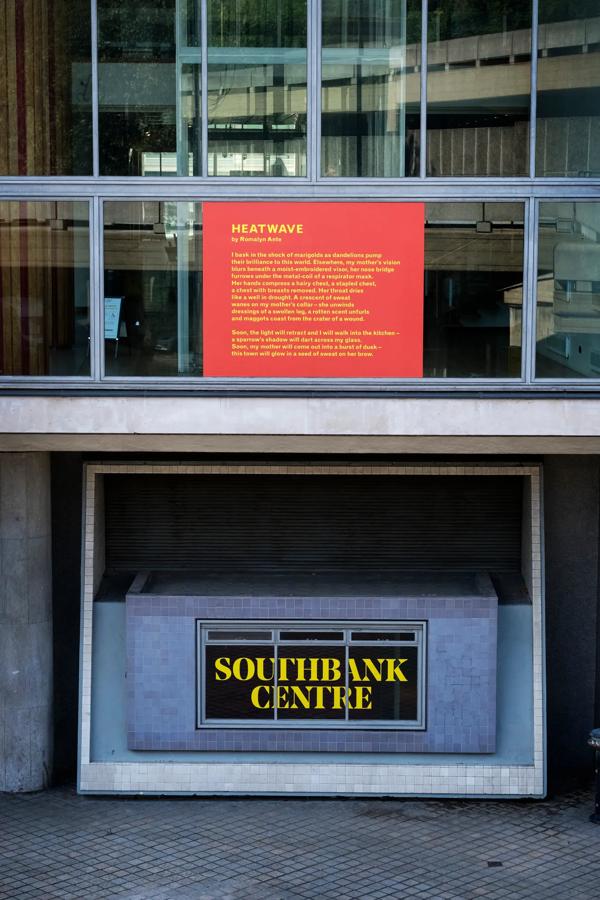 Romalyn Ante
Lives and works in Wolverhampton
'Heatwave'
In 'Heatwave', Romalyn Ante offers a visceral and affecting poem about her mother, who, like her, works as a nurse. Born in the Philippines, Ante moved to the UK aged 16. The poems in Ante's newly released debut collection, Antiemetic for Homesickness, which explore both the experience of migration and working in the health service, began as journal entries. 'Even though this is personal to me, it is not just my story', she says. 'I want my experience to evoke something that others can relate to'.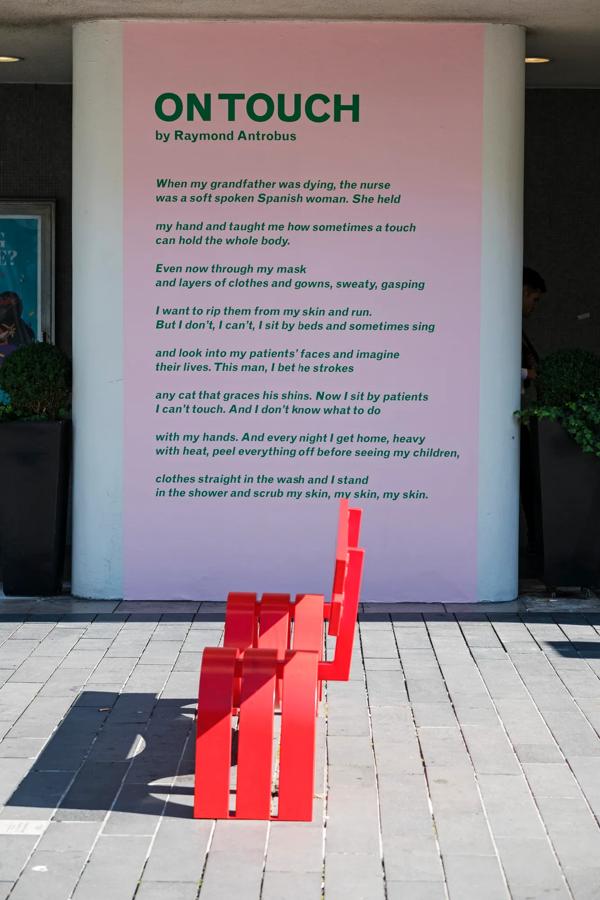 Raymond Antrobus
Lives and works in London
'On touch'
For poet and teacher Raymond Antrobus, teaching and writing are a way of trying to connect – of holding conversations, and finding ways to learn together. Of his award-winning first collection The Perseverance, Antrobus says 'More than anything [it's] about communication, it's about conversation and how we convey ourselves in language'. It is also 'a homage to the NHS'. So too is his poem 'On touch', written after interviewing NHS nurse Joan Pons Laplana.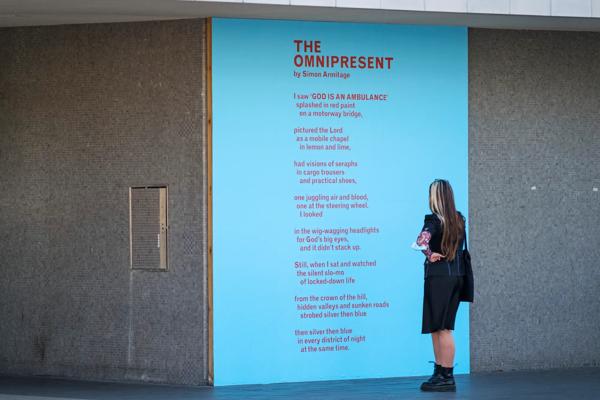 Simon Armitage
Lives and works in West Yorkshire
'Omnipresent'
Simon Armitage became Poet Laureate in 2019, but as he puts it, he's 'always been somebody who's happy to tackle current, topical subjects'. This March, he wrote and published a poem about lockdown. 'There are times in our national consciousness where a poem feels like the right form of address', he says. Publishing poems on the sides of buildings makes sense to him too: 'I've never been satisfied with the idea that poetry just lives in books.'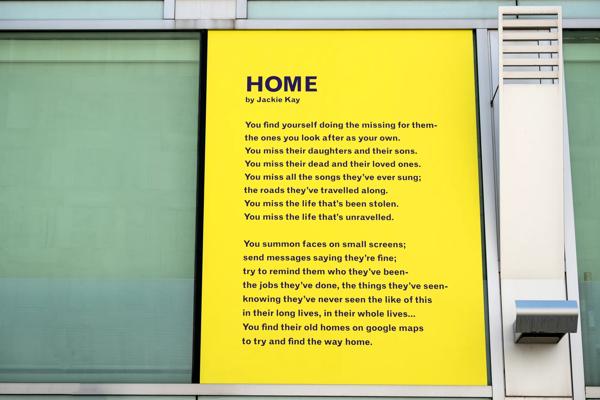 Jackie Kay
Lives and works in Manchester
'Home'
Scottish Makar Jackie Kay (Scotland's poet laureate) has argued that 'poetry gives a voice to the voiceless'. Her own poems often begin with a voice, and take the form of monologues. 'I want the voices that I create to be compelling, to be mysterious, to be urgent, to have something important that they want to say'. Above all, she wants people to recognise themselves in them. 'The best thing that people can say is "that was me".'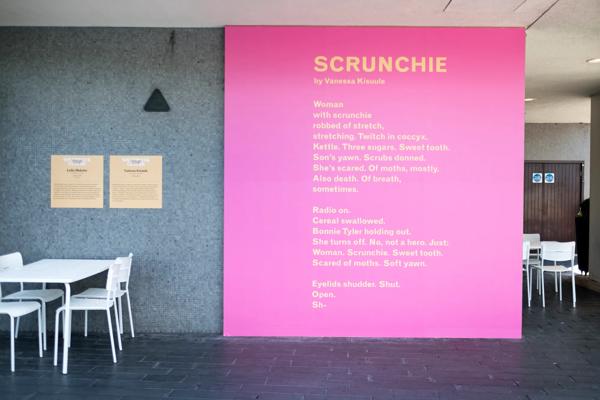 Vanessa Kisuule
Lives and works in Bristol
'Scrunchie'
Vanessa Kisuule is a writer and performer based in Bristol. She is currently the Bristol City Poet. In June, she wrote and performed a poem – 'Hollow' – about the statue of Slave Trader Edward Colston being pulled down during a Black Lives Matter protest in Bristol. 'Everyday Heroes gave me the opportunity to reflect on the micro effects of this global pandemic', Kisuule has said. 'Amid all the media flurry, it's grounding to consider the combination of mundane and exceptional things that any given person carries out on a daily basis.'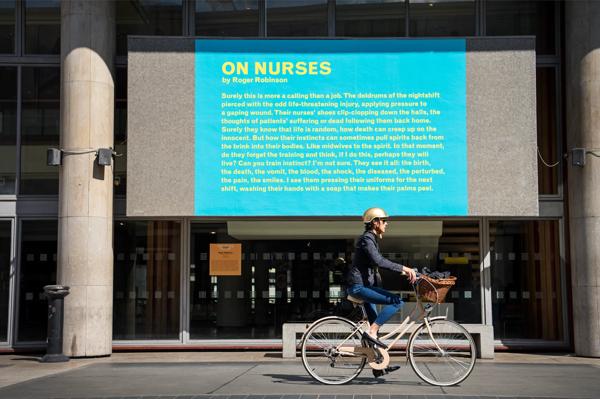 Roger Robinson
Lives and works in Northampton
'On nurses'
from Portable Paradise
The poems in Roger Robinson's award-winning collection Portable Paradise began as a series of 'philosophical excavations' of what paradise might mean, quickly opening out into something broader – including reflections on hope, and the pursuit of happiness. 'I want these poems to be useful and to help people practice empathy', Robinson has said. Speaking of the importance of frontline workers, he notes: 'It wasn't the bankers, millionaires or computer magnates that we turned to in the crisis – it was the nurses, garbage cleaners, supermarket workers; I hope these people will be valued more'.